Posted on
Please see OTBF, page 4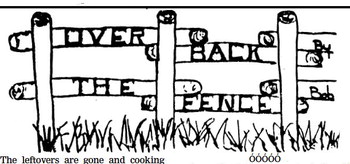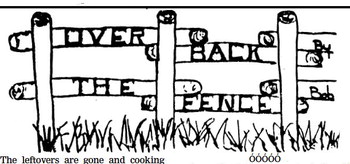 The leftovers are gone and cooking resumes again. It was nice while it happened, but also thankful for the three pounds I had gained eating all the goodies but was able to lose them again. Not much new in the area, but did spot a combine working a field of corn on Thursday when I took my empty cans up to the Clark County Rehab and Living Center. It has apparently been awhile since I took my last load, or someone is stuffing my empty can box. I certainly couldn't have drank all that soda myself. Or did I?
ÓÓÓÓÓ
Plans to get started on my column last night got sidetracked a bit. Just before I started, I was checking the television schedules. One place I often look is at public television. I saw that Jerry Apps was going to be on and I have enjoyed his stuff a lot. Jerry is a retired professor at the University of Wisconsin and has been on a lot over the years, telling about life in Wild Rose when he was growing up. Oftentimes it is just part of a fund raising event for public television. Last night it was just pretty much a story called the Farm Story and life as he saw it on the home farm just outside Wild Rose. He showed a picture of his mother in their basement and it looked just like our basement did at home after the summer season was over. The shelves were lined with jars of vegetables, fruit, jellies and jams. Now it makes me wonder when did Mom have the time do all that canning. While blueberries, blackberries and apples were plentiful right from the farm, there was peaches, pears, apricots and plums all carried home from the grocery store. If you had shelves and storage boxes made out of leftover peach crates, you know what I'm talking about.
ÓÓÓÓÓ
Their farm at Wild Rose was a bit different from ours. Theirs was sandy and well suited for potatoes. Pay for potatoes was pretty much like it was for beans. The better the bean, the higher the prices, but you really had to work at it to get a full sack of number ones. My Dad always claimed his Dad wanted a farm that looked like Sweden and refused to pay a dollar an acre for land that was nice and level and stone free. What he got was a quarter section of land described on his homestead papers as rocky and hilly and only suited for grazing cattle. Out of 160 acres we were lucky to find 38 suitable for crops and some of that was questionable. Later, when my brother was able to buy the 80 next to him, a good share of Dad's fields turned into more pastureland. Nevertheless it seems like it took all our time just to take care of those few acres. Every spring was the same. A week or so to make sure all the fences were tight and then the job of hauling out the big manure pile that had accumulated over winter. For a number of years we had no manure spreader, so it was pitch it on and pitch it off. I should clarify this before I get too far. It wasn't me doing any of the work, it was Dad and my brother Harold. I think living through the drought and depression of the 30's kind of scared Dad off from buying something he couldn't pay for right away. So you just made do. Besides, as I got older, I found he was still paying off some debt that had accumulated during those years, then to lose our barn to a fire right in the middle of it all.
ÓÓÓÓÓ
A couple of the segments dealt with the town and the schools. We had three towns that were important. There was Cumberland, the biggest of the three which had got its start in the lumber days. The two big stores, S. W. Hines and The Company Store, were both owned by the Hines family and were huge. They had the central cashier with the clerk collecting money from the customer, putting it in a little cup and giving it a push to the cashier located near the ceiling. When the change was ready, the cashier sent it back down to the clerk. There was no grocery carts either. You stood at the counter and gave the clerk your order, who then went to the shelves and brought it back to either be placed in a paper sack, or the empty egg crate if you had brought eggs in to sell. Comstock was just a tiny town, but that is where our post office was. Today about the only thing left is the cheese house, which at one time was a Land O'Lakes Creamery. I believe the Ellsworth Creamery now owns it and caters to people heading north for the weekend. Then there was Turtle Lake, which was the crossing for two railroads and one of my aunts had married one of the depot agents. I always remember him as he always dressed up in a suit and wore a big gold watch chain across his stomach. We generally went there on Saturday nights for the free shows and Mom would stock up on things she might need. But never once did she ever buy any of those cookies they kept in those boxes and were certainly tempting. Later Turtle Lake would become more important, as that's where I went to high school.
ÓÓÓÓÓ
Schools played an important part of every community. Apps claimed the schools were the center of the community. He said people never gave directions, it was down in the so and so school district, which everyone seems to know where it was. It is kind of like Jo Elmer and I like to tell people. We traded in Cumberland, our mailing address was Comstock and we went to high school in Turtle Lake. Yet we were from Pipe Lake and everyone knows where that is. A case in point a few years ago, when eating at the annual chicken dinner, I heard a couple of people from Rice Lake talking. They knew about the chicken dinner, but if you told them it was at Christ Lutheran Church, Comstock, they would have said they never heard of it. Other schools in the area included Happy Corners, Woodside, A. P. Holst, Blake and Horseshoe Lake.
ÓÓÓÓÓ
There was an interesting point at the end of the show. The person doing the interview asked about the virus and how much did it affect his life. Apps pointed out that in 1947 he contracted polio, which was a feared disease at the time. He had gotten it in his neck which affected his ability to play in sports. He thought the end was over for him. Then a teacher suggested he attend a typing class. He kind of half laughed it off as that was something girls did. He did try typing and he soon found himself on the school newspaper staff and one thing