Posted on
Granton couple creates housing so seniors can stay in town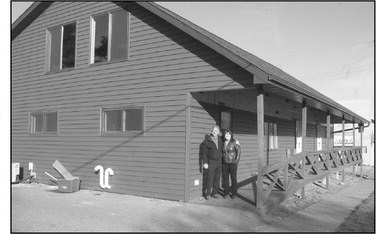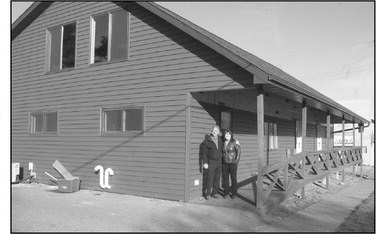 For many years, it has been the dream of Doug and Joye Eichten of Granton to create a place for senior members of the community to live on their own without having to enter an assisted living facility. Now, after more than a year of hard work, their dream is about to come true with the opening of The Burrow, a senior apartment complex in the heart of Granton.
During the past year, residents and those passing by 111 South Main St. have watched as the former Eagle Group Home has been slowly transformed into the redsided building that stands there today. When complete, the building will have six apartments that can be rented by seniors, who will then live together and, hopefully, support each other.
"We had an idea of aging people to be able to stay independent and not go into a home," said Joye on how the idea was created. "We thought, why aren't there more facilities like that? They're still mobile and active and they don't want to go into a home. They can spend time keeping an eye on each other. We saw a need for it in our community. We wanted to keep people in Granton that still want to be here and look out for each other. We really want to create a family and we hope that whoever moves in there becomes a family."
It has been a lot of work on the part of the Eichtens to turn the more than 100-year old building into an apartment complex. With history as multiple stores, a residence and a group home, the building had a lot of interior flaws such as useless walls and holes in the wall frames for nonexistent doors and windows that they needed to find and fix.
"There were a lot of times we would stop and think, 'What were they thinking when they built this place?'" said Doug. "When we were working on the north wall, we found that there were window frames and doors on that side. We realized, there used to be an entrance here."
Besides finding out weird history about the way the building used to be oriented and used, Doug and Joye faced an even greater challenge with the amount of deterioration the building had experienced in the 20 or so years it spent as a group home. Rotten floorboards and roofing, damaged walls, and heaps of garbage in the basement were some of the many things they had to remove and repair to transform the building into what it is today.
"There was a tub that drained into the basement," said Joye. "That's how horrible it started out."
"We spent the first three months taking garbage out of there," added Doug. "We took out all of the walls, all new bathrooms, and I don't just mean new toilets and fixtures. I mean new walls, new floors. There was a hole in the floor that had a board over top of it that was screwed into rotten floorboards. In one quarter of the basement, someone had chopped up all of the concrete and left it piled up in a corner and that corner leaked so the floor was all mud."
Despite the many difficult challenges they faced in rebuilding the historical place from the ground up, Doug and Joye said they never once thought about quitting. "We were just following the dream," said Joye. "We like doing that kind of stuff. We wanted it to be functional and nice, we wanted them to be able to see it as their home." When the remodeling to the building is finally complete, Joye said there will be four apartments on one side of the building and two apartments on the other. Separated into two areas, each grouping of apartments will share a common dining room, living room and bathroom space. The four apartments are expected to be completed and ready for use by the end of the year, with the other two apartments opening at a later date.
"We have four apartments on one side, the south side and two on the north side," she said. "The north side we want to try to save for a couple to move in. They can each have their own room. We have a waiting list of people primarily from the Marshfield and Neillsville area, small town living appeals to a lot of people."
For those who do settle into the new apartments, Doug said there is a lot they have to look forward to. Granton may be small, but with essential businesses just a short walk away, there isn't a pressing need to travel to find what you are looking for.
"We have a unique environment here in Granton," he said. "You could live here and never leave it, everything you need is here. We have a grocery store, a bank, a hardware store and a vet clinic. It has all these things."
"We saw a need for it in our community. We wanted to keep people in Granton that still want to be here and look out for each other. We really want to create a family and we hope that whoever moves in there becomes a family." -- Joye Eichten
Doug and Joye Eichten have converted the former Eagle Group Home in Granton into a 6-unit apartment complex for senior citizens to rent living quarters. The Eichtens saw a need in the community for more housing so elderly folks could continue to live on their own, so they completed extensive remodeling on the historic building at 111 S. Main St.
CHEYENNE THOMAS/STAFF PHOTO