Posted on
New subdivision should alleviate Spencer housing shortage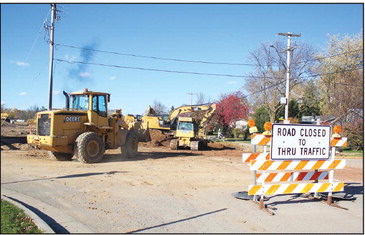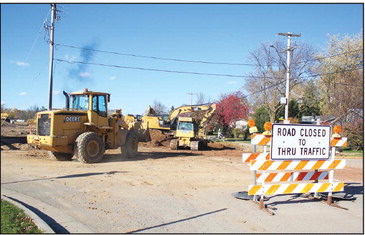 After years of experiencing a housing shortage in the Village of Spencer, the village is hopeful that anyone interested in building a home and moving to Spencer will soon have a place to go. The village is currently in the process of adding a new subdivision and is expected to complete phase one of the project as soon as next summer.
The new subdivision being constructed is located immediately north of the Spencer Industrial Park at the corner of South LaSalle Street and West Willow Drive. Construction at the site began on Sept. 7 and several blocks of LasSalle Street are currently closed to traffic as workers begin to put in piping and attachments for water and sewer lines to run to the subdivision.
"We're building a new subdivision," said village clerk Paul Hensch. "It will be a mix of single and multi family homes. We are installing water, sewer, storm sewer and roads in this phase. We're doing it in a phased development. We expect to finish in June of next year."
While construction is starting now, Hensch said the village has been working on this particular project since 2019 when they were approached by the former owner of the property.
"There was a farmer that owned the land, he wanted to sell it," he said. "He offered to sell it to the village and we were able to purchase the land."
The purchase of the land gave the village a perfect opportunity to expand, Hensch said. For the past several years, he said there has been a lot of interest in a new subdivision from people wanting to settle in Spencer, but there has been too little housing to meet demand.
"That's exactly the problem we're facing in Spencer," he said when asked about housing shortages. "The housing market is red hot. If there is a house, in two or three days it is sold. We've got several people who are interested in building in the lots and bringing in their families. We are hoping to have some newer smaller
CHEYENNE THOMAS/STAFF PHOTO homes built and some single story duplexes."
Since the village knows there is demand for the new lots to be built and there won't be any undue burden on the village's current infrastructure, Hensch said they were very confident in taking on this project. It is expected to cost just under $2 million to get the first phase of the project complete, but Hensch said the cost will not be passed on to the taxpayers.
"The project is located in a TIF (Tax Incremental Financing) District," he said. "That will be paying for the new infrastructure."
Construction in the subdivision will be completed by Earth Inc. of Arpin, with work expected to continue in the area until the ground freezes. After winter goes by, Hensch said the company will resume work in the subdivision until it is completed in June next summer. When completed, the first phase will have 28 lots ready for people to build their houses on.
"During phase one we will be opening 28 lots," he said. "We will be waiting to see the reception of that before we go into phase two. We want to expand to have 100 lots, but that may take years for that to happen. The village is planning for the future."
Lot prices in the new subdivision are expected to range from $12,000 for a single family home to $27,000 for a three-family home lot. If anyone is interested in purchasing a lot in the new subdivision, call the Village of Spencer at (715)-659-5423.