Posted on
From a cut-over land, a city called Loyal emerged and grew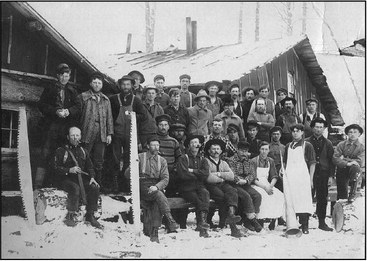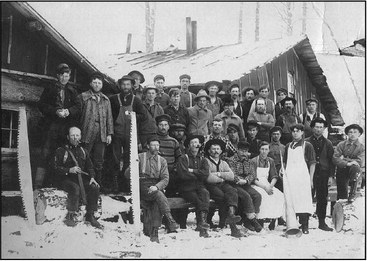 by Cheyenne Thomas
First platted 150 years ago in 1870, the city of Loyal has a long history filled with the creation of many businesses, organizations and buildings that have either remained the same, changed hands or simply disappeared as time went on. As the city continues on its path forward, we're looking back at the city's first days and what little things occurred to help shape it into the place known today. Information about Loyal's early days was taken from the Loyal Centennial book published in 1970.
The first settlers in the Loyal area came in the year 1852. Samuel Weston was one of the first to lay a claim, taking a plot in the area now known as the Town of Loyal. In 1855, Andrew Sheppherd, John Valentine and Stephen Amery arrived and began to cut down the trees for logging. They were followed a year later by the arrival of John Brooks Fenno, David L. Stiles, William Andrew Eaton, William Wollenbough, Allen D. Cheseboro, John Schuman, Wm. K. Seely, Hirman Bailey, Ephriam Brown, and Erastus Mack. Erastus Mack later became the proud father of the first white child born in the area: Adelaide Mack.
In 1870, the village that would be known as Loyal was first platted. The land originally platted for the village was in the area of South Street to Mill and Union streets. Today, it is unknown why that spot of the village was platted as there was nothing built there at the time. On April 12, 1893, the Village of Loyal was incorporated by order of a court, but the papers from that order were not filed until Sept. 1, 1917 and the charter ordinance wasn't filed until Sept. 5, 1941. Loyal was finally incorporated as a city on April 10, 1948.
There are three potential reasons why the name Loyal was decided for the village, but no one alive today knows why the name Loyal was chosen. The first reason is the first families settling in the area were very loyal to each other and decided to choose the name Loyal to reflect that loyalty. The village could have also been named Loyal because of soldiers who fought during the Civil War and their loyalty to the Union cause. The final reason given for the name was that it was chosen by early settler Oliver Hill who was also a Civil War soldier who wanted to name the village after his battlefield experiences.
When the first settlers came to Loyal there were no stores, schools, hospitals or any other place to easily obtain what they needed. Before they were able to build these places, the early pioneers had to travel long distances to already established settlements like La Crosse, Prairie Du Chien and Portage City to get supplies. Trips like these could take at least a couple weeks, and some people had to make the trips on foot, carrying supplies on their backs.
Logging was one of the biggest businesses when Loyal was first started. By the time the village was platted in 1870, the entire area had been clear cut of trees and farming operations were just getting started. Buildings began to be built and businesses added, bringing in even more people to settle in the area. These people often arrived by stagecoach and later by trains after the railroads were constructed in 1886.
Despite clear-cutting the entire area before settling in, wood was a very popular building material, being used for much more than houses. The first bridges and culverts built on local roadways were made of wood as were the village sidewalks. The village of Loyal would purchase cartloads of wood planks to use for sidewalks each year before pavement was added to the roads.
Because it took a lot of time and effort to travel long distances, villages and cities had a lot of businesses built early on to meet local demands. As Loyal became established, some of the business that were located in the city's Main Street buildings included a meat shop, a slaughterhouse, ice cream saloon, bakery, photographer, blacksmith shop, creamery, hat shop and a barber shop. They also had a doctor, W.P. Brown, who traveled between Loyal and Greenwood to practice medicine and a dentist office which opened in 1901.
One of the biggest buildings that housed many businesses in Loyal was the Allen Block building. It was located on the corner of Mill Street and Main Street and housed businesses such as The Loyal Tribune, Wepfer Drug Store and Bill Meyer's Bowling Alley until March 28, 1931, when it was destroyed by a fire. Six people died in the fire and the building was never rebuilt. Today, Schecky's Snack Shack stands in the location of the Allen Block building.
There were several businesses and organizations that were started in Loyal's early days that still exist today. Citizens State Bank was first founded on Oct. 14, 1909 and opened that same December. In 1901, the Loyal Pubic Library was established and was officially organized in 1905 with 200 books to start with. The American Legion Post #175 also had an early start, being formed in 1919 after the end of the First World War.
As Loyal began to be formed, it became necessary to put rules in place to keep order. Some of the first ordinances adopted by the village of Loyal involved animals and disturbances to the peace. A pound was established early on where all animals running at large were placed. If an animal was not claimed within six days, the animal was sold. Some of the animals running at large could have been big too,
Please see Loyal, page 10
Logging camps were abundant in the virgin growth forests that settlers of the Loyal area found in the mid-1850s. These camps were self-sufficient places that included cooks to feed the hungry loggers after long days of hand-cutting large logs and pulling them from the forest with horse teams. Loyal,
from page 4
as the first ordinances allowed cattle to roam around the village from May 1 until Sept. 5 between 5 p.m. and 8:30 p.m. Horses, sheep and swine, however, were supposed to be restrained.
Disturbances carried a very hefty fine in Loyal's early days. Riots, noise and other disturbances could carry a penalty of $50. Vagrants, street beggars and drunkards were not wanted either, facing a fine of $25 if they were caught. Those fines were not cheap, as a person making $25 per month in 1911 was considered pretty wealthy.
Entertainment in the beginning was mostly made up by individuals looking for ways to relax and forget about their troubles. Overnight visits to friends for parties were considered normal back in Loyal's early days and a local theatrical group called the Loyal Amateurs performed during the late 1890s as a form of entertainment. Later on, an Opera House located on the corner of Main and Spring Streets was built to house events like basketball games in town.
The Opera House building burned down in February of 1905, but the people continued to find ways to entertain themselves. Baseball games in the summer, swimming trips down to Bear Creek, fishing from a bridge that used to be located on Main Street, bowling, and skiing in a local gravel pit were just a few of the activities both adults and kids could be found doing around town throughout the year. The residents of Loyal also built a bandshell that was used until the 1940s when it was taken down.