Posted on
Early Loyal court cases involved illegal liquor and civil matters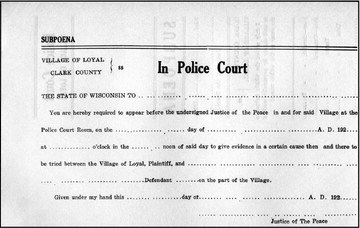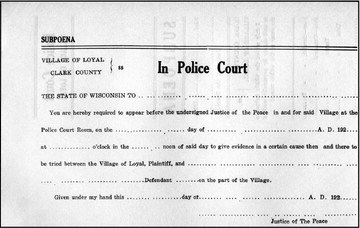 by Dean Lesar
In 2020, Loyal has a modern small-town police department that has at its disposal such crimefighting tools as a K-9 unit to sniff out illegal drugs, the internet to immediately trace potential criminal records, and high-tech radio gear to communicate with other law enforcement agencies. Of course, that always wasn't the case as Loyal grew from a small set of buildings that rose in the wilderness of west central Wisconsin to the city of 1,200 citizens it is today. Over the years, law enforcement has changed with the times, from a constable responding perhaps on horseback to whatever trouble may occur, to the pursuit of illegal alcohol makers during Prohibition years, to the current scene where officers check traffic with radar speed guns and respond to emergencies called into a county-wide 911 dispatch system.
Make no mistake, law enforcement has had a presence in Loyal throughout its history. Records dating back more than a hundred years tell of the community's early attempts to keep citizens within the scope of new laws that were being passed at the state level and locally to protect safety and property. Loyal's ordinance book slowly grew to cover everything from disorderly conduct at the local saloons to parking rules to the size of residential lots.
While records of today's criminal activity is available in seconds via a quick court access internet search, the process was laborious early in Loyal's history. Some of the early records still exist, such as those contained in a "Justice Docket" recorded by Justice of the Peace F.W. Draper from 1920-23.
Draper was not dealing with high crimes, so to speak, but of situations that developed as the community changed with the times. In the early 1920s, the first Ford Model Ts were appearing on the dust and mud streets of downtown Loyal.
G.P. Hamilton was one of the first motorists to run afoul of new local ordinances written to keep the streets safe from motor cars. He was in Draper's court on June 30, 1920, for violation of the village of Loyal's Ordinance #19. He was duly charged with "driving in the village limits at a speed greater than 15 miles per hour, against the peace and dignity of the State of Wisconsin." Mr. Hamilton pled guilty to the charge, and was fined $5, plus $2.25 in court costs. Louis Vogel paid the same fine that year for operating his vehicle without lights. Pete Bentzler coughed up $8.45 in fines and costs in July 1922 after pleading guilty to "fast and reckless driving at a speed greater than is reasonable so as to endanger the life or limb or property of any person."
Others cited that year for driving a vehicle at "an excessive rate of speed" were Alvin Luchterhand and Wm. J. Sommers. Each of them were also fined $5 and assessed $2.50 in court costs.
As soon as vehicles appeared on the streets, accidents were bound to happen. One did, on Oct. 27, 1920, and it led to a court date for Guy Smith and Wm. A. Wichman.
In court on Feb. 18, 1921, Smith alleged that Wichman ran into him "with his automobile driven at an excessive rate of speed between Loyal and Spencer … without regard for life and property." The accident, Smith alleged, demolished his wagon and harness and injured him, with total bills adding up to $199.23. The case was eventually settled out of court, with Wichman agreeing to pay Smith $150, as well as court costs of $8.00.
Although prohibition was in full swing and alcohol was supposedly unavailable, Frank Wendel was arrested late in 1921 for operating an automobile while intoxicated. Welden pleaded guilty and was fined $20 plus $4.60 in costs. He was to serve 30 days in the county jail if he did not pay the fine. He did pay.
Skipping on a bill was not allowed, either, in early Loyal, as Howard Durfee would learn in early 1923. F.M. Voight, proprietor of the Hotel Central, filed action against Durfee, for "obtaining food and lodging … without paying." The bill was $13, which Durfee agreed to pay after entering a guilty plea. Voight accepted the payment and dismissed charges, although Durfee incurred $5.80 in court costs and was to be sent to jail for 60 days if he did not pay what he owed.
Durfee did not necessarily learn his lesson, though, as by summer of 1923, he was back in Loyal village court again, this time facing a charge of "being drunk on the streets of said village and other public places against the peace and dignity of the state of Wisconsin." Again, he pleaded guilty, and was fined $25 and ordered to pay $7.10 in costs, with the threat of a 60-day jail term if he did not pay.
Animals could be troublesome in Loyal's early days, as Irving Mengel learned in September 1920, when August Fricke filed a complaint against him for allowing three pigs to "run unrestrained upon the highway." Constable Vince Flaherty delivered the warrant in the case.
Wisconsin passed laws in 1919 as the nation entered a period of constitutionally-supported prohibition. All alcohol became illegal, but that didn't stop local men from trying to bypass the ban. By October 1920, cases began appearing in Loyal's court.
On Oct. 14, a search warrant was issued for the premises of Louis Kellner after a deputy prohibition commissioner filed a complaint against him as "intoxicating liquors are being manufactured or kept for the purpose of unlawful sale."
Fred Fravert faced similar charges in August 1921, as State Deputy Prohibition Commissioner Harry Hewett requested a search warrant for Fravert's property. Upon service of the warrant, Hewett testified "Fred Fravert did unlawfully have in his possession intoxicating liquor and did destroy intoxicating liquor to prevent seizure against the peace and dignity of the state of Wisconsin."
Fravert entered a guilty plea and was bound over "to the next tour of the circuit court for Clark County until such time as his case may be heard." His bond was set at $1,000.
A few months later, it was Charles Rosso's turn to appear in court for violating the prohibition laws. Hewett filed this complaint, as well, stating "certain personal property, intoxicating liquor, mash from which distilled liquor is customarily made, still byproducts and other containers capable of being used in the unlawful manufacture and unlawful sale of liquor were unlawfully possessed and sold by Charles Rosso."
Wm. Dittner was caught trying to make hooch just 10 days before Christmas in 1921. Hewett's complaint alleged he possessed "intoxicating liquor, mash from which distilled liquor is customarily made, still hydrometer, and other contrivances capable of being used in the unlawful manufacture and unlawful sale of intoxicating liquor."
Hewett was on the job again in August 1922, and this time one William Kill was the defendant in a prohibition law violation. Kill entered a not guilty plea, and asked to testify on his own behalf. Kill "is informed by the court that he not be sworn or make any statement which might incriminate himself, but still asks to be sworn." His testimony must not have been convincing, as Draper bound him over to circuit court for trial.
Occasionally, a more serious crime came before the Honorable Mr. Draper. On July 31, 1920, for example, one Louis Radtke was in the municipal court to face an allegation that he had assaulted A.A. Butterbrodt. The Justice Docket records that Radtke "unlawfully and with force of arm make an assault upon him the said A.A. Butterbrodt" and
Please see Courts, page 10 Courts,
from page 9
"did then and there strike and jab with a dangerous weapon twist a pitchfork with intent to do great bodily harm." Upon Mr. Butterbrodt's complaint, the court issued a warrant, which was handed over to Constable Vince Flaherty. Once before the court, Mr. Radtke did plead guilty to assault and battery, and was fined $10, plus court costs totaling $4.85. He paid his fine and was discharged.
In January of 1921, three local men appeared before the local court to face charges that they had burglarized and attempted to rob a store owned and occupied by William D. Schmidt. He claimed that on Jan. 19, James Owens, Clement Waterman and Price Welch "did break and enter in the night time the store building owned and occupied by William D. Schmidt as a store, said building not adjoined or occupied with any dwelling house with intent to commit the crime of robbery, against the peace and dignity of the State of Wisconsin."
The three defendants, in custody, were informed of the charges against them. Owens and Waterman "after listening to the complainant and being informed by the court of his constitutional rights," pleaded guilty. Welch pleaded not guilty. All three of them were bound over to the county circuit court for further proceedings and each was given a bail amount of $1,000. Unable to pay that amount, Waterman and Owens were placed in the custody of the county jail "until such time as their case can be heard." E.W. Stevens provided security for Welsh and he was freed on bail.
As times change, certain "crimes" no longer make it to court appearances as they did a century ago. One of those involved the September 1922 complaint of Lucy Ryan, who alleged that Lacy Plulfroth used abusive language in the presence of the complainant. The alleged words uttered, according to the court docket, were "You're nothing but a bug. Your name is nothing but the outside slime of a bug, all you lack is the bristles otherwise you would be one; go on home, you darn fool."
For this crime, a warrant was issued and Ms. Plulfroth was arrested by Constable Vince Faherty. After Plulfroth entered a not guilty plea, the matter was settled out of court and the complaint withdrawn by Ms. Ryan.
Some cases did not involve crimes against individuals. Such was the May 1923 case against Paul Stumpner and Alex Mrotek, who allegedly did "unlawfully interrupt and disturb a meeting of people lawfully and peaceably assembled in the school house." For this offense, each defendant was fined $10 and costs, with a 30-day jail term in order if they did not pay.
Many court cases of Loyal's early days involved money, as businesses often filed actions in an attempt to collect debts. Sometimes, the cases were seemingly insignificant, but likely not so for the person making their case in court. In one case of Herman Zuge vs. W.C. Hammer, the plaintiff was seeking compensation for work he had done. In a memorandum for the court offered by Zuge's attorney, F.D. Calway, it was noted there was a written agreement that Hammer was to pay Zuge "the going price per acre" for plowing. Zuge claimed to have plowed 15 acres for $3.50 per acre, but was not paid in full.
"Attention of the Court is called to the rule that the burden is upon the defendant to prove by a preponderance of the evidence that this item was included in the settlement," Calway wrote. "Instead, the evidence is that the defendant offered the plaintiff to pay him at a rate of $2.00 per acre and he said if the plaintiff would not accept this, he might sue him. In any view of the case, the Court should allow the plaintiff for this breaking."