Posted on
You can't 'mask' their enthusiasm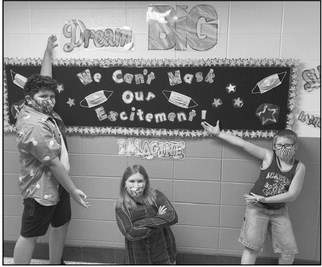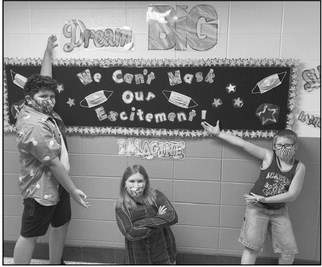 We are so excited about this school year, and we welcome our students to the fifth-grade family. It has been so enjoyable getting to know them. Our faces may be covered with masks, but you can't cover up how happy we are to be back in the school building.
The fifth-graders were challenged to be good role models for our younger Rockets. They continue to rise to the challenge and are setting good examples with the "new normal" we all face during these unprecedented times. We are so proud of how they do so each day with grateful and pleasant attitudes.
The first few weeks were spent getting to know each other and learning about new procedures to keep everyone safe and healthy. Training our fifthgraders with the necessary technology has also been a priority. Our kids have been troopers learning how to navigate the Canvas Learning Management System. This will be a tremendous benefit if the need arises for virtual learning. These tech-savvy kids will hopefully be prepared for anything!
The fifth-graders have settled into a routine and are eager to learn. In math class, we look forward to growing in our number sense and tackling our learning targets. Reading and language class will be quite the endeavor as we explore both fiction and informational text. We are looking forward to diving into some really great pieces of literature.
The students will be finding their love of writing through various projects. We anxiously anticipate our upcoming writing projects and are looking forward to seeing our students' creativity. We can't wait to explore social studies and science topics in depth. Our learning targets will be intense, but our fifth-graders appear ready for the challenges.
We encourage a growth mindset in our family. It is unacceptable to say "I can't" when faced with a challenge. Instead, we encourage our kids to say "I can't yet" and show perseverance. We have all agreed that flexibility will be the key to our success this school year. We teachers are so pleased to work with this super bunch of kids as we enter into a year of much uncertainty.
We can state with certainty, however, that the fifth-grade learning community is ready for a fabulous school year despite all of its obstacles. It is our hope that every student feels a part of our family. We are so eager to build lasting relationships with them and watch these young Rockets soar and reach their dreams.