Posted on
Spencer Kindergarteners report for 'Boot Camp'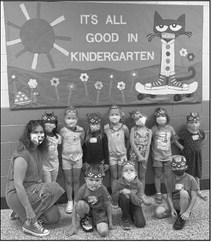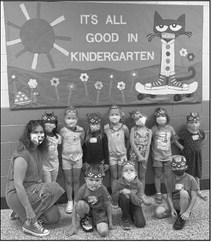 Attention! We are off to a new school year boot camp style!
We are revisiting our numbers 1-20 and letters A-Z to kick off our year. Kindergarten Boot Camp is underway with a letter and number a day. This is a great refresher to jump back into learning and assess where are kindergarteners are at. We are also reading some favorite fairy tales the first few weeks of school and comparing different versions of each. Some of our favorites are, The Three Little Pigs, Goldilocks and The Three Bears, and Billy Goats Gruff. In a few weeks we will start our adventures with Jack and Annie in the most wonderful series of books called, The Magic Treehouse. The Magic Treehouse series takes us all over the world and beyond during our kindergarten school year. We start with the time of the dinosaurs and move into the castle during medieval times. So much fun and learning happen in kindergarten with this series especially the rich vocabulary we learn through background building. The kindergarteners' writing and comprehension skills flourish during the year all while having so much fun on these exciting adventures.
We hope to stay face-to-face for the remainder of the year, but if not we will have an awesome at-home connection with our virtual Tools of the Mind curriculum all set in place. The children have been practicing for a few minutes a day on their Chromebooks to learn how to maneuver virtual learning, so that we are prepared for anything.
We are off to a great start and love our new students! It's going to be another amazing year!
-- Mrs. Wolf, Mrs. Bezlyk and Mrs. Tomke