Posted on
New staff in middle/senior high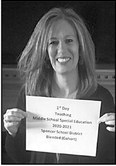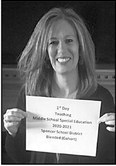 I live in Marshfield and my husband and I have two sons. Crue is in fifth grade and Tad is a sophomore. Before moving to Marshfield four years ago, our family lived in Oro Valley, Ariz., for a couple of years. My favorite season is fall and winter is a very close second. In my free time I love to bake, hike, and simply be outside in our yard working. I am excited to be a special education teacher at Spencer middle school! My name is Mark Kelly and I am excited to be the new tech education instructor. I enjoy working with the students and sharing of my knowledge that I have gained in working in industry and personal projects that I have done through the years. I have always enjoyed working with students though volunteering and various events. My hope is to get to know the students at Spencer and share in their lives and help them walk through life.
I enjoy sports, anything outdoors and just taking a walk with my wife, Carla. I am a father of four grown children with the pleasure of gaining a son and daughter (in law) within the last year and a half.
My name is Nick Viegut and I am the new physical education teacher here at Spencer Middle/High School. I am no stranger to Central Wisconsin as I grew up in Stratford and graduated from there in 2011. After graduation, I studied exercise and sports science at UW-La Crosse and graduated in 2015. For the past five years I have worked as a strength and conditioning coach at the University of Illinois and NorthStar Performance in Burnsville, Minn. I am joined here in Spencer by my wife, Niki, and our two daughters, Cecilia (2 years old) and Joanna (1 month old). We are so excited to be here and to be a part of this great community!
Nicole Larson
Mark Kelly
Nick Viegut