Posted on
Fourth grade working as a team to get back into learning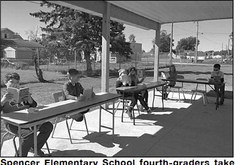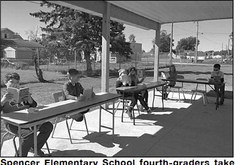 It certainly has been great to have the students in class with us as a fourth-grade team! We are enjoying getting to know each other better. With the construction process of the dome moving forward, students have also been excited to get an up-close look at the construction process with bulldozers and diggers right outside our windows.
School looks very different this year, and math in fourth grade is no exception. We have been working with a brand new program for math called IntoMath with a new learning platform called HMH Ed: Your Friend in Learning. These digital programs allow students to work digitally when they can't be in the classroom. It also helps students to work more independently and at their own pace. Waggle is another new feature in math which has the students excited to be working on their math skills with fun game-based learning.
Language class has been brushing up on our writing and listening skills. We are enjoying a variety of ways to show what we know! We're using both technology and paper/pencil to write. We're impressed with how quickly our fourth-graders are writing well again! They haven't forgotten.
In reading class, we are embracing crazy sound effects, movement breaks and basketball style discussion activities to help get the kids up, moving and engaged in their learning. On the nice days, we try to soak up the fresh air and sunshine as best we can from our new outdoor classroom/pavilion area. We have started our novel study on the book "Because of Winn-Dixie," which many students have quickly given the title of "best book ever!!" We hope to see students continue to be reading machines, as you never know when Mrs. Eckes might throw a crazy AR reading challenge their way!
In fourth grade, we call ourselves a TEAM, which consists of students, teachers and parents. We are work- ing hard to be the best teammates we can be and help bring out the best in each other. We greatly appreciate our parents' support as we continue to navigate things together.