Posted on
Bredlau's next pass at the ….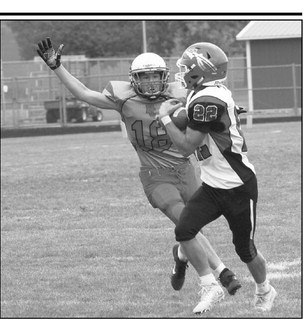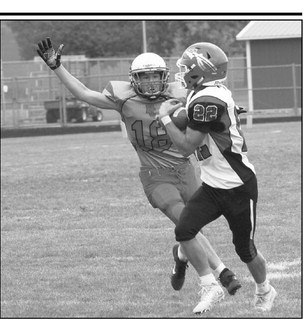 Bredlau's next pass at the Cardinal 3-yard line. Greenwood managed to force a punt, but fumbled the ball away on the first play of its next possession. Newman put it away from there with another long pass play, this one from Ackerman to Shaughnessy for a 36-yard score with 2:01 left to play.
Schmitz said he saw some positive things from his team, particularly since it was able to stay close for so long with a successful, established 8-man program.
"When we maintained blocks and did stuff right, we were there," Schmitz said. "Our pass defense was really pretty good, except that they had three big plays. Our open field tackling was pretty good."
Offensively, Greenwood had 208 yards in the contest, 85 of it on the ground. Hinker ran 13 times for 46 yards and Whitford picked up 31 yards on seven attempts.
Greenwood threw 15 times, with six completions for 123 yards. Westen Schmitz had four catches for 115 yards.
Newman piled up 297 of its 456 yards of offense through the air, with Ackerman completing 17 of 20 throws. He also ran 14 times for 66 yards and Bates added 90 yards on 18 carries. Charile McCarty had seven catches for 60 yards.
Coach Schmitz said he could tell how far the Newman program is ahead of Greenwood in the 8-man game, but it has played it for several seasons. Newman was supposed to be the fifth game on the Indians' schedule, but became the first after a COVID-caused reshuffling.
Schmitz said his team has to get used to the new looks of this format.
"I think there's still some confusion as to how the defense plays against you," he said. "It just seems like there's so many holes out there."
The unfamiliarity with the the intricacies of the 8-man game had the Indians players taking too long to react at times.
"The kids got caught up in the moment of watching the ball game instead of playing in the game," the coach said.
Greenwood will make its 8-man home debut this Friday night when it hosts Bowler-Gresham for a 7 p.m. kickoff.
At right, Greenwood's Sullivan Whitford hauls in a pass against the defense of Wausau Newman's Josh Klement.