Posted on
It is a little hard ….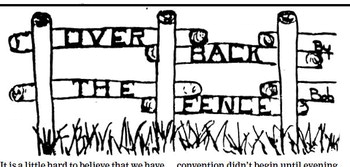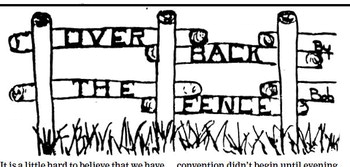 It is a little hard to believe that we have just turned the pages on the calendar again and here we are into September. The ten-day forecast is even saying we may be losing some of the warm temperatures to make way for what I would say are more mild.
My weekly trip to check things out took a bit of a different angle this week as I went to Marshfield this morning and had lunch with Mark. He had just completed his after-surgery check up and it appears he is well on the way back to a full recovery.
After dropping Mark off at his car, where he'd parked it while we ate our carryout lunch in the shade at the Marshfield park, I headed home. Thinking I had a chore to do yet, I decided to turn off 13 and take Mann Road west. The first part is still in the Town of Spencer and while there is some ag land there, much of it is rural homes for those who work in Marshfield, but want to live in the country.
Once you cross County V things take a different look. You are driving right by the Spencer School Forest and it is indeed a forest that is even a bit hard seeing into.
Just down the road you cross Fairhaven Avenue and suddenly are back in Clark County in the Town of Sherman. The road is pretty familiar as I did a lot of driving around on it early this summer in search of what I'd read a lot about, the Spencer Amish.
An older lady had died and when I checked her obit a lot of her children lived in the area. An examination of their farming style showed up a lot different then we around Loyal and Greenwood are accustomed to with the Old Order.
Halfway down the first mile of Mann Road you pass by a road leading into the Maple View Church, which is apparently where it was moved from its former site on the 26 Road.
Continuing west on Mann Road, the cropland turned better looking with lots of corn, soybeans and still some hay being made.
Coming to County Y I had to make a choice. Go south to Veefkind or north to the 26 Road. I decided on Veefkind since a former employee, Scott Schultz, grew up in Veefkind and would be disappointed if I didn't drive through. That's quite an experience for such a tiny area. A sawmill there seems to be doing a pretty good business and with a number of Amish homes close by is where I assume some of the employees live.
Veefkind continues another mile then turns north and then Mann Road appears again. It is a familiar area as I once took a picture of the Gregorich farm for a June Dairy Month ad we made up to show how farmers fit into our community. Mann Road continues now for a few miles then ends again and makes another leap at Highway K next to Northside Elevator's south storage bins.
With everything looking good for another week I called it quits so I could get at this column.
ÓÓÓÓÓ
My plans to watch the Republican Convention, as I did the Democratic one, only lasted a day. During the morning I was watching the hearing being held in the House of Representatives with the Postmaster General. Suddenly the Republicans cut in and started their roll call. I didn't understand this as the convention didn't begin until evening.
The Postmaster General (PNG) was being questioned about the mail sorting equipment and mail boxes that had been removed. The president admitted it had something to do with delaying the mail at election time to make the election look like a fraud.
The PNG admitted to what had been done and said no attempt would be made to replace them. Like the Secretary of Education he was appointed to the job because he had made a huge contribution to the president.
It didn't take long for the congressmen and women doing the questioning to point out how little he knew about the business when he didn't know how much a stamp cost, or the price of a post card.
That evening more of the same dull program continued with a bunch of speeches, all at the same podium and always on the same theme. I don't even recall anyone mentioning that it was a Republican convention.
Later one of the television commentators mentioned it was all restaged and the speeches just inserted.
That left me with a choice. Continue to watch and listen or turn to some reading material on the same subject. That being the book "Too Much and Never Enough" by Mary L.Trump, a niece of Donald. (More on that later.)
ÓÓÓÓÓ
I spent almost eleven years working in a post office before Florence and I got into the newspaper business.
It was a fun job and the nice part was that you sent out all the mail in the evening and never knew how much there would be to sort in the morning.
Mail was still handled by trains and something called highway post office. It was like a big bus and had people sorting mail as it drove down the highway.
Then came zip code and the promise that mail could be sent and delivered the next day. It worked well. Our zip code was 54889 and our mail went to Spooner. The neighboring town next to us, Clayton, six miles away, had a 54004 zip code and their mail went to St. Paul. And sure enough it worked. Next day mail delivery.
Now to get mail to Jackie, who lives three miles east of Loyal on 98, and my granddaughters and great grandchildren, all who live a couple of miles on either side of her, all with a Loyal address.
Since the rural routes now operate out of the Greenwood post office, it requires two days to get a letter to them. That is unless I happen to ask our postmaster to make sure they don't have to follow the regular route.
I guess what is really important is the meaning of USPS. That's the United States Post Office SERVICE. It is something that has been around since our country was born and is as valuable as our military as it moves medicine, official documents and family letters on a daily basis.
As I said, the post office is a service, always was and always should be. Can you imagine having to pay to have a box at the end of your driveway?
ÓÓÓÓÓ
I'm out of room, so I can't say too much about what Mary Trump said. I guess to say the family is dysfunctional pretty well sums it up. Of course you know that by what has happened in the past four years.