Posted on
Rockin' around Loyal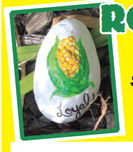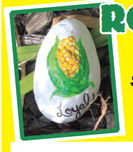 Smiley, happy stones set out around town to brighten others' days
by Dean Lesar
Perhaps you've noticed one of them as you've strolled into a Loyal Main Street business or walked in a park. They're pretty little things, these painted stones, each carrying a bright flower, or a "Have a nice day" greeting. Didn't you wonder who left it there?
It could have been one of many Loyal children or adults participating in the "Rockin' Around Loyal" project, which dates back to the fall of 2017. It was started by local resident Gail Benedict, who found a similar painted rock while she was on vacation in Michigan. Soon after, she wrote in a Facebook post, "I really thought this was a neat way to spread joy and brighten peoples' day. Please join me in inspiring creativity by painting rocks and hiding them in and around Loyal. This is a creative way of energizing people to explore our beautiful town."
DEAN LESAR/STAFF PHOTO A Facebook group ensued, and now multiple residents are taking part. They paint rocks as they have time, and local children help the effort by painting their own and/or placing them in an array of spots in the city. There are rocks near business doorsteps, near the Legion park pond, and even on lawns of painters' friends.
Cindy Esselman joined the Facebook group about a year ago after she was invited by a friend. Benedict had offered online to supply a painting kit for anyone who wanted to join, and, "That evening she left a kit on my porch and that was my start," Esselman said.
The rock project has a dual purpose for those who take part. For one, it spreads a little cheer throughout the town, offering a cheery thought to anyone who might find one. For those who paint the stones and set them out, there's something in it for them, too.
"For me, during COVID-19 and social distancing, it keeps me busy during down time," Esselman said. "It's a win/win for the giver and the receiver."
The stone designs range from the simple to the highly creative. Some stones are a solid color, others are adorned with intricate painted designs.
"As little or as much as the painter wants to put into it," is how Esselman describes the guidelines. "It can be as simple as taking a few moments to paint an ordinary rock a beautiful bright color or researching ideas and using special tools to add more detail and definition. Each painter has their own unique 'take' on rock painting, there's no right or wrong. Acrylic paint, a brush and sealer are the only tools needed to get started."
Esselman said the stones are placed at whatever spot a painter feels is appropriate.
"I hide them based on the 'theme,'" she said. "I've painted stones themed for businesses on Main Street, M& Ms and "baby" sharks for the kids parks; frog, fish, line bobber for the pond. Recently I painted a group of rocks themed for Corn Fest."
After creating her Corn Fest stone line, Esselman posted on the Facebook site: "Totally understanding the need to cancel Corn Fest this year, our little community is missing the camaraderie of team spirit in all the planning and preparations the weeks before. Thus, the theme of this next batch (soon to be planted). As you find and replant the rocks, embrace and share the memories of past Corn Fests with your kiddos/grandpeeps; Ecumenical church service, Corn Fest buttons, Queen coronation, Golden Ear of Corn hunt, truck pull, Legion hamburger stand, bingo, ice cream stand, dance, parade, Jilly Bean run, Spanky run, Sweet Retreat Corn Fest long johns with all the fixings, the whistle signaling a fresh batch of corn is ready, the parade ... the list never ends ... share those happy memories."