Posted on
Greenwood summer school preps kids for start of new year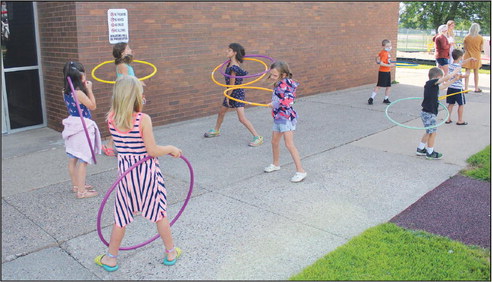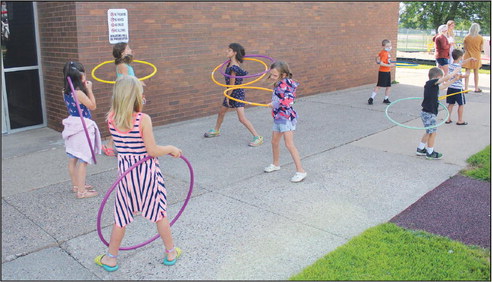 With a few weeks left before in-school lessons are set to begin, many schools have been facing a lot of uncertainty about how they expect the 2020-21 school year to go. In Greenwood, however, the past few weeks have been a confidence booster for the plans the school district has put in place, as the school has been able to put many of its plans into practice during a two week summer school session held from July 27 through Aug. 7.
Greenwood Elementary Principal Joe Green said the summer school session brought in between 50 to 60 elementary age students to the school building each morning for the past two weeks. Comparing it to years past, he said the numbers were down, but due to the circumstances, it couldn't have been better.
"We're between 50 to 60 kids," he said. "Normally we're about 100 kids, so we're at one half to two thirds of what is normal. But it was short notice, I was really happy on the number of kids who came."
Between getting through health guidelines, parental concerns and providing personal protective equipment and supplies, getting the summer school session put together within such a short time frame was something of a miracle. Whatever the challenges however, Green modestly brushed them aside, stating it was a cooperative effort between the school staff, the community and the Clark County Health Department that allowed the session to even be possible.
"We sent a letter out to the parents with plans on what summer school would look like, what learning would look like," he said on how it all got put together. "We followed the guidelines of the Clark County Health Department and the state mandates and we ran with it. To be honest, it was very simple. Families were great and supportive. They understood. Whatever we're doing we're doing to offer opportunities and keep us as safe as possible … There really hasn't been any challenges, we are 100 percent staffed by our elementary staff. We didn't have to go out (to find other teachers) seeing as all the teachers have relationships with the kids, it's nice to have the staff wanting to pitch in."
Looking at the two weeks overall, Green said the summer school session was a benefit in several ways. Since the students have been out of the building for the past five months, he said it has given them an opportunity to recover some of the learning that they may have lost during that time. This year, he said summer school had more academic lessons laced in to help kids get a jump start on the year.
"The teachers have primarily been focusing on reading, writing and math, but also making sure they're fun activities," he said. "I wouldn't say we picked up where we left off, but we are picking up on some skills they may have lost out on learning and polishing skills to prepare for this year."
The students have also been getting used to other changes in the school, primarily with rules about masks, social distancing and regular hand washing. Despite some discomfort about wearing masks, Green said the students have adapted well to the changes and are better prepared for school to really start.
"You can see it in their faces each morning, you see it in their excitement in the curriculum, they are generally happy to be in school," he said. "Any rules and regulations have been a non-issue for kids and families, the kids are good and I must say empathetic. They see that this is being done for good reasons, it's being done to keep the kids safe and healthy."
While the students have been learning their lessons in school subjects, Green said the Greenwood staff has been learning as well. Even though the plan the district created was well put together, he said there are some things you can only learn through just diving in and doing it. In that way, the summer school session has been really beneficial, as it helped the teachers learn procedures, correct mistakes and gave everyone peace of mind about starting the real thing on Sept. 1.
"We're learning stuff every day, just about our building," he said. "Things we need to modify, whether it's how we walk down the hallway or use the restroom, what we have to work on. I think it has better prepared us to start the school year, it has taken some of the worry out of restarting school in both parents and staff."
CHEYENNE THOMAS/ STAFF PHOTOS