Posted on
Granton Childcare Center has come a long way in 10 years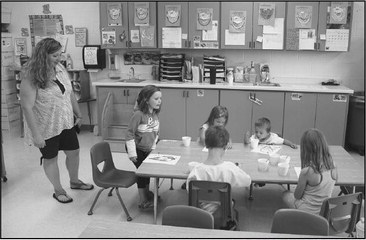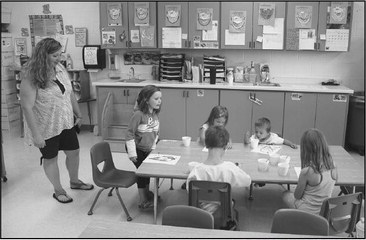 It's been 10 years since LaDonna Nickel first opened the doors to the Granton Community Childcare Center within the walls of the Granton Area School District.
In that decade, a lot has changed. From moves in location to changes in staff, Nickel has seen a lot of challenges rise and fall during her time as director. But as long as there's a need — and a school — she expects the Granton Childcare Center to remain as strong as ever.
Going back 10 years for Nickel is just a matter of finding the right paperwork. Stacked up in filing cabinets, she still has all the old papers from the Childcare Center's first days. There were 17 fulltime kids then, aged from as young as four weeks to 12 years old. With the school district itself going through troubles with student enrollment numbers at the time, she said it was a very good start.
"Well, there weren't any other daycares opening in the area," she recalled. "There was no place for the kids to go. It was right when the school was going to be shut down (when the daycare first opened). They were looking at increasing numbers at the school so they decided to do the daycare at the school."
While Nickel had more than 16 years of previous experience in running a daycare center out of her own home, running a daycare center out of a school district was another matter entirely. For one thing, in the entire state of Wisconsin, she said there was only one other daycare operating out of a school at the time, making it difficult to get an idea on how they could start their own center.
"We were the second daycare to open in a school in the whole state, the first in the area," she said. "There still aren't very many."
Despite the odds, Nickel said she worked with the school board and others at different organizations to develop the plan for their Childcare Center. Wading through mountains of paperwork, she said they were able to first open the facility at the end of July 2010 for an open house. A few days later, on Aug. 2, they were able to take in their first kids.
"I was told that I was hired in May, started on July 6, (2010)," she said. "I started doing things from there, getting things lined up. DPI state inspection, licensing. We are license-exempt but we still have state visits. As for setting up, we had gone through a huge stack of pa- perwork … I brought a lot of my equipment from home and we had donations."
Those donations, Nickel said, continue to be the lifeblood of the Granton Community Childcare Center today. Without them, she said the center wouldn't have half of the equipment it now has — from strollers to a portable hot food cart — and it probably wouldn't have been as successful.
"We are able to keep rates down to make it more affordable with the extra donations we get," she said. "The donations have been very wonderful. We would not be where we are now without the support of the community."
With the support, the Granton Community Childcare Center has continued to grow over the years, becoming one of the Granton School District's most defining features. Today, Nickel said there are 55 kids who come to the center on a regular basis, and others who come through from time to time. The center's nine employees take care of them all, whether it is 5:30 in the morning, or 6 p.m. at night.
"We are open Monday through Friday unless there's a major holiday or a super bad snow storm," she said.
The center's openness has even extended throughout the COVID-19 pandemic. Despite the fear and uncertainty, Nickel said they always remained open, taking care of kids for parents who still had jobs to do. It is something she said she expects will continue, but now with even more help from the Clark County Health Department and other organizations.
"We have been getting a lot of support and help from the Clark County Health Department," she said. "They have been very helpful. We are also paired with Indianhead Head Start, they have also been helpful to us, providing us equipment to sanitize toys and personal protective equipment. We've been washing everything and have stricter policies."
Beyond the Granton Community Childcare Center's immediate challenges, Nickel said they hope to make some improvements to their facilities in the near future. One of the biggest of these improvements is a new playground for their young charges, which has not seen any improvements in years. After that, she expects the Childcare Center to continue to thrive and grow.
"We will continue to operate as long as the school operates," she said.
CHEYENNE THOMAS/STAFF PHOTO