Posted on
Can you believe it? We ….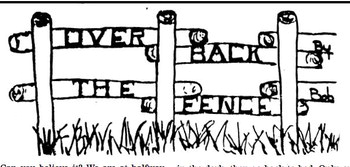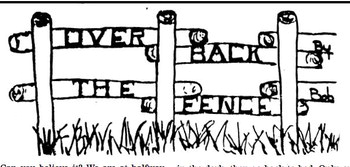 Can you believe it? We are at halfway in the month of July. Seems like we were just celebrating the 4th and here we are at mid-point. I just got back from a little trip around the countryside. I hadn't done much driving since the Fourth, so thought I should catch up on the crop situation. Everything looks great. The corn has turned a deep green and hay fields are a mixture of new-mown and third crop regrowing. A few fields of small grain have turned golden and oat fields have that blueish look before turning.
What surprised me was after driving north and south, then getting home, I discovered a cornfield right in town, west of Main Street, that has a few tassels sticking out the top of some plants. Sure signs that things are changing.
ÓÓÓÓÓ
The Fourth of July weekend can only be described as a bang, bang affair.
Sue wanted to plan a picnic for the Fourth and since Grandson John and Breanna would be at her parent's cabin at City Point, we tried to figure out a place to meet them.
The meeting place turned out to be Lake Wazee, east of Black River Falls. I thought I'd been there once, but after driving in, discovered I hadn't gone, as Jackson County charges to get in their 1,300 acres park.
My admission price was $5 and I must admit it was well worth the money. Lake Wazee was the site of an iron ore mine from the mid 1960s until 1983.
Once the mining stopped, they shut off the water pumps and just let the hole fill up until they had a 146-acre lake. The other big element of the lake is that it is 355 feet deep, considered the deepest lake in the state. Scuba divers come from all over the country to make use of the clear water.
No motor boats are allowed, so it is just canoes and other small water craft.
It is said that 850,000 tons of ore was taken out each year that it was a mine. Now Jackson County has turned it into a beautiful recreation area.
I never dreamed that others might have the same idea we did and I was astonished at the amount of people there. Thankfully, we did manage to find a picnic table empty at one of the many wayside diving areas around the lake.
By the way, Lake Wazee is the Ho-Chunk name for tall pines and is located just south of the POW WOW grounds on Highway 54. On the way home I had to take a swing through the grounds and had a double treat. Inside the grounds is a marker for a Native American, Red Cloud, who gave his life in the Korean War. He was awarded the Congressional Medal of Honor for his efforts to save his company in late 1950.
On the way out I drove around through the POW WOW grounds and managed to catch a glimpse of the dancers. Well, their heads and head feathers. Quite a treat for the Fourth of July.
ÓÓÓÓÓ
The next bang wasn't quite so happy. It happened early the next morning when I got up to use the bathroom. It was just going to be a routine trip, find my way in the dark, then go back to bed. Only, on the way, I lost my balance in the dark and fell, hitting my head, skinning my knee and apparently landing on my side on the flashlight I was carrying but hadn't turned on. My glasses got bent out of shape too, but didn't break.
I put the blame on my lack of balance, which I can trace back to the days when I was trying to learn to ride a bicycle. Somehow balance was not a part of my growing up.
I'd sent an e-mail to Jackie, thinking she would come running in. However, she and Bob had stayed in Hatfield to watch the fireworks with Granddaughter Stephanie and family and were pretty tired when they got home. Finally, I called about ten and things started to happen. She and Bob came in, took one look and loaded me in the car and off to the hospital we went. Some three hours later we were headed home, learning that I hadn't broken any bones, but sure was banged up.
Mark came down and stayed with me for a few days and took me back to the clinic on Friday when I got checked over again. Things looked fine, but as I told the doctor, sure is heck getting old.
During the week, Sue called every day to check on me. One day I suggested it isn't fair. I said John Roberts, Chief Justice of the Supreme Court, fell in the night awhile ago and ended up in the hospital. He even made the news.
It was just like years ago when President Reagan had some surgery and it was big news. I had the same kind of surgery about the same time and no one ever talked about, or knew about it.
We both seemed to agree, Justice Roberts must have knocked some sense into his head as he made a couple of good decisions in the last couple of days. None of which the president liked.
I suppose the incident will raise my Xcel Energy bill a bit as I start turning on the lights when I get up in the dark. I don't know why, as it has been one of my habits since I was a kid. Even back in the days on the farm when there wasn't any streets to help a bit. I just wonder how many trips I made up and down the stairs and didn't have a flashlight either. Probably called, "dumb luck".
ÓÓÓÓÓ
If you are like me you sometimes get bothered by someone trying to raise money for this cause or another. One of my best pet peeves is the person trying to call for retired police officers. I suppose it is a good cause but I know a little about their retirement funds.
The last couple of times they called I was ready for them. I waited until they had finished their pitch and wondered if I could ask a question. I told him I lived on Social Security and wondered how much he thought I should give. He answered right back, "Have a good day and hung up".
ÓÓÓÓÓ
I'll leave you this week with a question from you know who lives in Munice, Ind. What does a lumber jack use to keep track of the trees he has cut? A log.