Posted on
With the weather people predicting ….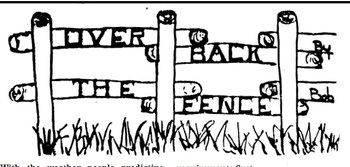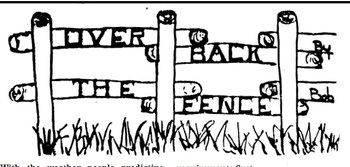 With the weather people predicting temperatures in the 90s for the weekend, I guess it doesn't matter when I get started. Just so you can read it once it is in print on July 8.
It is the Fourth of July weekend and even with the virus epidemic there seems to be plenty to do, if you are really bored.
This warm weather is helping the harvest of second crop hay along and as the old timers tell, you can actually hear the corn growing. Might even be a good reminder to slow down and watch the intersections.
ÓÓÓÓÓ
To begin with we had two funerals in Loyal this week with TRG ties. On Tuesday, services were held at St. Anthony Catholic Church for Dean Milz and on Wednesday services for Gerald Mrotek were held at Trinity Lutheran Church. Thanks to my stupidity or knowledge, I was able to watch half of the services on the Internet.
Their wives, Julie Milz and Betty Mrotek, had been members of the TRG gang when we were running the newspaper.
ÓÓÓÓÓ
I'm pretty much a routine person and life starts about the same every morning. Once I'm up, shaved, showered and take my daily dose of insulin, or actually lantus as it is called, I head out to the kitchen and test for my blood sugar count. Next I head to the sink to get a glass of water to wash down my daily dose of pills.
While the glass is filling I get to make a quick peek out in the backyard. Generally a blue jay might be in the bird feeder with a couple of squirrels playing tag somewhere in the yard. This morning a baby rabbit hopped out from the bushes and a cardinal came and sat on the patio railing. I thought I'd been blessed.
When I was telling the girls about my experience, Jackie suggested not everyone has a zoo in their backyard.
ÓÓÓÓÓ
Well, she might not have a zoo, but certainly more than enough deer in the field to the north of their house to almost seem like one. When I stop there I always grab the chair which allows me to look to the field and the woods which generally will produce any number of deer wandering about. The other day she said a doe had brought her two fawns along, which spent a lot of time playing with a baby rabbit. They also got brave enough to come up to the yard and check out the ornamental deer they have.
ÓÓÓÓÓ
Sue has her own deer story to tell as well. They live about three miles or so out of Holmen near the unincorporated hamlet of New Amsterdam. Their address is Old County Road NA. I have no idea where new NA is. Coming off Highway 35, the road passes by a few farms, then gets into some wooded area before going by their house. Sad to say a developer has big plans of turning that wooded area into a housing development, but still has a couple of hurdles with the permits and other requirements first.
They also have an abundance of trees in their yard and Sue's husband Mark is a great bird feeder. Along with the bird feeder there is also a bird bath and now they have discovered that a doe has been coming over at night and helping herself. The other evening she came and brought her two fawns along, so both girls are living in the wildlife area.
ÓÓÓÓÓ
Last week when I was reading the TRG and as I read through the Clark County Circuit Court news, it just seemed like there was an awful lot of young people getting tickets. So I took the time to do some research.
Of the 173 citations issued, 25 were in the age group of 16-19. The biggest group was next, the 20-29 bracket saw 66 paying fines. Then it began to taper off with 47 in the 30-39 group and 22 in the 40-49 group. Only eight were 50-59 and four were in the 60-69 group. Then you had to jump to the 80 age group to find one lonely offender. Note, no one in the 90 or over got a ticket and I did look and still have five years left on my driver's license.
I guess I've told the story of my first license. It was issued by my cousin who happened to be a deputy sheriff for Barron County. The day I went looking for him in Turtle Lake, I found out he wasn't home, but up to his mother's. I figured Aunt Jennie could use a little more company, so I went looking for my cousin. I think he had given all my brothers their licenses and I thought he had even made them drive for him.
He did ask if I was driving and when I assured him I was, he said, "We'll make this quick and issue you your temporary and regular license at the same time". He filled out some papers from his brief case and said, "That will be a buck fifty, fifty cents for the temporary and a buck for the regular license."
I was 16 then and that license served me well until the draft came along in 1951 and I found myself in the Army in a truck company. We needed an Army license and plans were made for the whole company to apply for one. They even took time to tell us what the exam might look like and explained the correct answers.
Next came the written exam and actual driving test. Even after having the answers explained, can you imagine some of the guys didn't pass the first time through.
We took our driving test with a semi and part of the test was to back it up. Thankfully I had driven the tractor on the farm and backing a wagon had been a good experience.
Just before I was discharged, we had to renew our license. By that time I was the company clerk and never went near the motor pool. Nevertheless, I had to send my license down and our Chief Warrent Officer did the paper work.
Not only was it a license to drive a jeep but a weapons carrier, 2 1/2 ton and a semi, and he noted I was also licensed to run a typewriter. I still have that somewhere in my file of stuff.
ÓÓÓÓÓ
The Fourth of July is now history again and I hope you had a great weekend. It is sure going to be a different one from most years. For sure none of us had to worry that our gardens might freeze.