Posted on
Surge of COVID-19 cases in young adults concerns officials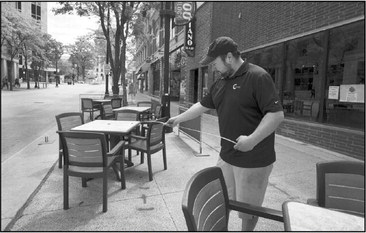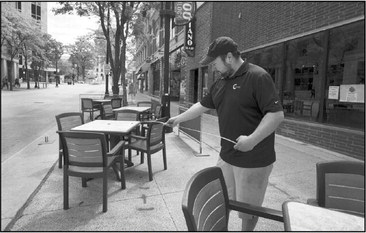 A recent surge in COVID-19 activity in Wisconsin and Dane County, especially among young adults, could undermine efforts to control the outbreak this summer before flu season further complicates the situation in the fall, health officials said Monday.
"Our efforts to contain the transmission on a large scale becomes much more difficult with the younger, mobile population that has a large social network and a lot of contacts," said Dr. Ryan Westergaard, a medical officer with the state Department of Health Services.
Young adults are less likely than the elderly to become severely ill from the respiratory infection, and COVID-19 hospitalizations in the state remain well below a peak in early April. But young adults can spread the virus and make it more difficult to curb the epidemic before flu reemerges and adds another challenge to hospital capacity, Westergaard said.
"The more this gets away from us this summer, the harder that's going to be," he said.
On each day of the five-day period ending Sunday, the state reported more than 430 new COVID-19 cases, a daily total last exceeded June 4. New cases dipped Monday to 315 and no new deaths were reported, but more than 5 percent of tests have been positive each day since Friday, higher than in recent weeks.
Dane, La Crosse and Winnebago counties have seen a recent rise in cases among young adults, Westergaard said. In Winnebago County, home to Oshkosh, a team from the Centers for Disease Control and Prevention is visiting this week to investigate.
Among cases reported statewide in June, 31 percent have been among people in their 20s. In the early days of the coronavirus pandemic, through April 7, 11 percent of cases were in that age group.
Dane County reported a record 115 new cases Wednesday and again Saturday, and has had no fewer than 72 cases daily since last Tuesday. As recently as mid-June, the county's daily average was 17 cases.
Some of the county's increase in cases likely stems from increased testing, but 7.1 percent of tests were positive Thursday, up from a recent average of 1.4 percent, indicating wider prevalence of infection.
As of Monday, two of the nine measures the county is using to decide when to further ease restrictions are at dangerous levels, which would prohibit wider reopening. From June 13-26, average cases per day were 44, up from the goal of less than 4; and 37 percent of new cases didn't know where they could have been infected, up from the goal of less than 20 percent.
"This rise in cases from the past week is very concerning, and we want to reiterate to the community that we need everyone to do their part to help curb the spread of the virus," Sarah Mattes, spokeswoman for Public Health Madison and Dane County, said Monday. "We need people to stop gathering, to wear masks if you're able, and to stay home if you're sick or feel off."
The city-county health department on Thursday amended its COVID-19 order to say bar and restaurant patrons must be seated with chairs 6 feet apart and only with members of their own household. The establishments may still operate at 50 percent capacity.
Officials also said gatherings on private property are limited to 10 people. The county continues to be in Phase 2 of a tiered system to combat the virus and reopen the economy.
"In contact tracing interviews, gatherings among family and friends and socializing at bars have been identified often," Janel Heinrich, health department director, said in a statement. "We know they are a major driver of this surge in cases, and this is why we are taking this targeted approach and not moving entirely to a previous phase."
Since the pandemic began, 37.3 percent of cases in the county have been among people in their 20s.
Twenty-one of Wisconsin's 72 counties had high COVID-19 activity last week, according to a new state health department dashboard that factors in case rates and percent change in the previous two weeks.
La Crosse County and neighboring Trempealeau County had the highest recent rates. Other counties with high activity — including Dane and neighboring Rock and Jefferson counties — were in the southern or central part of the state.
Since the state Supreme Court on May 13 struck down Gov. Tony Evers' stay-athome order, the state health department has been less able to enforce restrictions that could slow the spread of COVID-19.
Local health departments can take steps such as closing bars or restaurants if necessary, Westergaard said. "If it's really getting out of hand, those things are still on the table in terms of local jurisdictions," he said.
But he said public health officials don't want to be "activity police." They want to encourage people to take steps — physical distancing, wearing masks and keeping gatherings small and preferably outdoors — that can help everyone, he said.
"If we had widespread adherence to those things … up near 90 percent to 100 percent, we would cut down transmission," he said.
David Wahlberg is the health and medicine reporter for the Wisconsin State Journal.
Jack Sosnowski, owner of Buck & Badger Northwoods Lodge on State Street in Madison, measures his tables last month to be at least 6 feet apart. Merchants in Dane County were allowed to reopen in late May at 25 percent capacity, which increased this month to 50 percent capacity, with other restrictions. (Steve Apps, Wisconsin State Journal)