Posted on
Spencer Garden Walk raising funds for Sleep in Heavenly Peace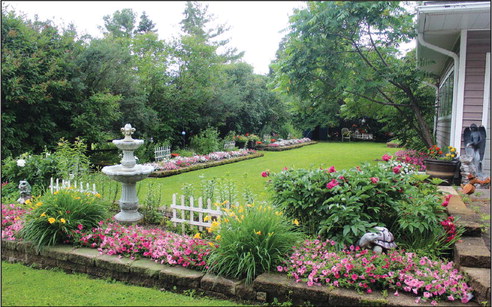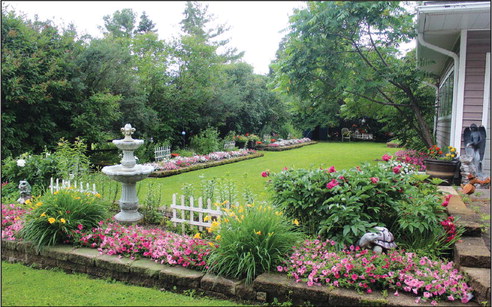 Tired of being stuck at home with nothing to do and no place to go? How about going on a walk through a beautiful backyard garden maintained by neighbors and friends? In a few weeks, visitors to Spencer will have the opportunity to go on such a walk, which will raise funds for a local organization.
On July 11, the Spencer Women's Club will be hosting a Garden Walk through five Spencer backyard gardens scattered across the village. The funds raised through the walk will go to Sleep in Heavenly Peace, the Spencer chapter of a national organization dedicated to building beds for local children.
"It's a fundraiser we're going to be doing for the Spencer Sleep in Heavenly Peace," said Mary Zahn, president of the Spencer Women's Club.
The inspiration for the Garden Walk came after the Spencer Women's Club held a successful Tour of Homes late last year to raise money for new Christmas lights on Spencer's streets. Zahn said as the club was pursuing another fundraising project for the community, the idea of holding a Garden Walk came up. It was an event that had been done in Spencer before, so they decided to give it a try.
"My plan was to do a Tour of Homes every other year and a Garden Walk every other year," she said. "But I think this will be the first and last Garden Walk … I was trying to think of things to do for a fundraiser. I don't know how many years ago it was now, but they did a garden walk in the past."
With an event in mind, Zahn said the next step in their talks as a club was to determine a recipient for the funds raised. They immediately thought of Sleep in Heavenly Peace.
"We try to promote things in our community," she said. "They (Sleep in Heavenly Peace) were going to set up a tent for Spencerama, but that got cancelled. When we had our Women's Club meeting, we were figuring out our goals for the year, what to pick and choose what we do with the money that was raised. We chose Sleep in Heavenly Peace."
Getting everything put together, Zahn said, was challenging at times. Not everyone has a garden, she said, and finding those who did and who were also interested in the event was difficult.
"The hardest thing was knowing people who had gardens," she said. "I live in an area where houses have been sold three times in the past few years. You just don't know anyone like you used to. You don't know them and you don't know what their backyards are like."
Eventually, Zahn said the club was able to find five families who were interested in helping with the event. Each one, she said, has a real green thumb and raises a variety of plants that expresses the gardener's individual tastes.
"We're fortunate we pulled it off," she said. "There's five gardens, they're all in the Spencer village limits. The ones we got, they enjoy gardening."
The five gardens on the tour are at the homes of Jeff and Mary Zahn at 705 W. Clark St.; Wayne and Pauline Frome at 305 S. Haselow St.; Joseph and Anita Ruger at 303 W. Buse St.; Tom and Deb Schafer at 710 N. La-Salle St.; and Fred and Joyce Fischer at 10809 Lincoln Spencer Road.
The Garden Walk will run from 10 a.m. until 2 p.m. on July 11. Tickets for the event can be purchased beforehand at Citizens State Bank in Spencer, the Spencer Village Office and Amie's Cut Loose for $10, or on the day of the event at one of the Garden Walk sites for $15. During the Walk, the Spencer Women's Club will be selling water and other items and Sleep in Heavenly Peace will have a display at one of the sites.
While participating in the Garden Walk, Zahn said she hopes people will be respectful of others' property and be respectful towards others who are participating in the Walk. She also hopes people will be able to come out and have a good time, learn some tips about gardening and help a good cause.
"We have to cross our fingers," she said. "With fear about the virus, I hope people are being safe. But I think the surrounding areas are getting pretty educated on masks, you see it. Social distancing, the people are pretty good about it. Everything was pretty much locked down, now we're starting to open up a few things. I hope the public will feel that its safe to go. It's a good, healthy thing to do, and it's a good way for people to help out."
CHEYENNE THOMAS/STAFF PHOTO