Posted on
Loyal's Buchanan proving he belongs among NCAA elite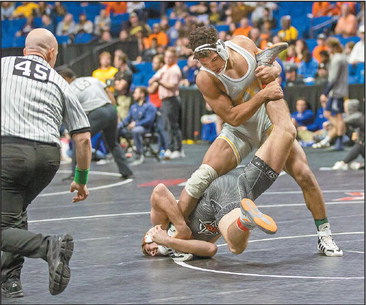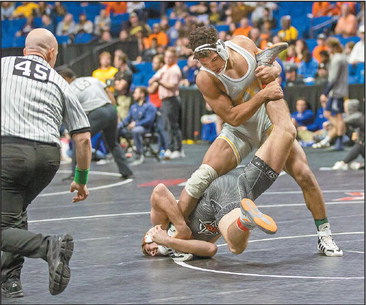 Before the coronavirus dominated the news headlines this spring, Stephen Buchanan was already going viral. A true freshman at the University of Wyoming, Buchanan sent shockwaves through the college wrestling world when he defeated seventh-ranked Dakota Geer of Oklahoma State in early February.
A video of the match quickly circulated around the Internet, and was viewed by thousands. It's something that Buchanan, who grew up in the small town of Loyal, is still amazed with.
"It's crazy that I can search my name online and I'll show up. I can go on YouTube and watch myself," Buchanan says about his newfound fame. "It's different, but I like it. It's just more motivation to get my name out there and tell my story."
It's a story that's only just beginning for Buchanan, and even with a season marred by COVID-19, his focus, hunger and determination for more grows each time he watches the clip. That's because he understands it's not just his story anymore -- it's a story that every small-town kid can see and dream of.
"It feels good to win such a big match and realize that people in your hometown haven't forgotten you," Buchanan said. "They realize that you're showing up for them, too. Even though I'm wrestling for the University of Wyoming, I'm wrestling for Loyal, too."
Laying the foundation
Buchanan's victory over Geer made him an overnight success on campus. He was named Big 12 Wrestler of the Week following the match and was recently named Male Rookie of the Year at the University of Wyoming.
He finished the 2019-20 season with a 26-13 record, including three wins against ranked competition. Along the way he qualifi ed for the NCAA D-I National Championships in Minneapolis.
It's a success story that seems to have happened almost overnight, only it isn't. It's a result years in the making, one filled with hours of hard work that's molded Buchanan into one of the most promising wrestlers in the country.
Stephen's path to the NCAA was never an easy one, nor even a certain one. While he qualified for the WIAA state tournament four years in a row, he flew under the radar his first two years with the Neillsville/ Greenwood/Loyal co-op.
But it was those early years that laid the groundwork for everything that has come since.
"When I first started at the N/G/L program I had to fight for my spot," Buchanan explained. "But once I got it, I never gave it up and I was four years varsity."
Stephen finished his junior season with a 46-2 mark and a state title. He did even better as a senior taking a second state title and a perfect 48-0 record. His mental toughness was just as much on display as his physical gifts, he says.
"It was more a mentality thing than a purely physical thing my senior year.," he said. "I just made sure I was doing more than anyone else. If someone was doing more than me, I made sure to do a little extra."
Weighing the options
After his junior season, Buchanan was in talks with several schools in the Big Ten, but he never really felt that he was a priority for them, even with back-to-back WIAA D-II state titles.
"They weren't really all that interested in me," Stephen recalls. "I was just their back-up plan . . . I guess I didn't have a good enough background or good enough record for them."
He took the lack of notice as a challenge, vowing to prove himself to those schools who felt he hadn't done enough, hadn't won enough, or simply wasn't good enough to keep up with the big dogs of the D-I.
He continued to evaluate his options, and while he's with the Wyoming Cowboys now, when they first came calling, Buchanan wasn't entirely sold on the idea of moving away from friends, family and the familiar sights of the Midwest.
"When I heard Wyoming was interested in me it was honestly probably at the bottom of my list," he said. "I did not want to go there. Once I heard of it, I thought 'There's nothing out there. There's probably nothing there for me.'" But once he went on the visit, spoke to his future coaches, his opinion on Wyoming wrestling changed. It helped that two of his coaches are four-time NCAA finalists. Buchanan saw their success and wanted it for himself.
"I approached it as, 'Well if they can do it, then I can learn from them, and hopefully I can do the same thing they did.'" Shortly after that trip, Stephen signed his name on the dotted line, committing to wrestle for the University of Wyoming, and in the summer of 2019, he made the thousand mile journey to Laramie.
From Loyal to Laramie
The city of Laramie will never be confused for a bustling metropolis. With just over 32,000 residents, it's considered small by many of Buchanan's teammates, who hail from larger locales in Texas, Colorado and California.
Others might have struggled to make the transition, but Buchanan, coming from a similar cold and rural state like Wisconsin, fit right in with the tight-woven community that's nestled in the Rocky Mountains.
"Honestly, Laramie reminds me a lot of the Marshfield area," Buchanan says. "So I just kinda pictured it as home, except you go up another 6,000 feet."
Trading the forests and rolling hills of Wisconsin for the mountains of southern Wyoming was the easy part, adjusting to the altitude took longer, but it quickly became a boon for his training.
"The altitude was a big difference for me, but I also like it because our coaches tell us that the one thing we should be is more conditioned than every single athlete we face," he said.
Time to get to work Buchanan had always wanted to be a college athlete, but signing the letter of intent was only the beginning. He quickly discovered college was vastly different from his life as a prep athlete.
"The atmosphere is completely different from high school," Stephen said. "When you wrestle in the room, there's so much competition and talent in there. Even though they're your teammates, sometimes you get in fights because the competition and competitiveness of each guy is so high."
The environment of a college match was also eye-opening for Buchanan, where most of his high school meets held just friends and family. Now there were hundreds and thousands of people at each event. Those early weeks of his college career were trying times.
"It definitely was harder than I thought it would be," he said. "In high school there
CONTRIBUTED PHOTO are times where you could relax a little bit, take some time off, but in college, from Day One, it's just go."
In many ways, Buchanan's first year with the Cowboys was reminiscent of his time with N/G/L. He had to fight to earn everything, and constant obstacles were thrown in his way. He didn't want it any other way.
"Once I got there, I was just like a sponge," he said. "I was trying to soak up every piece of information they gave me. I learned so many things . . . I took everything they taught me and kept applying it to my wrestling."
It didn't take long before Stephen was forcing his coaches to reevaluate their plans for the 197-pound product, especially after he took the amateur division in the 197 weight class at Wyoming's Cowboy Open in early November.
"At first I was just going to redshirt, so I didn't really mean much, but once I won the Cowboy Open I thought that I was ready to take the position," Buchanan said. "Once that happened I started trying more in practice and doing extra."
His coaches also took notice of his unrelenting work ethic and pulled the trigger, naming him Wyoming's starter at the 197 division. He was happy to make varsity, but it meant even more responsibility on his broad, but young shoulders.
He knew every time he wrestled he was representing not just himself but his university, his teammates and coaches. He took comfort in the knowledge that no matter how his match went, his team always had his back.
"They put all their trust into you because you're wrestling for them and your university," he said. "It was definitely a lot of pressure, but once you knew that your teammates and coaches had your back, all you had to do was wrestle."
Buchanan continued to flourish with the Cowboys, winning his weight class at the UNC Open in mid February. His skills grew, but he admits there were times being on varsity was frustrating. Wrestling in a premier conference like the Big 12 meant he was constantly battling older, higher-ranked opponents.
There were losses to top-ranked wrestlers, but none of them were blow-outs, with many coming by a single point. But Buchanan tried to learn something from each match, whether it was a win or loss.
"It was frustrating that I lost big matches by one point, but I also took a lot of positives away from it," he said. "They're in college wrestling for two or three years ahead of me and I'm holding my own."
All of those matches set the stage for what would be Buchanan's break-out performance. When that cold February night in Laramie came, Buchanan was ready for it.
A breakout performance
Wyoming struggled out of the gate that night, dropping eight consecutive matches to Oklahoma State. Buchanan aimed to put a stop to the slide.
"It was big," Buchanan says about his match with Geer. "It was at home and it was our biggest meet. I just told myself he might be a few years older than you, but you can take him. He's not going to think much of you because you're only a freshman. I used that as an advantage."
Geer soon realized he was in for a fight, and by the third period it was a 5-5 match. Buchanan fed off the adrenaline of the moment and the energy of the crowd as he battled to an 8-6 victory.
"The crowd helped out a ton. It was great to have it at home and we didn't have a win in that match-up until mine," Stephen says. "Once I got the first takedown they just gave me more energy and gave me a second wind."
The final minute of the match was shared online, showing a victorious Buchanan exulting in victory, arms raised as the crowd screamed and chanted their support. It was shared by hundreds, and fans back home showered him with praise and encouragement.
"Once I had the win under my belt it gave me a lot more confidence," Stephen said, reflecting on its impact. "It was like a booster. It told me that if I can beat the seventh ranked guy in the country I can beat anyone. "
Ready for more
Buchanan's confidence exploded, and he climbed to a season high ranking of 19th in the NCAA. He carried that momentum into the Big 12 Championships, where he met Geer once more, and defeated him once more. But outside of that result, Buchanan struggled, in what he calls, "one of my worst tournaments."
Buchanan was aiming for a conference championship, but placed seventh. He got new life when he earned an at-large bid for the NCAA D-I National Championship.
"It's special to be a two-time state champ, but to get to the last tournament in college in D-I, it felt like all the hard work paid off," he said. "You're here and you just have to show up for one last time, and I was ready to."
But with the onset of COVID-19, sporting events across the country where cancelled. It was a bitter end to a tremendous season, but Buchanan refuses to let the virus define his first season.
He's now using his time away from campus to act as a platform for bigger things. He's made it to Nationals once, and like his prep career, he's not content to just compete -- he wants more.
"I remember at the beginning of the year we had this goal sheet. As my ultimate goal I wanted to be a two time NCAA champ. I actually got yelled at by my coach," Stephen says. "He said 'Don't ever put yourself down.' He told me I was good enough to be a four-timer."
That message stuck with him, only now he knows he can be more than a just champion -- he can be a role model.
"Coming from a small town and going to a NCAA D-I school, I feel like it's my responsibility to show that anyone can do it," he said. "It doesn't matter the size of the town you come from, or how big or small your family is, or what your background is, if you work hard you can get
anywhere."
Stephen Buchanan's arm is raised after one of his 26 NCAA Division 1 freshman season wins.
CONTRIBUTED PHOTO