Posted on
The time did pass quickly for retiring Granton school administrator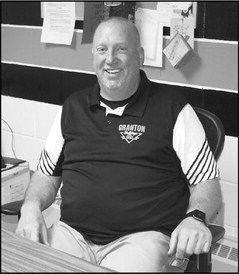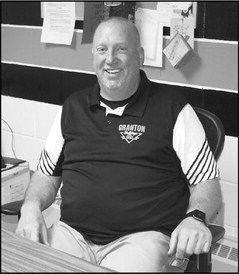 Every August before school would begin, Granton School District Administrator Scott Woodington was fond of telling school staff, "You're going to blink and it will be the end of September. Blink again and it will be Christmas, and blink again and it will be the end of the year. It goes by fairly quickly."
Looking back to when he first made his announcement of his desire to retire about a year and a half ago, Woodington sees that indeed, time has traveled quickly. It's a bittersweet moment for Woodington as he performs his final duties as the school's district administrator, for though he's sad about leaving education behind, there's a lot he has to look forward to.
"I really made the decision about a year and half ago," he said. "I enjoyed my time in education in the time that I have done the job. Administration is different now than when I started. The amount of forms and paperwork, that stuff has increased dramatically. That part, I won't miss."
What he will miss is all the staff and students he has come to know over the past three years at Granton, the community and parents he has interacted with, and all the special little moments along the way.
"Its' always been about working with students and staff, parents and community members, in unique and individual circumstances," he said. "We have a tendency to remember the handful of bad situations when there are thousands of positive situations. It far outweighs the negative. There are so many more positive things that have happened in the years I have taught."
While there have always been many positives with the job, Woodington said there have been some unprecedented challenges he had had to work through, especially during the past two years. Dealing with the polar vortex which closed schools down through almost all of the month of February in 2019 was the first, and was thought of at the time as a school cancellation event that would likely never happen again. Then the COVID-19 pandemic hit.
"Probably the last two years (have been the most diffi cult)," he said. "The weather last year with that polar vortex and weather issues. We had more snow days than ever in the past in that year. And this year, we had the coronavirus with no students in the building. It was very difficult."
And it's still difficult, as Woodington is still dealing with the repercussions from the school being closed. Knowing full well that he's passing on the torch, he said making plans for the school's direction in the next year has been a balancing act. Too much, and he makes it hard for his replacement, Dennis Kaczor, to make decisions reflective of his vision; too little, and he gives Kaczor little help in knowing what to do.
"That's what I'm trying to do, get everything tied up as much as possible, make sure it's a smooth transition," he said. "Probably the biggest struggle is that I'm not going to be here next year. Each administrator does things slightly different, I don't want to create a situation where Mr. Kaczor has to come in and change things."
After he's gone, though, Woodington said he expects the transition to go well. Kaczor has many people he can rely upon to help him, and they have been communicating as much as their schedules allow to help everything go smoothly.
"I think they're in good hands with Mr. Kaczor and Mrs. Kraus," he said. "It will be a positive transition."
As for himself, Woodington said he has made a few plans for retirement, but is also leaving himself open to whatever opportunity may come his way.
"Right now it's going to be mainly golfing, fishing and doing some yard work," he said. "My son will be playing football at Stout, I will enjoy watching the games. I coached for many years, and I have talked about one point to do coaching again."
With his work at Granton near its end, Woodington said in hindsight, it has been a blast.
"Thanks for all the support I've had from the community, school board, staff parents and students," he said. "It has been a joy to work here. I wish the school district of Granton and the school community the best of luck."
Granton School Administrator Scott Woodington is retiring after three years in his current position.
STAFF PHOTO