Posted on
Denied shot at national meet, Loyal grad has some time left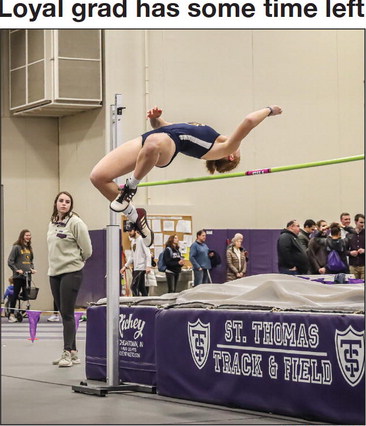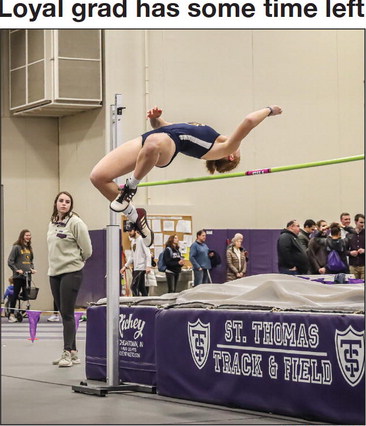 Just like on the track field, adjusting to something new is always about figuring out the process, finding out what works, learning from others and making tweaks to what you do to achieve the best result. Ever since she graduated from Loyal High School back in 2017, Bailey Waldhauser has been adjusting on and off the field to the changes that have come her way, becoming a much stronger athlete and individual in the process.
A junior at UW-Eau Claire, Waldhauser has gotten used to a lot of changes. She's been studying there in kinesiology, working hard to finish school and become an occupational therapist. When she's not studying, she's working on her athletic skills, trying to maintain her abilities all year through training and healthy eating.
"Honestly, I love college," she said. "It's definitely challenging the last two years, I have adapted very well to the pressure. I've gotten really good at time management… I make sure I get my homework done. Track is the stress reliever of the day."
In high school, Waldhauser was a statequalifying track athlete, participating in the high jump, triple jump, long jump and sprints during the regular season. She went on to the state track meet in long jump in 2016 and in the 4X100m relay in 2017. In college, her events pretty much have remained the same -- she still jumps and does sprints, but the focus for her has changed from long jump to high jump.
"I have made quite a bit of progress," she said. "In high school my best event was the long jump, now my best event is the high jump … I was doing high jump my senior year (of high school) and it has turned more into my favorite event. I love the feeling of being able to clear the bar, it feels like flying."
As a Blugold, Waldhauser participates in both the indoor and outdoor track seasons, which is a lot different than the kind of track season she was used to as a high schooler. For one thing, the seasons are a lot longer, making it extremely important to maintain good health in order to avoid injury.
"I'm still trying to figure it out," she said on how she avoids injury. "There's preseason the entire first semester … we come back in January after spending two weeks at home. From January until March it's the indoor season, and from March until May for the outdoor season. Unless you qualify for Nationals, then it's a little longer."
Helping her become a better athlete has been her coaches, especially her head coach Chip Schneider. Under his direction, Waldhauser said she has learned a lot and has also been able to drastically improve her performance even with a longer season. "The way Chip does our practices, we will have our peak performances in May, and that's through the indoor season," she said. "That make s o u r practices so different (than other schools). We really push during the first couple weeks of indoor and then we let off and do some sets, weightlifting."
The improvements to Waldhauser's performance has become more and more obvious to her as time goes by. In high school, she said her jumps in high jump and long jump were inconsistent, and would top out at about 5'2" and 16'3", respectively. Now, she's jumping distances much greater than that and on a more consistent basis.
"I used to be very inconsistent," she said. "I gained over a foot in long jump and I gained about six inches in high jump. For high jump, my best cleared was 5'6" (in college) and in high school it was 5'2". In long jump, it was 16'3" in high school, now it's 17'8".
Besides a change in her training regimen, Waldhauser said one of the biggest reasons for the increase in distance on jumps has been due to changes in her technique.
"I just had more form and technique coaching," she said. "Training is different in a way, very power focused instead of focused on endurance. There's a lot of visualization of the techniques."
Even as her physical prowess has increased, Waldhauser said she has had to overcome obstacles beyond the physical. As a college athlete, she said the level of skill athletes have can be pretty overwhelming, especially when she first started. Competing in a larger setting, too, was nerve-wracking.
"In college I had a lot of performance anxiety," she said "At the college level of competition, everyone is super talented. I have found that you can't compare yourself to other performances. I found I was doing that instead of comparing my performances to the progress I had made."
And Waldhauser has indeed, made progress. Competing in the Wisconsin Intercollegiate Athletic Conference (WIAC), she participates in 10 to 15 meets during an average season. These meets take her all over the state and even to a few places beyond the Wisconsin border such as when she travels to national competition.
"Usually they're three hour rides between the WIAC schools," she said. "As far as Nationals, you go out of state. We went to Ohio for the outdoor (national meet) and we were going to go to North Carolina (this year), but didn't due to COVID."
In all her meets, high jump is the event
"At the college level of competition, everyone is super talented. I have found that you can't compare yourself to other performances. I found I was doing that instead of comparing my performances to the progress I had made." -- Bailey Waldhauser
CONTRIBUTED PHOTO she's best at. Last year, she had qualified for the outdoor national meet in high jump where she placed 16th out of 22 athletes. Consistently reaching the 5'6" mark, Waldhauser thought this would be the year she would finally set a new personal record. Unfortunately, that never happened.
"This would have been my third attempt," she said. "I have been a lot more consistent this season from last season. I had tied my PR (Personal Record) four or five times, I was really hoping to break through."
Due to the abrupt end of this season, which did not allow Waldhauser to attend the national competition again in high jump, she said each qualifier received an All-American award. This award, she said, is typically reserved for the top eight finishers at nationals, but because they were not able to determine the winners this year, they awarded all the national qualifiers.
"Pretty much everyone got an All-American title," she said. "The top eight are usually All-American. It has never happened before. There was a lot of outrage when they first cancelled the national meet."
Once things return to normal and Waldhauser is able to resume her studies, she said her goal as an athlete is to return and really earn the All-American award she received this year and set a new personal record for herself. At the same time, she also wants her Blugold women's team to succeed and earn the school's first female national title.
"I want to stand on the podium as an All-American and really earn it." she said. "The men's team won a national title last year, I am hoping the women will get a shot. I really think our women's team has a shot at the title."