Posted on
An Outdoorsman's Journal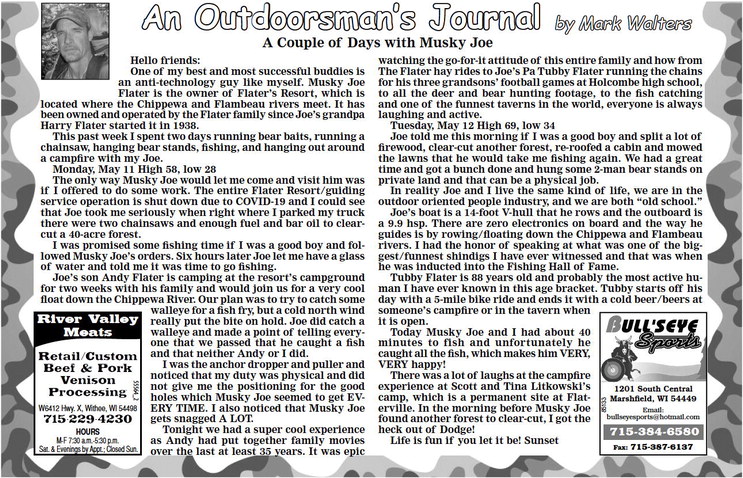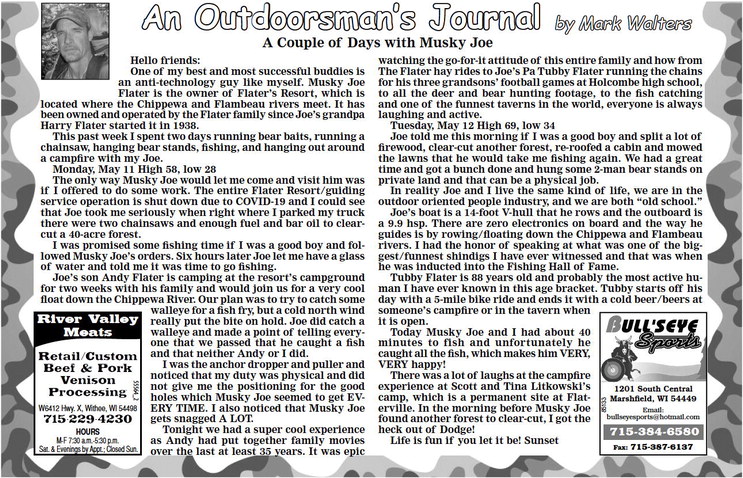 A Couple of Days with Musky Joe
Hello friends: One of my best and most successful buddies is an anti-technology guy like myself. Musky Joe Flater is the owner of Flater's Resort, which is located where the Chippewa and Flambeau rivers meet. It has been owned and operated by the Flater family since Joe's grandpa Harry Flater started it in 1938.
This past week I spent two days running bear baits, running a chainsaw, hanging bear stands, fishing, and hanging out around a campfire with my Joe.
Monday, May 11 High 58, low 28 The only way Musky Joe would let me come and visit him was if I offered to do some work. The entire Flater Resort/guiding service operation is shut down due to COVID-19 and I could see that Joe took me seriously when right where I parked my truck there were two chainsaws and enough fuel and bar oil to clearcut a 40-acre forest.
I was promised some fishing time if I was a good boy and followed Musky Joe's orders. Six hours later Joe let me have a glass of water and told me it was time to go fishing.
Joe's son Andy Flater is camping at the resort's campground for two weeks with his family and would join us for a very cool float down the Chippewa River. Our plan was to try to catch some walleye for a fish fry, but a cold north wind really put the bite on hold. Joe did catch a walleye and made a point of telling everyone that we passed that he caught a fish and that neither Andy or I did. I was the anchor dropper and puller and noticed that my duty was physical and did not give me the positioning for the good holes which Musky Joe seemed to get EVERY TIME. I also noticed that Musky Joe gets snagged A LOT. Tonight we had a super cool experience as Andy had put together family movies over the last at least 35 years. It was epic watching the go-for-it attitude of this entire family and how from The Flater hay rides to Joe's Pa Tubby Flater running the chains for his three grandsons' football games at Holcombe high school, to all the deer and bear hunting footage, to the fish catching and one of the funnest taverns in the world, everyone is always laughing and active.
Tuesday, May 12 High 69, low 34 Joe told me this morning if I was a good boy and split a lot of firewood, clear-cut another forest, re-roofed a cabin and mowed the lawns that he would take me fishing again. We had a great time and got a bunch done and hung some 2-man bear stands on private land and that can be a physical job.
In reality Joe and I live the same kind of life, we are in the outdoor oriented people industry, and we are both "old school."
Joe's boat is a 14-foot V-hull that he rows and the outboard is a 9.9 hsp. There are zero electronics on board and the way he guides is by rowing/floating down the Chippewa and Flambeau rivers. I had the honor of speaking at what was one of the biggest/ funnest shindigs I have ever witnessed and that was when he was inducted into the Fishing Hall of Fame.
Tubby Flater is 88 years old and probably the most active human I have ever known in this age bracket. Tubby starts off his day with a 5-mile bike ride and ends it with a cold beer/beers at someone's campfire or in the tavern when it is open.
Today Musky Joe and I had about 40 minutes to fish and unfortunately he caught all the fish, which makes him VERY, VERY happy!
There was a lot of laughs at the campfire experience at Scott and Tina Litkowski's camp, which is a permanent site at Flaterville. In the morning before Musky Joe found another forest to clear-cut, I got the heck out of Dodge!
Life is fun if you let it be! Sunset