Posted on
Track and field — not football — was choice for Spencer's Karau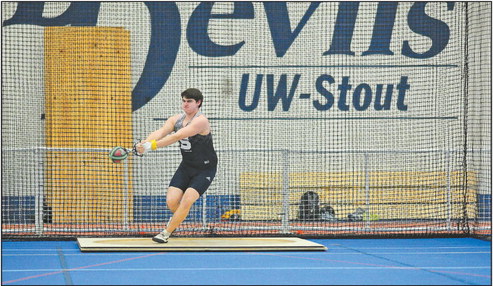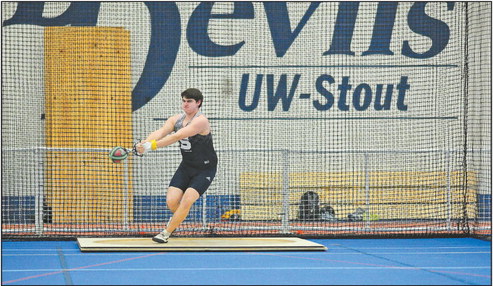 Nate Karau could have easily chosen to play football at the next level. With his large frame -- 6'3" and 245 pounds coming out of high school -- he could have found a home on any NCAA D-III team's roster in Wisconsin.
He had a proud pedigree in football, playing for Spencer- Columbus in the 2015 WIAA D-5 state title game as a freshman, and a Level Four playoff game in his senior year. He garnered individual accolades as well, picking up first team honors in 2018 and second team honors in 2017 during his time in the Cloverbelt Conference.
Karau capped off his senior year by playing in the WFCA All-Star game last summer. So it seemed only natural that Karau, a 2019 graduate of Spencer High, would choose to play a sport in which he seemed a perfect fit.
He contemplated the idea of four more years in pads, when he found himself on the campus of the University of Wisconsin-Stout last fall, but Karau had a sudden change of heart, and chose to pursue track and field instead.
"When I first got here at Stout, I wanted to play football to begin with but I just figured I would do track instead," Karau said.
Big choices to make
The motivation behind any student-athlete varies from person to person. Some choose to compete because they love the sport, others try out because of the camaraderie and team component.
Still others are blessed with a rare mixture of size, speed and athleticism that cannot be matched, and with hard work they can find themselves in the pros.
For Karau, a freshman with the UW-Stout Blue Devils track and field program, there was a sense of unfinished business when he graduated that led to his choice to pursue track over football.
"I know my senior year didn't go as planned." Karau said during a phone interview. "I felt like I did pretty good my junior year, so I thought maybe I could do something in college."
"Pretty good" is how Karau describes his junior season, with an almost deadpan delivery, but for anyone else, it would be have been a tremendous season.
After throwing for over 120 feet his sophomore season in the discus, Karau shattered and set personal bests in his favorite event nearly every week.
During his junior campaign he found the podium at most meets. In 2018 he would take second behind teammate, and current member of NIU's football team, Logan Zschernitz, at the Eastern Cloverbelt Conference Championships.
He did even better during the post-season, throwing his way to a personal best of 147-7 at the sectional meet in Marathon to punch his ticket to the WIAA D-3 state meet in La Crosse, where he placed inside the top 10 at ninth.
In his final season as a Spencer Rocket, Karau had high hopes that he could take his throwing to the next level, and possibly even make the podium at state. The season began with great promise, with Karau taking the 2019 Auburndale Invitational.
He followed this up with his best throw of his prep career, a mighty heave of 155-4 at the Spencer Invite in front of friends and family. He took second again at the Eastern Cloverbelt Championships, but fell short of his goals, and failed to qualify for a return trip to La Crosse in 2019.
That disappointment stuck with Karau, leaving a bad taste in his mouth. It filled him with the sense that he still had more left in the tank. Karau knew that the distances of his junior and senior year were only the beginning, that he could throw even further.
Feeling that, his choice to leave football behind for the thrill of throwing makes perfect sense.
"I guess I just wanted to see what else I could do," Karau says in his quiet, unassuming way. "I guess I felt I could do more."
An eye-opening experience
While he's no longer wearing pads and a helmet, Karau says his time with football definitely translates to track and field, where his years as an offensive and defensive lineman helped him develop excellent footwork and a strong center of balance.
"I would say football helps with track with getting you more prepared strength wise," Karau says. "It also helps with the foot movement and being able to be stable on your feet when you're going to throw so you can hit your steps right."
Karau's size and years in football and track and field gave him a strong base, but even so, the transition from WIAA to NCAA caught him a bit off-guard.
"I would say it's a little harder than I expected because in high school you're used to going to school and then practice, maybe some lifting in the morning," he said. "In college, now you wake up in the morning and go and lift and then go to do your school, and then you have three hours to go throw or do whatever you want for technique work."
It wasn't just the time commitment and training that surprised Karau, but also the size of the meets and the sheer number of people present.
"It was very different from high school," Karau said. "I went from going from having almost no one watching you throw to a lot of people around you."
Far from being intimidated by the size of the meets and the atmosphere, Karau's background in big games and big moments during his time at Spencer proved invaluable. He found himself feeding off the energy of big meets.
"It doesn't really bother me because I feel like it gets
UW-STOUT PHOTO you more hyped by having more people," Karau says. "At high school you'd have maybe six or seven people around you, and at college you got a lot more people on the side and in the bleachers. That really helps get you excited to throw."
Enjoying the learning curve
Karau's transition was made a little easier with the fact that so many of his former football teammates are at Stout.
He says his former running back Noah Zastrow's success definitely motivated him to join. He's also found new friends at Stout, and they've helped him to make a pretty flawless transition from Rocket to Blue Devil.
Those teammates have also done what they can to help Karau's learning curve. Karau was only able to compete in five meets this season, but he's already thrown the shot -- which is heavier in college -- further than he ever did in high school.
"All the different teammates critique you on your form and on all the little stuff that you can do to get better," Karau says about his teammates' influence.
He's also enjoying receiving attention from his coaches, especially his throwing coach Kody Zahrte.
"I love having our coaches just because they know what they are talking about and all the stuff that they have learned from competing and watching videos," he said. "My relationship with all the coaches -- we're probably pretty close, especially my drills coach, Kody-- he's really fun to be around."
His older teammates have also been instrumental in helping Karau navigate life as a college athlete and new throwing disciplines like the weighted throw and javelin.
Karau's results have been modest in the shot right now, with his best event the discus, but's not overly concerned about that now. He's focusing on the technique and the moment.
"Shot right now isn't a big deal because I was not throwing well in high school and I am throwing further now than high school," Karau says. "Weight, hammer and javelin I didn't get to do [in high school] and it's all about footwork and technique. It's way different than having to throw shot and disc, but it's fun learning new stuff."
Karau is happy to see his technique and knowledge of throwing grow, along with his results, but he says there's more to being a college athlete than just meets and practices.
He's enjoying seeing and meeting new people, traveling and making new friends, all while taking college classes and pursuing a college degree.
"It's further to travel to get to meets than what I was used to in high school, but you get used to that," he said. "I like seeing new people and being at a D-3 Wisconsin school."
Karau is also happy with how respectful coaches and staff are regarding his academics and classes. He admits that being a student-athlete is easier than he expected, and that at Stout, the education always comes first.
"I wouldn't say it's any harder to be a student athlete because the coaches do give you options that if you have homework and projects to study for . . . you can step away from track for a day or so to do your thing," Karau says. "They definitely give you some leeway and if you are ever having trouble with things you can always talk to your coaches that are there."
Karau feels pressure like any athlete to compete at a high level, but for him, there's no lingering doubts about his decision to pursue college athletics. He's having fun and enjoying the process.
"I didn't really have doubts about joining. Yeah, there are a lot of people on a track team, but that team is basically like a family. For anyone else that is thinking of joining any either type of team, I would say do it."
Karau's plans for the outdoor season took a drastic hit thanks to the coronavirus. He concedes that the shot put is not his best event, with discus being his favorite, and he was curious to see what he could achieve thanks to his coaching and help from teammates.
"I was looking forward to discus, but the outdoor season got cancelled with everything that is going on." Karau said with a resigned sigh. "Now I'm just doing what I can to keep myself motivated. I'm doing a couple of workouts, which isn't easy since I don't have my own at-home gym."
He's already thinking about next year, and while some at Stout are wondering if he'll ever come back to football, Karau is content with his decision to walk away from the sport.
"I haven't really given a thought about joining football," Karau says. "Some of my friends want me to do it, but I think I might just stick with track just so I'm not going from one sport to another right away without a break."
With track lasting far longer than any other sport Karau has competed in -- with the indoor season starting in December and the outdoor season ending in May -- he wants to focus his energies on seeing what his true potential is.
"I'm by far looking forward to next season and all the other seasons to come, especially spring because I didn't get to try my favorite events or have an outdoor season," Karau says about his future plans. "I am hoping to improve on my strength and throw further and place higher in events. I'm also looking forward to competing against some of my friends from other schools."
The life of a college athlete is one that not everyone can handle, but for Karau, his time at Stout has been a blessing. Now, not only has he found a new home, new friends and a new family, he's learned more about himself and what he's capable of.
"I enjoy it, being on a college team and the excitement from everyone and getting older students getting you hyped to throw and go run," Karau says. "I would say I noticed a big growth in myself this year. The more you push yourself the better the results. For college, I felt like I wanted to do better than I did in high school. I think I'm getting there."