Posted on
Signs for the seniors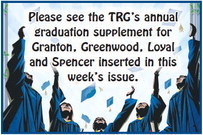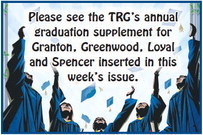 Banners recognize Classes of 2020 in year of no normal spring ceremonies
Graduation ceremonies may not be occurring over the next couple of weekends as they were originally planned, but local communities have not forgotten their 2020 graduates. All across the area, community members, teachers and parents have come up with ways to honor seniors, from messages on social media to signs and banners displayed in yards and on school grounds.
In Loyal and Spencer, actions taken by a local community member have led to the placement of special banners along the main thoroughfares in each town. Displaying each student's name and senior picture, the banners were placed on light poles on Loyal's Main Street on May 8 and will be placed on light poles on Spencer's Highways 13 and 98 sometime this week.
The idea to make banners for each student in the Loyal and Spencer graduating classes and put them up on light poles was created by Tracy Bauer of Loyal. A member of the Community of Loyal Facebook group, she said the group had been discussing the graduation situation and began throwing around ideas of things they could do to help seniors celebrate what was supposed to be their big day. Bauer then decided to take those ideas and turn them into a reality.
"Someone mentioned that we should do something for our seniors," she said. "Everyone was throwing around ideas. I decided to take the ideas and run with it."
Using connections through her husband's job in trucking, and gathering donations from numerous community members, Bauer said they were able to get banners designed and ordered for the Loyal graduat e s. Online tools proved to be very helpful, she said, allowing communication and transfer of pictures and other information right from home.
"Everything was designed online," she said. "JPC Screenprinting in Neillsville made the Loyal banners. They were delivered directly to city hall. Shannon Toufar helped with the Loyal banners, getting them ready for the city."
As the Loyal banners were being made, Bauer's thoughts turned toward the Spen-
CHEYENNE THOMAS/STAFF PHOTO connection she felt to the community of Loyal and reached out to the village to see if there was an interest in having banners created for its 69 seniors.
"We did the same thing for Spencer," she said. "I know just as many Spencer seniors as Loyal ones."
"She approached the village and asked if we would be interested in doing this," said Spencer village clerk Paul Hensch. "We were delighted to help. It's nice, we wanted to do something for the kids."
For the Spencer banners, Bauer said they contacted another local business, Miller Graphics, to create them. Especially during this time, she said supporting small businesses is important.
"My husband and I have small businesses," she said. "To help small businesses is important to us."
Beyond supporting the community, Bauer said it was just something she felt they had to do.
"My heart breaks for them (the seniors), I feel bad for them," she said. "Graduation was a huge milestone for me, I remember being a senior and graduating from high school and being at that point. They have missed out on a lot of their senior year."
Loyal School District administrator Chris Lindner agreed.
"I would like to thank Tracy Bauer and all the donors," he said. "I think the banners look awesome. I like the size of the pictures, you can see the students' faces. For what our seniors have gone through, I think it's something that's a great thing for our community to do to show appreciation for our seniors." The banners for the local seniors are expected to remain up until after graduations are possibly held later in the summer. The banners will then be taken down and given to each student as a memento to the community's support of them during this time.
Banners for Loyal's Class of 2020 members line the sidewalk in front of the high school this week.
CHEYENNE THOMAS/STAFF PHOTO