Posted on
New Clark 4-H youth agent has to adjust from afar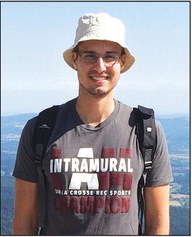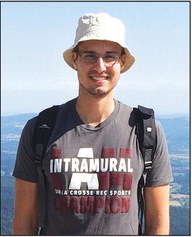 He may not have been born on a farm, nor know what it is like to get an award for something achieved in 4-H, but Michael Rusin is eager. He's eager to learn about what life is like in Clark County, to learn how to lead groups of volunteers in bringing the 4-H experience to youth in the area, and to form relationships with the community. It's a daunting challenge for someone like him, hailing from the suburbs of Chicago, but so far, he loves it.
"I love it," he said. "I love the country life. There's a lot of great things offered here. I love the stores, being able to get fresh milk and eggs."
Rusin is the new 4-H program coordinator for Clark County, having replaced Christina Hollar in the role in March. So far, it's been a real learning experience for him, as he has not only had to adjust to life in a rural setting, but also to surprise changes that have affected operations at the UW-Extension office in Neillsville.
"I was in the office for about two weeks before this happened," he said about how the COVID-19 pandemic has affected his work. "It's sort of a struggle, one bad thing was that I was supposed to be training. I've now had to do virtual trainings from home. I've been happy to adapt, but I don't get to meet in person."
While the training has been difficult with the unexpected changes, Rusin said it has been very useful for him as he adjusts to the role as 4-H coordinator for the county.
"I'm actually going through training as we speak through Zoom, books, reading, and inperson trainings as well," he said. "There's a variety of things. There's a lot of learning. I remember being overwhelmed in the first week, but I'm getting the hang of it now."
There's a lot to which Rusin has had to adjust. Coming from Chicago, he said there weren't widespread farms, small towns and other rural county highlights from where he comes. 4-H was also nonexistent, and was something he discovered only later in life.
"It's really just different," he said. "I grew up in the northwest suburbs of Chicago, 4-H is not popular in those areas," he said. "I first heard about it when I was going to school."
Instead of a background in 4-H, Rusin said he has college degrees in special recreational therapy and recreational management. Those areas, he said, helped him in his work with youth and adults in the Northwest Special Recreation Association of Illinois, where he worked for two years.
"Well, to be completely honest, I have no history in 4-H, I have experience in youth development," he said. "I was a special recreational therapist, providing a learning experience to people with disabilities, giving them exposure as individuals." Seeing there was a need for someone to be the 4-H coordinator in Clark County and that the position involved working with youth in a way that was really familiar to him, Rusin said he decided to try it. "I was always promoting purposeful participation in youth and adults, something they could do that they could come in and get something out of it, come out with a new skill," he said on his past experience as a recreational therapist. "I read in the job description that the 4-H coordinator works with the youth to get them to learn through experience, it applies to my mentality of it." This process of learning through experience has been Rusin's experience as well in this position. Coming into the role with little knowledge on how 4-H works, he said he was at first astounded by how much passion the 4-H volunteers and leaders had in the program. Their determination to bring the 4-H experience to children in the area he said is inspiring to see as the coordinator and that he is looking forward to working with all of them in person.
"Right off the bat, I was amazed to see how passionate our volunteers are, how much they input into the program," he said. "The volunteers take extraordinary interest, go above and beyond in 4-H. I'm very proud of that, it's really cool to see that. I'm looking forward to cooperating with the volunteers and working with them on projects."
As there is a lot of uncertainty involving events that are planned for later in the summer, such as the Clark County Fair, Rusin said it's difficult to say how things will progress in the coming months. While he is hopeful they will be allowed to hold the fair and have interaction with the 4-H groups, he said they are also looking at alternative ways to give the 4-H members the recognition they deserve if they are not allowed to hold the fair in August.
"We've had these discussions at work," he said. "It's hard to know how things will go without meeting everyone, but I think with the efforts put into the projects, it would be a shame if the kids were not able to do the fair. But if we can't, we're looking at an alternative way for them to show off their projects."
Until more is known about the future, Rusin said he will be doing his best to focus on communicating with all the volunteers involved with 4-H and bringing the children of the area a great experience with the organization.
"I hope I can bring confidence to all the volunteers and safely provide events to our youth and help them learn by doing," he said. "I want to give them an experience that is inclusive and beneficial to everybody."
Michael Rusin
CONTRIBUTED PHOTO