Posted on
Wind-blown fire burns rural buildings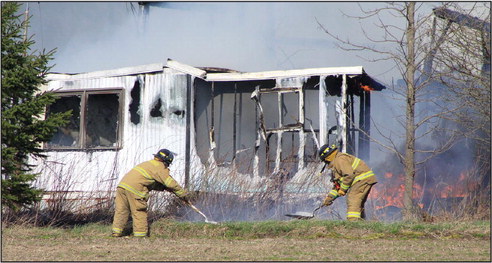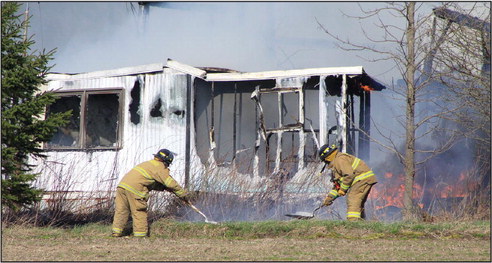 A wind-fueled fire that started in a burning barrel destroyed three structures and torched 1 1/2 acres of grass on the afternoon of May 2 on the western edge of the town of Warner about six miles northwest of Greenwood. Fire chief Delmond Horn said the blaze began when a property owner was burning items in a barrel and a piece of hot debris fell out and ignited nearby dry grass.
Nearby structures were already fully ablaze by the time the fire department was called about 4:15 p.m., Horn said. A strong northwesterly wind had access to the scene from open fields to the west, allowing the flames to quickly spread. They eventually destroyed an unoccupied mobile home, a garage whose roof had fallen in previously, and a barn that was used for storage.
Horn said the property is owned by Daniel Vetterkind and located on Capital Road just west of County Road O. He said a resident admitted to burning boards in a barrel earlier in the day, and a piece of wood apparently fell out and started dry grass on fire, which then spread to the buildings.
"Wind played a huge factor," Horn said. "It could've spread to that next home. We did have to spray some water on the house to cool it down."
While the buildings were complete losses, they contained "nothing of major value," Horn said. Firemen were at the scene for about 3 1/2 hours and had to extinguish flames in grassy areas around the main fire.
The location of the fire on the western edge of the town of Warner is less than one mile away from a Department of Natural Resources Fire Protection Zone, where all burning (except contained camp and cook fires) has been banned for the time being as dry spring conditions persist. The towns of Foster, Hendren and Mead -- which are also in the Greenwood Fire Department's territory -- are in that zone and Horn said conditions are ripe for grass and wildfires.
"It's not fully greened up. There's a lot of dry grass out there," he said. "It's extremely bad right now."
Greenwood firefighters snuff out patches of burning grass with shovels at the scene of a May 2 fire on Capital Road about six miles northwest of Greenwood in the town of Warner. The fire was apparently started when debris fell out of a burning barrel, ignited dry grass, and spread to buildings. An unoccupied mobile home, garage and barn were destroyed. Fire crews saved a nearby house.
DEAN LESAR/STAFF PHOTO