Posted on
Spencer grad Zastrow finding few bars he can't clear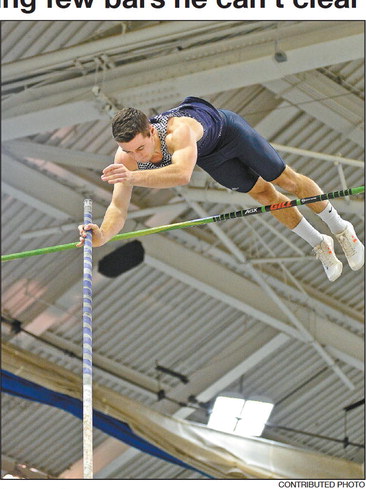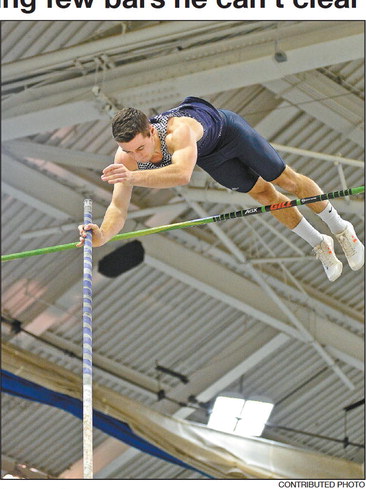 Almost from the time he could walk, the sport of pole vaulting has fascinated and driven Noah Zastrow to dare and achieve great things. In some respects, it was almost like destiny, he says, with the sport practically in his blood.
"My dad pole vaulted in high school and college, and mom was also a high school and college athlete," says Zastrow, a 2017 graduate of Spencer High. "Having two parents that were both college track athletes definitely had a big influence on me early on."
Noah's father, John, competed for the University of Wisconsin-Stout, and had his own impressive career, still ranking 10th on the all-time indoor list. All three of Noah's sisters compete in the pole vault, with his older sister Rachel, winning the 2019 WIAC conference title in the event while at UW-La Crosse.
"With Rachel, she hurdled at La Crosse, and was a national qualifier and WIAC champ, so she also pushed me along," Noah said.
So, too, did seeing another Wisconsin athlete achieve great things. At a young age, Zastrow can remember watching Athens' Daniel Drewek soar to new heights under the tutelage of his father.
Noah respected Drewek's accomplishments, but it also kindled a fire in him, and gave him something to strive for.
"Daniel is 10, 11 years older than me and when I was maybe five or six years old, I would go to practice and watch him vault,' Noah said. "Even though he was older and I looked up to him, he was kinda my first rival. When I was his age, I would shoot for his heights and try to beat them."
When his own time came, it wouldn't be long before Zastrow wasn't just matching records, but breaking them.
Small town, big results
Noah threw himself into pole vaulting at an early age, taking up the sport when he was in the sixth grade. He quickly made a name for himself as a freshman, placing third in the pole vault at the WIAA D-III state meet in La Crosse in 2014.
Like Drewek, Noah benefited from the training and coaching of his father, John. Even so, Noah was often at a disadvantage compared to those athletes who had access to year-round training facilities.
"A lot of people in bigger school districts, or near bigger cities, have indoor facilities," Noah said. "At Spencer we didn't, so every season we lost out on a month and a half of vaulting unlike other schools."
Noah refused to let that stop him from piling up titles and conference crowns and state wide honors. Three more trips to the state meet followed. Zastrow was third at state once more as a sophomore, and then placed second as a junior. By the time he finished his junior year, he was clearing well over 14 feet. Those heights gave him the confidence that he could compete at the next level. "I knew I was going to be alright in college after my junior year, after reaching the higher 14's," Zastrow says. "Setting the state record gave me a big boost of confidence going into college, and in pole vaulting confidence is everything."
Noah ended his prep career with a bang, finding the podium in three separate events his senior year. He took fourth in the long jump and sixth in the 300-meter hurdles. He nearly added a medal in the 110-meter hurdles, missing out on the podium by .14 seconds with a seventhplace result.
But it was in the pole vault where Zastrow presaged his rise to the top of the sport, setting a new standard for high school pole vaulters everywhere. Zastrow not only took home the gold medal, he set a state record at the D-III level, clearing 15'4".
But in spite of the medals and records and accolades, not a single Division One university offered him an athletic scholarship.
"I tried talking to some larger schools like Madison or Minnesota, and they said I was too short and wasn't good enough to compete at that level," Zastrow says with a hint of amusement.
Zastrow thought about going to the Division-II ranks, but the prospect of competing in-state was too much to pass up, and he made the decision to don a Blue Devils uniform and attend his father's and Drewek's alma mater at UW-Stout.
Like father, like son Drewek and John both enjoyed distinguished pole-vaulting careers in college, with Drewek earning seven All-American awards, including five in the pole vault. By the time he graduated, Drewek had set the UW-Stout outdoor pole vault record with a height of 17-5, sixth all-time amongst all D-III pole vaulters.
"Pole vault is unlike a lot of other events in track. In other events you're competing against other athletes. With pole vault, it's you versus the bar. When you're able to clear that bar, there is no greater feeling than that. It's such a great feeling of accomplishment."
-- Noah Zastrow
CONTRIBUTED PHOTO Those records gave Zastrow even more numbers to aim for, and through his first two seasons with the Blue Devils, Noah walked in both men's footsteps.
But it would not be long before he was charting his own path, carving his own legacy as he began moving beyond what his father and even Drewek achieved during their careers.
The opportunities that lie ahead for Zastrow are not lost on him. He often contemplates and compares his career with that of his father, but understands that he's in a better place to succeed.
"When my dad was in high school, he never had the same coaches. So it was a totally different situation than mine," Noah says. "It definitely does help having your dad as a coach, and instead of being limited to track and field practice, I pretty much got instruction 24/7."
It's more than just the family legacy that Zastrow fights and competes for now -- with each new record he sets, it's another gauntlet laid down, another sign that he was overlooked and judged not by his heart and talent, but by his height and stereotype.
Zastrow has faced down the usual bias that small school athletes receive -- labels of sub-par competition, easier paths to all-conference and all-state accolades. That's the beauty of pole-vaulting says, Zastrow, the numbers don't lie.
"I'm coming from Spencer, a small town, and now I beat the number one level vaulter in Madison. So it's nice to throw it back in their face, and kinda show them what they missed. That's what I like about track, you can compare heights directly."
Making my legacy
In his first two college seasons, Zastrow has already earned four consecutive All-American honors, including a runner-up result at the NCAA D-III Outdoor Championships in Geneva, Ohio in 2019.
That same year he was selected to the All-Midwest team and the United States Track & Field and Cross Country Coaches Association All-Academic Team.
With each result, title and honor, Zastrow's confidence grows and he continually has set his sights on even bigger feats in the pole vault.
The 2020 indoor season saw more highlights, with Zastrow setting the school record multiple times this year. His first record-setting performance came on Feb. 8 at UW-Stevens Point's Big Dawg Invitational. There, Zastrow climbed to 17'3".
He saved his best result for the WIAC conference meet on Feb. 29, where he not only set a new school record, but also a new WIAC pole vaulting record.
He almost didn't make it, with the bar falling on his first two attempts, but each failure got him that much closer.
"I knew I had the height, and my coach was telling me little things that we had to tweak," Zastrow said. "Just the smallest thing can change your jump so drastically. After my second jump, once I got on the runway, I knew exactly what I had to do, I just had to go out there and do it."
Zastrow made the adjustments, opening up his stride, shifted his hand position on the pole, and sprinted down the runway. As he planted the pole and rose into the air, it was as if time slowed to a crawl.
"As I planted, it just felt right. The next thing I know, I am landing on the pit and the bar is standing up there," Zastrow says, describing the moment. "It is such a weird feeling because the run up is kind of slow motion. That split second you are back over the bar, time slows down, which is pretty fun and unique."
Perhaps it's pole vaulting's uniqueness that has captivated Zastrow and led to him to giving up on events like the long jump, where he placed eighth in the 2019 WIAC Outdoor Championships.
Zastrow enjoys the competitive aspect of sport, but he savors the inner competition the most; the accolades and honors are just icing on the cake. "Pole vault is unlike a lot of other events in track," he says. "In other events you're competing against other athletes. With pole vault, it's you versus the bar. When you're able to clear that bar, there is no greater feeling than that. It's such a great feeling of accomplishment."
Life as an athlete
If Zastrow makes the incredible seem mundane, it's only because of the hard work that he puts into the sport. He's always been dedicated and focused with his training, but college athletics, even at the D-III level, was eye-opening.
"It's definitely a lot more intense than high school," he said. "In high school you'll lift a lot, but in college you are lifting every other morning and the practices are tougher and more demanding."
Zastrow's results are more than just the result of training and ability. He sees each title and record as a reflection of who he is as a person.
"It shows that I am a determined, hardworking individual," Zastrow says. "I'll keep grinding until the job is done."
But lest you think the life of an athlete is all sacrifice and hard work, Zastrow says he's been rewarded in ways that extend beyond records and medals.
"It's better than I thought it would be," Zastrow says without hesitation. "It truly is like flying, and as soon as you let go of the pole you're free-falling for a good second. It's very addicting. You do it once and you want to get back on the runway and do it again and again."
Zastrow loves the exhilaration of flying but he is truly grateful for the things off the field that the sport has given him -- life-long friends, a chance to see the country and a new perspective on life.
"It gives you another frame of mind and frame of reference. It gives you a whole new perspective on sports because you get another four years at it," he said. "It's helped me improve my time management skills and another fun aspect of college track is meeting so many people and making so many new friends."
Looking to the future
Zastrow was hoping to add more All-American honors this March, at the NCAA D-III Indoor Championships in Winston-Salem, North Carolina. Were it not for COVID-19, he might very well have walked away from the 2020 indoor season as the best vaulter in the country.
He's left pondering what might have been, what should have been. These days he's home in Spencer, where he's using the time off from competition smartly.
He's honing his technique and continues to strength train and maintain his focus and nutrition. His goals when he returns to competition reamin the same -- earn a national championship and continue to set records.
"I'm definitely looking to the next season," he said. "It's my last year at Stout, and the goal is still the same -- win a national championship. I don't take anything for granted, I have met so many new people and who are friends."
He's only a foot away from breaking the all-time record set by Jeremy Scott of Allegehny College in 2002. If he hits that, he'll think of even higher goals.
"Coming into the national meet this year my goal was to win my first national championship and it got cancelled and I won't get that meet back but I would like to come back and to get a national championship, hit 18 foot mark," Noah said. "From there, whatever happens, happens."
The coronavirus has stolen Zastrow's junior season, but it hasn't diminished his competitive fire. If anything, it only serves to make Zastrow more determined.
He knows he's on limited time, and so he throws himself into training, driving and pushing his body to greatness, as he attempts to wring every inch and centimeter that he can get.
"Starting last year, and this year especially, I'm just enjoying the ride and I know that if I prepare myself the best I can be, I'll do well at meets," he said.
His time at Spencer and now Stout have prepared him for the future he says, which comes quicker than expected.
"I think with most things you think you have an immense amount of time to do this stuff, but as the seasons go on you realize the time you have is getting shorter and shorter," he said. "So this year I am taking practice and giving it 100 percent effort on every single jump."
Each centimeter and inch is further validation for Zastrow. The pursuit for greatness drives him and with record he proves to every small town kid that a dream, no matter how big, is never foolish.
"For kids back in Spencer or anyone from a small town, I think I've kinda showed them that just because you're from a small town, you can be successful," he said. "I was overlooked and dismissed and now I've done things that a lot of people doubted I would. I definitely think it goes to show that you want something, and you put the work in, you can make it happen."
"For kids back in Spencer or anyone from a small town, I think I've kinda showed them that just because you're from a small town, you can be successful. I was overlooked and dismissed and now I've done things that a lot of people doubted I would. I definitely think it goes to show that you want something, and you put the work in, you can make it happen." -- Noah Zastrow