Posted on
New Loyal principal takes on first administrative role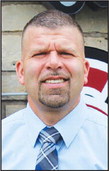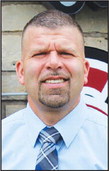 With Loyal middle/high school principal Chris Lindner set to replace current district administrator Mark Lacke beginning with the 2020-21 school year, there has been a question of who would fill the role Lindner played both inside and outside the classroom. That question has now been answered with the hiring of Doug Dieckman, who will be taking on the duties as principal for the first time at Loyal.
For the past few weeks, Dieckman has been spending some time at the Loyal School District, getting to know the district, its faculty and its spirit before officially taking up the principal position on July 1. Eager to learn all that he can in preparation for his role as principal, he said while it has been difficult to learn some things about the community, it has been a good experience so far.
"I'm now starting to investigate, to start preparing for next year as much as I can," he said. "It will help to ease the transition, so I don't get hit with it all on one day. I'm learning how to get access to things, get a working knowledge of the school and looking for a place to live in Loyal and get to know the community. It's tough right now because of the stay at home order, but we have been able to meet some people so we have that experience, and meet with the staff members, that's been very nice." Although Dieckman has never been in administration full-time before coming to Loyal, he said his experience as an educator has grown over the years to the point where he feels comfortable taking on the role. After getting his college education at UW-Stout, his first job was at the Bruce School District. There he taught for 15 years in technology education and also was a coach for the school's football, basketball and baseball teams. Desiring more interaction with students outside of the elective courses he taught and the sports he coached, Dieckman said he decided to pursue work as a school counselor. That job took him to Ladysmith, where he worked for the next 11 years.
"And then I was at Ladysmith for 11 years, I coached football primarily there," he said. "It's unique, really. My drive there was, as a tech ed teacher, I would work with a certain population of kids, I was an elective teacher. I wanted an opportunity to work with all kids. As a counselor, I was involved with guiding and preparing kids for work, military, college."
Even as he worked at Ladysmith, Dieckman was looking toward the future. Seeing an administrative role as the next logical step in his career, he said he went back to school, taking virtual courses from St. Mary's in Winona, Minn., for his administrative license. Once that was completed, he said he was able to use what he learned to fill in from time to time as principal while still working at the Ladysmith School District.
"I have experience working with other teachers," he said. "I got into a pseudo-administrative role over my last few years at Ladysmith. I would fill in at the school at the elementary level. I was in charge of the day-to-day operating experience. That was very helpful."
After his time at Ladysmith, Dieckman's next step was to Loyal. Looking for a school of similar size to the ones he worked at in the past and with a good education record, he said Loyal seemed to be a perfect fit. He has not been disappointed.
"This is where I wanted to go," he said. "It fits well with my experience, it excites me quite a bit. It has been a unique journey thinking back on it now, my abilities have lent very well to molding myself into the person I am in education."
Using his experience and skills, Dieckman said he hopes to continue the work that has been going on at Loyal. Academic excellence and improvement will be important factors when students return in the fall, he said, after the unusual end to the 2019-20 school year.
"I think there are key things to continue success and drive for academic excellence," he said. "The school's academic report card looks good, key areas are going well in that capacity. I will be interacting with the elementary principal to see what we can improve, internal strategies, schedule of the kids, assessments, how we grade the kids and implant aspects of everything in the education piece."
There will also be other projects Dieckman said he is expecting to work on in the next school year. Facility and technology updates are on the top of that list as the school continues to adjust to the needs of its students.
"Chris has talked about facility updates," he said. "I will be assisting with planning in the long run. Technology, look at what we're dealing with right now. We need to look at how to have education continue with the technological aspect." Continuing to look ahead to the future, Dieckman said he expects to face some challenges as he adjusts to his new role as principal at Loyal, but it is nothing he isn't prepared to face.
"In starting in administrative role, you learn to deal with budgeting, working with constraints and balancing the budget," he said. "I plan to communicate with staff in a supervisory role. It's not going to be an easy thing, but it's part of the job and I'm looking forward to it. I like being observant and like communication, I'm a face to face kind of person, I look forward to working with the staff and parents."