Posted on
Name a local event, it's likely cancelled or postponed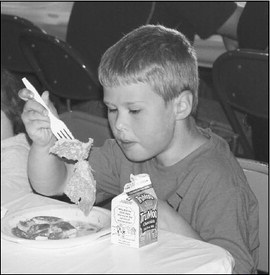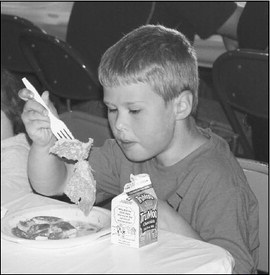 Whatever community event you may have had on your calendar for the next two months, consider it cancelled. Organizers of almost every local public event — from high school graduation ceremonies to Memorial Day programs to breakfasts on the farm — have decided to either postpone their happenings until later in the summer or call them off entirely for 2020.
While the coronavirus pandemic has impacted businesses, schools, churches, and just about every individual in one manner or another, summertime community events are quickly becoming the latest casualties. With Gov. Tony Evers' latest "Safer at Home" order extended through May 26 (although an appeal has been taken to the state Supreme Court to possibly nullify it), those who plan and execute local events are taking no chances. Almost all events are already scratched off the local social calendar through June, and even those in July are becoming suspect.
May is the month when many traditional events get started for the summer season. An annual rite of spring is high school graduation, but those won't be happening at the usual time this year. Spencer was to graduate its Class of 2020 on May 16, Granton was set for May 22, and Greenwood's and Loyal's dates were both on May 23. The order issued by Evers in mid-April cancelled school and all related events through the remainder of the 2019-20 year, so those came off the calendar early. Local schools are still waiting for more word from the state as they decided to possibly hold ceremonies in summer.
Memorial Day
The traditional beginning of the summer season is Memorial Day, but it, too, is being impacted by COVID-19. The Highground veterans memorial park near Neillsville has cancelled its usual Memorial Day program scheduled for the afternoon of May 25, however, the park will be open to the public on Memorial Day, according to events coordinator Meranda Lelonek. The traditional reading of the names of Wisconsin's KIA/MIA list from recent conflicts will be automated, and played on a loop throughout the day.
The Highground's Memorial Day program was to include the dedication of a memorial to "The Lost 74" and it will be rescheduled at a later date. "The Lost 74" are 74 sailors who were killed in June 1969 in the South China Sea when their vessel, the destroyer Frank E. Evans, was sliced in half in a collision with an Australian aircraft carrier during exercises. Because the accident occurred in an area that was not classified as a combat zone at the time, the names of the 74 sailors are not inscribed on the Vietnam Memorial Wall in Washington, D.C.
The Loyal American Legion Post 175 will also do what it can to recognize Memorial Day while following the governor's orders. At this time, said Commander Dale Beyer, plans are to not have a public program at the city cemetery as usual, but to carry out the traditional laying of the wreath and a volley by the firing squad. The "Safer at Home" order at this time extends to the Tuesday after Memorial Day, and Beyer said it's possible the public gathering could be held if that order is relaxed.
"We're hoping like all get out that the governor will release it a little," Beyer said.
Beyer said Legion leaders have decided it's best to protect the public's health.
"I think it's best that we don't (hold the traditional program)," he said. "So long as that order is in place, we don't want groups of more than 10. We'll show as much honor as we can for the fallen and try to keep our numbers limited, too."
The Greenwood Wallis-Hinker-Brux American Legion Post 238 will do something similar to Loyal. The traditional program with a speaker in the high school has been cancelled, said Commander Dave Boe, but Legion members will still carry on with the rest of their usual practices. Starting at 10 a.m. on May 25, at the Greenwood City Cemetery, the Legion will conduct a short program with a volley from the firing squad and the playing of "Taps." It will then proceed to St. Mary's Catholic Cemetery, Immanuel United Church of Christ Cemetery, and Holy Family Catholic Cemetery at Willard to conduct similar services.
On-farm dairy breakfasts
As usual, the first local dairy breakfast on the 2020 calendar was the one to be hosted by the Granton FFA Alumni on May 31 at the Jim and Caroline Walter farm. Accordingly, it was the first one to be postponed or cancelled.
"Postponed" is the operative word at this time, as FFA Alumni officers have tentative plans for possibly holding an event later in the year. It would be in a similar breakfast format, but with more of a community celebration theme. The date and possible host are not being released at this time. The Walter farm will host the Granton breakfast in 2022.
FFA Alumni officer Annette Woller said there were multiple reasons to postpone the May 31 event.
"With the Governor extending the 'safer at home' order, we, as the FFA Alumni officers, felt … people that normally would attend our breakfast may still be nervous about going out and gathering in a large group," she said. "If we would have kept the date in May, and the order from the governor would have been extended again, that would have been a lot of planning and a very last minute cancellation. There are weeks of pre-breakfast planning that goes into our dairy breakfast and doing all the planning/ ordering/set-up, etc., with the possibility of a cancellation would have been very difficult for all involved."
Woller said organizers also worried about community impacts.
"We were concerned about those businesses that would normally be able to assist with the breakfast with donations and such, they, too, are struggling and we didn't want to put any further stressors on them," she said. "We didn't want to do anything that would impact the health and well-being of our community."
The Loyal FFA Alumni was not to hold its traditional June dairy breakfast until June 21 on the Kevin Fellenz farm, but it decided well in advance to at least postpone the date. With the specter of another extension of a restriction on crowd size, FFA Alumni President Mark Gregorich said the tough decision was to forgo the on-farm Father's Day meal.
It's possible Loyal's breakfast will be rescheduled for a later date, but Gregorich said that could be difficult.
"We have no idea when we'll do it," he said. "When school starts, it's tough to get kids who can help. A few people just want to cancel it. There's a better chance than not we won't have it at all."
The Greenwood Chamber of Commerce was set to host its 2020 June breakfast on the last Sunday of the month at Jeremy and Hannah Olson's farm. That will not happen, as organizers have decided to cancel the event for this year, according to Chamber Board of Directors member Lynsey Lissner.
Spencerama
Three years after it was revived following a decadelong absence, Spencerama Days will go back on hiatus for a year due to COVID-19 restrictions. The celebration was scheduled for June 12-14, but organizer Deb Schafer said there was no way to plan to hold the event with the possibility that "safer at home" and social distancing restrictions would be extended into the summer. Once the governor pushed the date back to at least May 26, the decision was made to forego this year's event.
"If we can't get out of this by the end of May, there's no way," Schafer said.
Many things were in place for this year's Spencerama. Activities were scheduled and volunteer groups were preparing their parts, until it became apparent the virus threat would not allow it to go on.
"All our bands were booked. All those things were ready to roll," Schafer said.
It was also decided early on not to try to reschedule for this year. With other weekends later in the season filled for other events, "It's just too hard to figure out another day," Schafer said. "We'll come back strong next year." The Spencer Chamber of Commerce also usually holds its dairy breakfast in the Village Park shelter on the Friday morning of Spencerama, but that, too, has been called off. Chamber member Clint Gosse usually coordinates the breakfast, and said the health concerns are too great to go ahead with usual plans.
TRG FILE PHOTO "With the current climate, it doesn't pay to congregate 500 people in one place over pancakes," he said.
Gosse said the meal will likely be cancelled rather than postponed.
Willard Polka Fest
For the first time in 45 years, there will be no polka music in Willard on the third weekend of June. With a largely older crowd expected to be in attendance at the June 19-21 event, organizers were forced to call it off for the safety of everyone involved.
Event organizer Donna Kirn said the bands have been cancelled for this year's Fest at the Willard Community Center. The event is usually held on a Friday evening and through the day on Saturday and Sunday with polka fans coming from long distances, but the coronavirus put a stop to the dancing.
"People called and weren't coming," Kirn said. "We'd have been sitting here by ourselves. It's the first time we've had to cancel" since the Fest started in the mid 1970s.
The 46th Polka Fest will come, but not until June 18-20, 2021.
"I started booking bands for next year already," Kirn said.
Relay for Life
American Cancer Society "Relay for Life" organizers have cancelled all in-person rallies in the state for 2020. Plans are being made for an Aug. 1 virtual rally to continue the fund-raising efforts for the battle against cancer.
Clark County's Relay for Life event is usually held on the first Saturday of June at George Scherer Athletic Park in Greenwood. Various teams hold fund-raisers during the year and gather at the Relay to honor those who have survived cancer and those who lost their battle.
"As the COVID-19 crisis continues, the health and safety of our staff, volunteers, event participants and -- most importantly -- cancer patients remain our top priority," said the American Cancer Society's executive director in Wisconsin. "Cancer patients are some of the most vulnerable to COVID-19. That's why we've made the decision to host all 2020 Relay For Life events in Wisconsin on Saturday, Aug. 1. Let's rally together and show those facing cancer today that 'Hope Lives Here' – we're one state on one cancer-fighting mission. Those interested in Clark County's virtual Relay events can find information on its Facebook page.
Make-A-Wish truck convoy There will be no long line of trucks parading this year from Neillsville to Marshfield and back for the "Make Their Hearts Smile" Make-A-Wish truck convoy. The event will go virtual this year due to the coronavirus limitations.
Event organizer Punk Montgomery released information this week on cancellation of the 23rd annual truck convoy that raises money to grant wishes of children with long-term illnesses. The trucks will not meet at the Clark County Fairgrounds in Neillsville on June 13, as planned, but financial contributions will still be accepted to carry on the event's mission.
Those can be sent to Make-A-Wish Truck Convoy, Punk Montgomery, N5028 Pray Ave., Granton, WI 54436