Posted on
Loyal Food Pantry is well-stocked and serves the whole county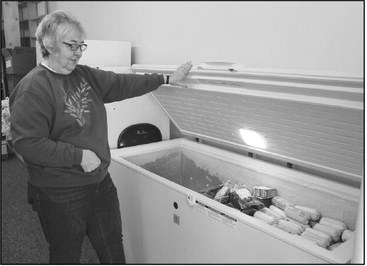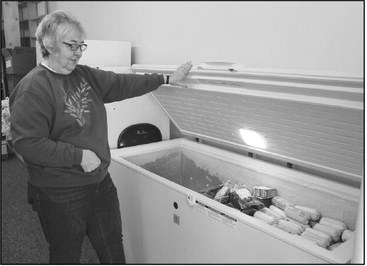 At the Loyal Food Pantry, volunteers have been working hard to make sure people in need of food are getting the supplies they need. Working out of its location at 228 North Main St. in Loyal, the pantry has been serving everyone from Clark County who has come to its door, and volunteer staffers have the support they need to help even more.
"We've got food to give away, we have plenty of food," said Cherilyn Hare, one of the volunteers at the Loyal Food Pantry.
Hare is just one of several volunteers who works at the pantry when it's open during the middle of the week. Along with the other volunteers, she helps manage the pantry on a day-to-day basis. It's a cooperative system, one that has been honed and refined into its current state after the pantry's former director, Alice Cook, retired last August.
"So far, it's been going very well," said Hare. "Since Alice left, we've gotten a handle on it. I have been helping out with Phyllis Linster, John Fields, Tom Kingsbury, we have Pat Hadler, Marcia Horn, Kathy Froeba. We manage to keep all the boxes filled."
"We each got our own skills," added Linster. "We use our strengths to the best of our abilities."
Those abilities have been tested during the COVID-19 pandemic. To follow guidelines, the pantry's two entrances have been turned into 'Enter Only' and 'Exit Only' doors. Contact has been limited between volunteers and the people coming in asking for food, and certain criteria processes have been streamlined to make it easier for people to get help.
"It's been pretty good, we have them come in the one door, we put the food on the carts and send it out the other door," said Hare. "To meet criteria, all they have to do is sign their name. We're limiting contact right now so they just have to sign their name."
While the changes have been going on inside, Hare said they have begun to notice some changes outside the pantry. More people have been coming in the past few weeks asking for food. It's a number she expected would grow, and expects will probably keep growing even after the state's"Safer at Home" order is lifted.
"Everyone comes at the beginning of the months, then it tempers off a bit," she said. "But we've had more people come in. I expect it to keep rising. Some of these smaller businesses won't be able to come back as fast (when it's over)."
But Hare is not overly worried about more people coming in. In fact, she's welcoming it. There is plenty of food, she said, as the Loyal Food Pantry is the only pantry in the entire county that is a part of The Emergency Food Assistance Program (TEFAP), a federal program that supplies a truckload of food to the pantry each month to meet the needs of all who seek food in Clark County.
"We're the only one in Clark County," she said. "We get federally funded meat and everything. We also get a lot of donations from people."
All of the food the Loyal Food Pantry has been getting has been put to good use, Hare said. Each family or individual coming in has been getting a generous amount of staple foods: blocks of cheese, cans of vegetables and fruit, boxes of cereal and containers of meat. In all, Hare estimates they hand out about 125 pounds of food for each family to carry them through a month.
"We have been giving at least 125 pounds of food away to each person," she said. "I think it's more. Shipments have been very large during this pandemic."
For families in need, that's good news, said Hare. As the "Safer at Home" order continues, and even after it ends, she said people don't need to be afraid to reach out to them since they serve everyone in Clark County.
"We want people to realize we're here," she said. "We get people from Abbotsford, Humbird, we're in the middle of the county so people don't have to travel quite so far from certain areas to get to us."
Loyal Food Pantry volunteer Cherilyn Hare shows the well-stocked freezer of food that is available to anyone in Clark who's in need of assistance.
CHEYENNE THOMAS/STAFF PHOTO