Posted on
Loyal's Karsyn Rueth kept playing for all the small town girls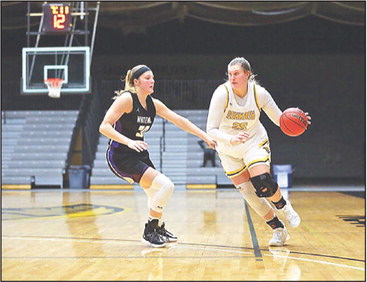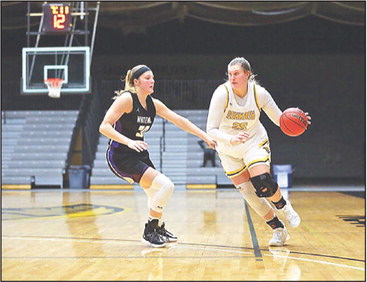 Almost as soon as she could dribble a ball, Karsyn Rueth dreamed of playing in big stages and in big moments. By the time she was in third grade, she had already hatched a plan to represent her little town of Loyal in the NCAA.
But as quickly as she had her dreams in hand, Rueth almost let them slip away, nearly turning her back on the sport she loves and has given so much to.
"Freshman year was hard for me," Rueth said, recounting her first year struggles. "Being away from home and adjusting to a new program ... I didn't even know if I wanted to come back my sophomore year."
It was home that changed her mind. It was the thought that there might be a little girl back in Loyal, watching her play, a ball in her small hands, and a dream in her heart, that kept Rueth in the game.
"When I wanted to quit, the thing that kept me in was representing my community," Rueth says. " I wanted to show little girls back home that you can come from a town of 1,200 and you can represent your small town community on a big stage."
A player like no other
Few players have come through Loyal who have enjoyed as decorated a career as Karsyn Rueth. A 6'1" post player with range, Rueth racked up points the way a bank racks up money -- in huge heaps.
By her sophomore year, Rueth was named WIAA All-State honorable mention in D-5. She did better her junior and senior years, earning First Team All-State honors.
Along the way, she broke the thousand point milestone, scoring 1,236 points for her career. But it was her senior year that put her on the list of all-time greats to play for Loyal.
Rueth discussed the goals of her senior year with her father and head coach, Mike Rueth. They both knew the potential was there to achieve something no Loyal girls' basketball had done before -- take home a gold ball.
"My freshman year ended on a Saturday in a regional final, junior and sophomore year we lost in back-to-back sectional finals," Rueth said. "Going into my senior year, I wanted to make it to Green Bay."
The 2016-17 season saw Rueth and her Greyhounds sprint into the WIAA D-5 state tournament with 23 wins to just four losses. Loyal easily defeated Bangor 44-24 in the state semifinal, but things did not go as planned through the first 26 minutes of the state title game.
With 10 minutes to play, Loyal was down 12. That's when Karsyn's father and head coach, Mike, called a time-out. The Greyhounds regrouped, and went on a second half surge that saw Loyal score 46 points in the final frame to hoist the state title.
Three years later, those same numbers -- 10, 12 and 46 -- would come back up, in a moment that was eerily similar to the state title game.
On to Oshkosh
In order to bolster her profile, Rueth spent summers playing AAU basketball. Trips to Nashville, Louisville and across the Midwest were the norms as Rueth regularly went head-to-head with future D-I prospects.
"In AAU you're playing against girls that all have the intentions of going to college ball, and every game is high caliber, high intensity and high talent," Rueth explains. "You're playing against girls that are 6'6" and will be playing for the Big Ten and the ACC."
Soon enough, Rueth was fielding offers from multiple schools across the NCAA. There were Division II offers, and a few D-I programs that reached out to her, but "nothing serious," says Rueth.
The summer going into her senior year, her recruiting began to heat up. She appreciated the attention, but in some ways, it was an unwelcome distraction.
"I thought the recruiting process was a little overwhelming," Rueth admits. "You have all these coaches calling you and visiting the school. Coaches were constantly texting and calling me."
Rueth eventually made up her mind to play college ball in Wisconsin -- she just wasn't sure where. There were exciting possibilities, like UW-Stevens Point and UW-Eau Claire. Rueth was almost ready to commit to Eau Claire when a campus visit changed everything.
"When [UW-Oshkosh] head coach Bradley Fischer contacted me in August, I told my parents I didn't really want to go," Rueth says. "My mind was settled on Eau Claire, but I just fell in love with the place on my first visit there ... and on my second visit I committed that day."
It was more than just the campus that drew Rueth's interest. The Titans, an NCAA Division-III program, boast an impressive winning tradition.
The Oshkosh girls basketball program has won the WIAC conference 12 out of the last 30 years, including a national championship in 1996.
"I knew they had a winning culture and always seemed to be competing for championships, and that was something that I wanted to be a part of," Rueth said.
It helped that players were very welcoming and Rueth was happy to see the coaches placed as much emphasis on classroom success as courtside prowess.
"They really concentrate here on academics," Rueth said. "We have academic meetings with coaches every week, signatures with professors every other week. I was impressed by that because it showed me that they put academics in front of the athletics."
A season of doubt
Rueth enrolled in Oshkosh in the fall of 2017, eager to get her college career started. But despite her success at high school, and her time in AAU, the college game caught Rueth by surprise.
The game was faster, more physical and more intense than any AAU game. At Loyal, Ruethhadbeenadominatingandintimidating presence in the paint. At Oshkosh, she found herself more of a role player in the offense rather than the focal point. It wasn't long before the physical and mental adjustments began to take their toll.
"It was hard, having that adjustment of always having the green light in high school, whereas in college you're looking for the best shot," Rueth said. "My coach wanted me to shoot, but I didn't have the same confidence that I did in high school ... I was unhappy then, and I honestly did not enjoy basketball."
Ruethwasfightingtheurgetowalkaway from basketball, but her parents reminded her she was playing for far more than just Oshkosh. She was playing for every little girl that came from a small town. She knew if she quit now, she'd be sending the wrong message to every little girl who cheered for her and imagined themselves in her shoes.
"Playing for Oshkosh meant I was able to represent Loyal, and that was huge for me. I love home, I love the community, and I'll always bleed maroon," Rueth said.
Let's get to work
Rueth weathered the ups and downs of her freshman season. She adjusted to the
UW-OSHKOSH PHOTO intense workout regiment, learned to balance her practices and games with school, and by the end of her first year she began to feel more and more like her old self.
She also found herself earning more and more playing time, using her ability to stretch the floor, where she averages nearly 40 percent from three-point range.
"To be honest in college my post game isn't good, but because I have the ability to stretch the floor, open up the floor for guards, I believe that's why I had the opportunity to play my freshman year," she said.
In her first year of college action, Rueth and the Titans enjoyed a 21-6 record, but fell just shy of a WIAC tournament title and NCAA tournament bid, losing to UW-Whitewater 68-65.
The following season Rueth took her game to new levels. She nearly doubled her minutes, and increased her scoring average. The Titans also won the WIAC regular season, exacting their revenge on Whitewater in the conference tournament, defeating the Warhawks 69-40. Oshkosh went 26-4 in 2018-19, and ended their season in the Sweet Sixteen.
If last year's ending was sweet, the start of the 2019-20 was sour.
"This year was definitely a roller coaster," Rueth said. "We were predicted to win the conference, we were ranked early on, and then we lost two games at a tournament. After that I would say that we panicked."
The truth was the Titans had lost five seniors to graduation, were bringing in a new assistant coach, and had just two new recruits on campus. Team numbers were so low that coach Fischer held open try-outs just so Oshkosh had enough players to practice against.
The Titans were up and down in the first part of the 2019-20 season, and soon found themselves below .500.
The turning point came in the middle of January after Oshkosh lost a pair of close games to Eau Claire and Stout. The losses were made more jarring as Oshkosh held leads in each game.
Rueth knew that if her team was going to salvage the season, things would have to change, and change quickly.
Head coach's daughter
Karsyn and Mike Rueth have always enjoyed a very up front and honest relationship as father-daughter. There may have been moments of stony silence, but they were always on the same page.
"Having my dad as my coach held a lot of pros and a lot of cons," Karsyn said. "I would say, and he would agree, that he had way higher expectations for me than anyone else, which was good because it pushed me to be better."
Karsyn appreciated the prodding, but admitted growing up with your dad as your coach can be tough. It also meant that when the time came, she wasn't afraid to speak her mind.
"I think with my dad being my coach, if there's something on my mind that I think our coach needs to hear, I'm not afraid to say it," she said.
That trait came in handy this season, when Karsyn approached her head coach and told him the season was going in the wrong direction. Coach Fischer agreed, and the team held a private meeting behind closed doors. It was a hard meeting, and painful at times, but Rueth felt that it was necessary.
"We said we couldn't handle the pressure," Rueth recalls. "We said this can't happen if we want to win games. We held accountability. After we had that conversation we started becoming who we are and who we knew we could be. That's when we went on our run."
Two tourneys, one title
After the meeting the Titans did a complete 180. Suddenly, the Titans were winning, and doing it as a team. Oshkosh rattled off wins over La Crosse and Stevens Point, and then a month after dropping a 77-71 double overtime loss to UW-Stout, the Titans got their revenge.
It was Rueth who did the damage, scoring 16 points in a 54-36 dismantling of the Blue Devils. By the time the WIAC tournament came around, the Titans were rolling, "Going into the tournament it was revenge week," Rueth said. The Titans began their game with a second straight win over Stout, and then took on a talented Whitewater squad in the semifinals.
The Warhawks had won the regular season title, were ranked fifth in the NCAA D-III polls, and expected to win the WIAC tournament.
But Rueth trusted in her teammates, and knew they could win the title. It helped that Whitewater gave them some added ammunition.
"They had a sign on their locker room door that said 'Locker room closed for WIAC Championship.' We whipped their butts by 20," Rueth said.
In the finals Oshkosh took on Eau Claire, and it was a tight contest. For the Titans, this was familiar territory, not so for Eau Claire, who had not won the WIAC tournament in over a decade.
"Going into that game I was not nervous because we were playing well and I did not have any nerves. We had been in those moments before, so it wasn't scary for us, but it was scary for them," she said.
Oshkosh navigated the nerves, and prevailed over Eau Claire 52-50. The victory not only netted the Titans a tournament championship, it gave them an automatic ticket into the Big Dance.
The numbers game
The Titans opened up the NCAA tournament against Edgewood College out of Madison. Edgewood boasted a 25-2 recording coming into the contest, but it was the Titans who played like a ranked team, defeating Edgewood 61-40.
A second round clash with Bethany Lutheran awaited, with a trip to the Sweet 16 going to the victor. The game was eerily reminiscent of Rueth's 2017 state title game.
The numbers 46, 10 and 12 came up just as they had three years ago. Like her state title game, Rueth's team was down 12 points with 10 minutes to play, thanks to a 46-point surge from Bethany Lutheran in the second and third quarters.
Did Rueth and the Titans panic? Of course not.
Even down double digits with minutes to play, Rueth knew her team was going to win.
"My team knows how that game went," Rueth said. "In that game we went down and we called a time-out, we took a deep breath 'We said we got this, we're fine.'" Against Bethany Lutheran, it was the same thing. They took a time out, came out of the huddle and got down to business, overcoming the double digit deficit to notch a 67-61 victory.
"The similarities between the teams is we are all fighters," Rueth said. "We don't back down and we play until the horn buzzes."
The curse of COVID
The Titans season came to an abrupt end in 2020, but it had nothing to do with anything on the court. Rueth and her teammates were in Michigan, and had just finished practice. They were hoping to play Loras College the next day for a place in the Elite Eight, but it was not to be.
Coach Fischer held an impromptu meeting and quietly and sadly told the team their season was over, that the coronavirus meant there would be no more games.
"To have it end there from something that was out of our control was really devastating," Rueth said. "We were so happy with how far we've come this year, but we all wanted more."
Rueth is home now, where she is already looking forward to next year. She is hopeful that in her final year the Titans can do even better than a Sweet 16.
Rueth also thinks back to that day three years ago when she nearly abandoned the game of basketball.
"When I started playing basketball in third grade, I fell in love with it then," she said. "I was in love with it in high school, and it was my dream to play at the next level.
"It's been harder than I expected, but now that I am in my senior year, every single bump and obstacle has taught me so much ... you get so many life lessons and learn so much about yourself that will impact you for life."