Posted on
Loyal splash pad shoe fundraiser extended to end of May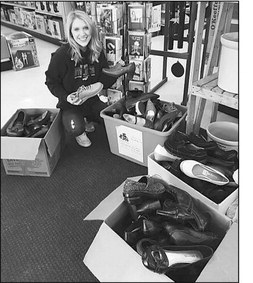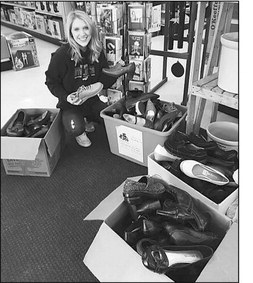 Even though there have been some unexpected changes to its recent fundraising project, efforts are still underway to bring a splash pad recreational facility to the Loyal Westside Community Park. With an extension to the collecting timeframe, the group behind the Loyal splash pad fundraiser is hoping to reach its goal of collecting at least 2,500 pairs of gently used shoes.
According to Erin Shafto, one of the leaders of the fundraising project, the group has collected about 925 pairs of shoes so far since the fundraiser first began at the end of February. Originally, the drive would have collected shoes for the organization Funds 2 Orgs during the months of March and April, with the shoes collected from the drive going to help families in Haiti earn an income. The Loyal splash pad, in turn, would have been paid 40 cents per pound of shoes collected.
"So our goal is 2,500 pairs of shoes," Shafto said. "We've been bagging them into larger bags of 25 pairs of shoes. We have 37 full bags out of a goal of 100."
Since the fundraiser started, however, forces outside of anyone's control have forced organizers to operate a little differently. Most of the sites shoes could have been sent to have been closed, with only one public drop-off site open at Fourmen's in Loyal.
"We are down to one drop off site," said Shafto. "Fourmen's is the only site open to the public. If people have donations, they have also been calling me, I have my cell phone number on all our flyers so they can call me to pick up the shoes."
Because of this, Shafto said Funds 2 Orgs made a decision to extend their fund drive operation, allowing the Loyal splash pad group to collect shoes through the end of May.
"We got an extension on that from the company," she said. "We have until the end of May to reach our goal, it may get extended again on their side (if this continues)." Despite the recent changes, Shafto said she has been excited about the opportunity the "Safer at Home" order presents. Since people are at home, she said they have time on their hands they didn't have before, giving them the chance to catch up on projects they wouldn't do otherwise, such as spring cleaning.
"We were actually kind of excited for people to be home," she said. "They can spring clean, go through their closets. Since people are home, people are looking for things to do. We've seen a lot of that, being at home makes them clean up more. We haven't had a slowdown."
The amount of locations for drop-offs haven't slowed things down either, Shafto said.
"People have been very flexible making the location work for them," she said. "They've been calling if they need a pick up."
For now, Shafto said they will continue to collect shoes for the drive until their extension ends at the end of May. Afterward, she said the group will turn its focus toward selling memorial bricks that will be placed around the splash pad when it is expected to be built in the summer of 2021.
"Right now, we're going until the end of May," she said. "We're really hoping to meet our goal then to wrap this up … for right now, we have no other fundraiser in mind. We're going to be selling bricks in the summer. We will have fundraisers in the future, but we haven't sat down as a committee yet to talk about it."
Throughout the drive, Shafto said the community support has been a real blessing.
"I think that everyone is very generous in the community and surrounding areas," she said. "They're really selfless, it's a great community."
To donate to the Loyal splash pad shoe drive, please drop off shoes at Fourmen's in Loyal or call Shafto at 715-937-8029 to arrange a pick-up.
Erin Shafto shows some of the boxes of gently used shoes that have been donated to the fund-raising effort for a splash pad to be built in the Loyal Westside Community Park. Collections of shoes will be taken through May to help raise funds for the project. Donations can be dropped off at Fourmen's in Loyal.
CONTRIBUTED PHOTO