Posted on
Small-town player likes first taste of big-time action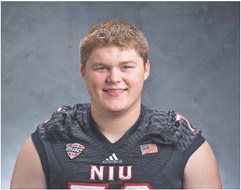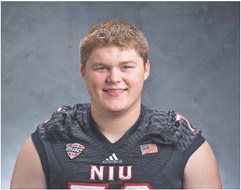 A stiff breeze blows across a football field as temps plunge below 30 degrees on a chilly November night in Toledo, Ohio.
It's a rare Wednesday night match-up that pits two rival, D-I universities against one another, with Toledo hosting the NIU Huskies for a Mid-American Conference clash.
Logan Zschernitz can feel the ground tremble beneath his feet. He can hear the rumble of the 16,000 fans in the stands before he enters the Toledo Rockets famed Glass Bowl stadium.
It reminds him of an earlier experience back in September, when Zschernitz travelled with the Huskies to Lincoln to play the fearsome Nebraska Cornhuskers of the Big 10. Then, as now, the noise is the first thing Zschernitz remembers.
"Listening to the fans and hearing those fans, you couldn't hear yourself think," Zschernitz recalls. He doesn't mind the noise, in fact, he likes it. The noise is just another part of the experience, another way of letting him know that all his hard work has paid off.
"Working up to these games and getting my chance to play in games, it was awesome," Zschernitz says about his first year with NIU. "Seeing everybody supporting me, it's a dream come true."
By the time the game with Toledo kicks off it's a frigid 25 degrees. That's just fine by Zschernitz, a 6'4" 318-pound behemoth who spent his prep days playing in the frozen tundra of central Wisconsin.
He enjoyed a long and decorated high school football career. He played in a state title game as a freshman, earned All-State nods at offensive line as a junior and senior.
As a senior he was a Joe Thomas finalist, the award for the top offensive lineman in the state, and was named Cloverbelt Conference Offensive Player of the Year that same year - a rare feat for an offensive lineman.
All that seems a world away as Zschernitz takes a deep breath to quiet the nerves and contain his excitement and energy. He remembers what his teammates told him prior to tonight's game, to not overthink things, to just let the game come to him.
"Going into the game with Toledo, I was nervous, but a lot of guys say it's easier on the field than practice," Zschernitz says.
This isn't for a conference title or a bowl berth. On paper it's just another regular season game. But it's more than that to Zschernitz. It's his first start.
"It was weird," Zschernitz says, talking candidly about his first start. "Normally I don't get nerves, but obviously, this game was different."
Different is an understatement. A year ago Zschernitz was in high school, playing for Jason Gorst and the Spencer/ Columbus Catholic Rockets, a football co-op that plays in the WIAA D-5 ranks. Now he's a true freshman for the Northern Illinois Huskies, starting in a D-I football game on national TV.
There's so much to think about, like the thousands of fans in the stands, or the camera crew from ESPN-2. He'll be playing in front of a live, national audience, with friends and family watching back home. With all this swirling through his head, the tension mounts.
But these are the things Zschernitz dreamt about when he was a kid, growing up amongst the corn fields and silos and train tracks that run through his hometown of Spencer.
"Coming from Spencer where we are obviously a small school, it gave me that underdog look because you don't make it that far," he said. "Once I got to NIU, I told myself I want to play as a freshman."
This makes his start all the more gratifying, coming from Spencer and now playing in front of thousands of fans in the Glass Bowl, and thousands more on television.
He's not getting the starting nod at right guard against Toledo because of sympathy. He's starting tonight because his coaches believe having him play will give NIU the best chance to win.
He's starting because he earned it.
"I flipped the script coming from a small high school and now going to a big D-I school," Zschernitz said. "But that was just the beginning. There's a lot of hard work and hours that go into this, and hours you don't think you'll put in."
There were constant film study groups, more time in the weight room, and learning to grasp the intricacies of a pro-style offense that was complex compared to Spencer's Wing-T offense.
"Playing high school ball it was obviously a lot slower, but once you hit college ball it's like you're starting fresh," Zschernitz said. "Everyone is older, and everyone is faster and you just have to give it your all."
The transitions extended beyond the game. It was Zschernitz's first time being hours away from home, being on his own, and he admits there were some growing pains, but playing for the Huskies also afforded him plenty of new experiences.
"Earlier in the year I was just travelling with the team, but that was my first long flight, first long bus trips with the team, and that was cool," he said.
But the biggest shock that happened to Zschernitz is what took place off the field. On Jan. 10, 2019, the man who recruited him, head coach Rod Carey, announced he was leaving the Huskies, trading DeKalb, Ill. for Philadelphia, Penn., and the Temple Owls.
Suddenly there was a new coaching staff that Zschernitz had never met, and he wondered if he would have a place with newly appointed head coach Thomas Hammock. Thankfully, those fears were quickly alleviated.
"Once I learned that coach was going to Temple, it was kinda nerve-wracking because they recruited me and then they were gone," Zschernitz said. "I guess that was the business side of things but once the new coach came in they came to me with open arms."
He says the relationship that he has with his offensive line coach Daryl Agpalsa, whom he calls "Coach A" is a "special one."
"Coach A is just an awesome coach and I am happy how the situation has turned out, and he's taught me so much already, and I still have four more years," Zschernitz said.
That teaching was evident against Toledo as the Huskies raced out to an early 28-7 lead late in the third quarter.
The Rockets came roaring back, tying things up late in the game, but NIU kicked the game-winning field goal with just 41 seconds remaining to earn a 31-28 victory over their rivals.
Zschernitz and his teammates had a huge hand in that success as they didn't surrender a single sack all night, the first such shut-out for the Huskies in over a year.
"It definitely makes us feel a lot better about ourselves," he said. "We got new guys to start and we got a lot of experience, and once you get that first play and that first start it's such a better flow . . . and that led to a lot of success for our O-line play."
The best part about the game, was ironically enough, not seeing his face up on the jumbotron or hearing his name called out across the loud speaker.
"When you're an offensive lineman you usually don't want to hear your name," he said. When it's not being called, that's a good thing, because it means you're doing your job."
The Huskies won the MAC in 2018, but fell just shy of qualifying for a bowl as NIU finished with a 5-7 record on the year, but went 4-4 in league play.
"I flipped the script coming from a small high school and now going to a big D-I school. But that was just the beginning. There's a lot of hard work and hours that go into this, and hours you don't think you'll put in." -- Logan Zschernitz
CONTRIBUTED PHOTO Zschernitz saw action in four games in 2019, preserving his red shirt, and the thought of what he and his teammates on the O-line could do over the next four years excites him.
"In the non-conference games I think we should win every game," he said. "We got to have that mindset towards every game and trust in yourself that what you put in is good enough."
Of course, much of the future is obscured at the moment by the looming specter of COVID-19. The coronavirus has cast a long shadow on the future of the 2020 NCAA football season, and forced Zschernitz and every other student to leave campus.
It also means having to miss out on spring camp, and the chance to improve his strength, technique and skills.
"Not having face to face with coaches is pretty tough," Zschernitz says. "Learning plays online is challenging, but we have weekly meetings for plays. So, every week we are learning different concepts and we have quizzes on it to make sure we are learning it correctly."
The class work also extends to work-outs, where Zschernitz is doing what he can to maintain his size and fitness.
He understands the uncertainty surrounding next season, but his goals remain the same, as does his hunger for more.
"I've definitely done some of my goals, but once you get to your goals you have to set new, bigger and better goals," he said. "There's still four more years to work, to trust the process and see what happens."