Posted on
An Outdoorsman's Journal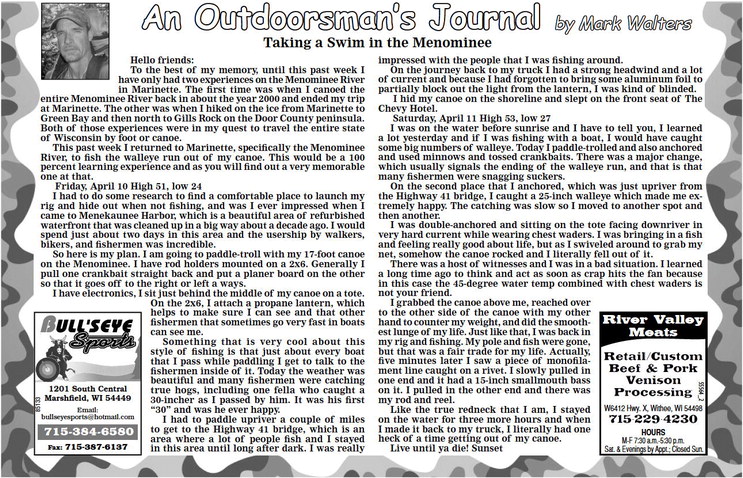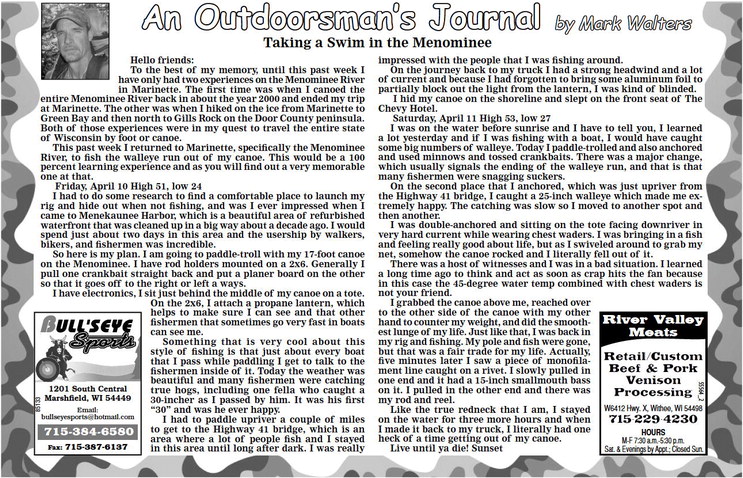 Taking a Swim in the Menominee
Hello friends: To the best of my memory, until this past week I have only had two experiences on the Menominee River in Marinette. The first time was when I canoed the entire Menominee River back in about the year 2000 and ended my trip at Marinette. The other was when I hiked on the ice from Marinette to Green Bay and then north to Gills Rock on the Door County peninsula. Both of those experiences were in my quest to travel the entire state of Wisconsin by foot or canoe.
This past week I returned to Marinette, specifically the Menominee River, to fish the walleye run out of my canoe. This would be a 100 percent learning experience and as you will find out a very memorable one at that.
Friday, April 10 High 51, low 24 I had to do some research to find a comfortable place to launch my rig and hide out when not fishing, and was I ever impressed when I came to Menekaunee Harbor, which is a beautiful area of refurbished waterfront that was cleaned up in a big way about a decade ago. I would spend just about two days in this area and the usership by walkers, bikers, and fishermen was incredible.
So here is my plan. I am going to paddle-troll with my 17-foot canoe on the Menominee. I have rod holders mounted on a 2x6. Generally I pull one crankbait straight back and put a planer board on the other so that it goes off to the right or left a ways.
I have electronics, I sit just behind the middle of my canoe on a tote. On the 2x6, I attach a propane lantern, which helps to make sure I can see and that other fishermen that sometimes go very fast in boats can see me. Something that is very cool about this style of fishing is that just about every boat that I pass while paddling I get to talk to the fishermen inside of it. Today the weather was beautiful and many fishermen were catching true hogs, including one fella who caught a 30-incher as I passed by him. It was his first "30" and was he ever happy. I had to paddle upriver a couple of miles to get to the Highway 41 bridge, which is an area where a lot of people fish and I stayed in this area until long after dark. I was really impressed with the people that I was fishing around.
On the journey back to my truck I had a strong headwind and a lot of current and because I had forgotten to bring some aluminum foil to partially block out the light from the lantern, I was kind of blinded.
I hid my canoe on the shoreline and slept on the front seat of The Chevy Hotel.
Saturday, April 11 High 53, low 27 I was on the water before sunrise and I have to tell you, I learned a lot yesterday and if I was fishing with a boat, I would have caught some big numbers of walleye. Today I paddle-trolled and also anchored and used minnows and tossed crankbaits. There was a major change, which usually signals the ending of the walleye run, and that is that many fishermen were snagging suckers.
On the second place that I anchored, which was just upriver from the Highway 41 bridge, I caught a 25-inch walleye which made me extremely happy. The catching was slow so I moved to another spot and then another.
I was double-anchored and sitting on the tote facing downriver in very hard current while wearing chest waders. I was bringing in a fish and feeling really good about life, but as I swiveled around to grab my net, somehow the canoe rocked and I literally fell out of it.
There was a host of witnesses and I was in a bad situation. I learned a long time ago to think and act as soon as crap hits the fan because in this case the 45-degree water temp combined with chest waders is not your friend.
I grabbed the canoe above me, reached over to the other side of the canoe with my other hand to counter my weight, and did the smoothest lunge of my life. Just like that, I was back in my rig and fishing. My pole and fish were gone, but that was a fair trade for my life. Actually, five minutes later I saw a piece of monofilament line caught on a rivet. I slowly pulled in one end and it had a 15-inch smallmouth bass on it. I pulled in the other end and there was my rod and reel.
Like the true redneck that I am, I stayed on the water for three more hours and when I made it back to my truck, I literally had one heck of a time getting out of my canoe.
Live until ya die! Sunset