Posted on
THE BUDDING A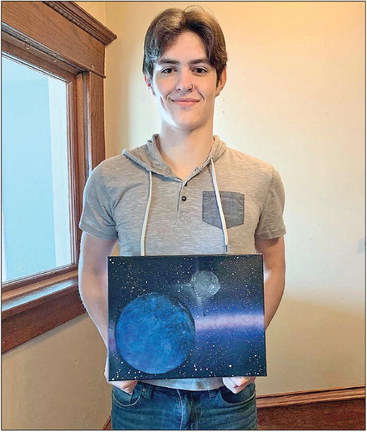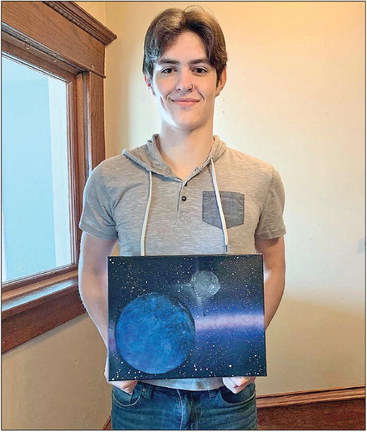 RTIST
Colby High senior gets creative with spray painting
By Ross Pattermann The Tribune-Phonograph
It's been said that nature is the greatest artist and inspiration. So it comes as no surprise that people have attempted to capture its splendor for centuries.
These days talented artists have a plethora of means by which to express what they see in the world or in themselves, from water colors to acrylics to computer generated images.
Xaiver Digman, 17, and a senior at Colby High, has been pursuing art for as long as he can remember.
"I've been painting all my life," Digman says. "I was introduced to it by family members at a young age, so I sorta picked it up early and always kinda excelled at it and was passionate about it."
Digman credits the men in his family for jump-starting his passion for art and painting. Both Digman's father and grandfather enjoyed art and drawing, though each had their own style.
Digman's grandfather was more inclined to drawings that had a comic strip element, while Digman's father spent his time drawing pictures that strived for realism. Though they had completely different styles, each man's work left an impression on Digman.
"Those were probably the two biggest influences on my artistic life," Digman shared. "I liked my grandfather's pictures, but I was always drawn to my dad's artwork, so that was my goal, to capture some of that everyday realism in my pictures."
However, these days Digman is working on finding his own artistic style and voice, and while he remains inspired by everyday life, he's not afraid to experiment with color and mediums to create something that is vivid and eye-catching.
"The majority of my style is realism because I like the aesthetic," Digman says. "But most of the time I'll add a New-Traditional take on it so that it adds a lot of vibrant colors."
Digman says the colors are not only beautiful, but emotional, and he loves it when people connect with his paintings. "I think bright colors put people in a better state of mind. It makes people happy and I like it when my art can create an emotional state."
Digman's art blends a variety of materials and techniques, with each piece taking anywhere from several hours to several days to complete.
He'll hand paint much of it, and he'll use acrylics and lead pencils and chalk, but he loves working with spray paint, a medium that for many years was used by graffiti artists around the country and was so often associated with vandalism.
That stigma is still around, Digman says, and there's plenty of hardware stores that refuse to sell him spray paint.
"It's a challenge to get spray paint because of my age, but I love using it because I can get so many shades and vibrant colors with spray paint.
"I would never be able to do what I do with acrylic at my level, so spray painting allows me to capture some images that other mediums don't allow."
Thankfully, his parents support his work, and are often willing to help out and pick up items so he can continue to explore his creativity.
"My whole family supports me. I know for some people that isn't always the case, but my family is always showing people my art and having a support system makes it so much easier. With my family supporting me, I wouldn't be where I am."
Digman also cites growing up in a smaller, rural area for inspiring his artwork. While he concedes that some im- See ARTIST / Page 13
EXPLORING CREATIVITY - Xavier Digman poses with one of his unique creations, a vision of the cosmos. Digman has been painting for years and combines acrylic with spray paint to make vibrant and eye-catching pieces. Artist
Continued from page 12
ages that he draws - scenes of cities and skyscrapers and urban areas - require a Google search, the beauty he is surrounded by is just begging to be painted.
"It's huge," Digman says about the local scenery. "Hands down, if your art is based around nature, just being able to live somewhere that you can stare at the stars and moon at night, or drive five minutes and be alone and see nature up close, it makes what I do so much easier. Living here has had probably one of the biggest impacts on my art."
Digman's drawings can range from landscapes to cityscapes, but also the fantastical, from scenes of space and the cosmos. His art has recently taken off, with fans reaching out to him on Facebook and resulting in several sales.
When this happen, Digman says it's a feeling that's impossible to articulate, and inspires him to continue painting.
"It's like winning the lottery," Digman says when he has a commission. "It's an indescribable feeling. At first I'm confused, like why would you want this, to sudden, pure joy. I can't describe the emotions it brings out to know someone wants my artwork."
Despite receiving income from his paintings, Digman doesn't see himself pursuing it as a career. For him, the art remains a release and a hobby.
"I don't want my art to become a necessity," Digman says. "For me, art is an escape. At this point I realize I can get good enough to sell it, but I never want to make it a job because then I might lose some of the love I have for it. Besides, you can't just turn inspiration on - you have to be patient and wait for it."
Art remains Digman's passion, and he intends to major in graphic design this fall at UW-Stevens Point. His artistic talents will serve him well in that field, but at the moment Digman is content knowing his art has improved someone's day.
"A majority of my paintings come from my emotions, so a lot of them refl ect whatever mood I am in," Digman says. "Every painting has a bit of me in it, a little bit of home. It's got real heart and soul, and it's so much more than just canvas and paint."
Digman enjoys making a purpose, but knowing people enjoy his art is the greatest payment he can receive.
"If I can make something that affects a person the way it does me, then that's all I really need as far as payment."
A ROSE BY ANY OTHER NAME - Digman often finds inspiration in what he sees while living in rural Wisconsin, including scenes from the night sky or rolling hills and colorful wildflowers.