Posted on
Sixty local youth appearing in Missoula Children's Theatre play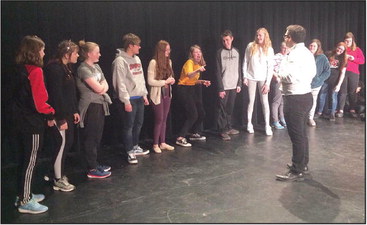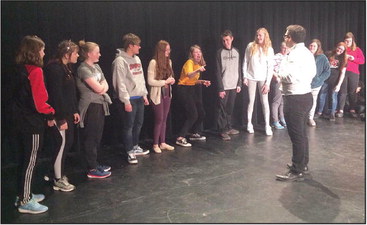 Join Gulliver, Giant Royalty and a variety of aliens when the Missoula Children's Theatre and nearly 60 local youth present an original musical, sci-fi adaptation of "Gulliver's Travels" at Spencer's LuCille Tack Center for the Arts this Saturday.
Children from Marshfield, Granton, Colby, Abbotsford, Nasonville and Spencer have been cast in a spectacular out-ofthis- world production. Playing the title character, Gulliver, are Cayley Gosney and Abigail Wilke. Other featured performers include Brooke Cherek as JSN; Dietrich Ohm as Giant King; Tamara Blume as Giant Queen; Savana Weyer as Princess; Emily Steen as Giant Wasp; and Olivia Hardesty as the Maniacal Scientist of Lapunta.
The Houyhnhnm Horses are made up of Keelai Gaffney, Ariana Likes, Alicia Ostricki and Ema Schultz. Ari Gorst, Keira Hernandez, Kelcy Jakobi, Callie Justman, Isabelle Keding, Jacob Lee, Jeremiah Oehmichen, Peyton Ostricki and Braleigh Wallace will play the Yahoos. Appearing as the Robots of Lapunta are Norah Alcott, Tahneya Anderson, Josey Haizel, Tanner Hamer, Lauryn Harris, Mary Keding, Vayda Kelnhofer, Carmen Krause and Wylie Seefeldt. Maddy Beels, Addisen Eddy, Isabelle Gorst, Jack Gorst, Lydia Lau, Danica Plaskey, Dex Schiller and Addison Soyk will play the Aliens of Lilliput. Felicity Alcott, Keziah Eddy, Lyla Kayhart, Violet Kelnhofer, Ella Kramp, Ivy Murphy, Finn Schiller, Ivy Schiller, Nathan Schoessow, Beckam Schultz, Avery Soyk, Mackenzie Steen, Natalie Steen and Kynzlie Thieme will perform the roles of the Aliens of Blefuscu. Hailey Rucker, Ava Sallach, Roslin Schweiger and Danielle Soback will serve as Assistant Directors throughout the week.
"Gulliver's Travels" will be presented at the Tack Center on March 7 at 2 p.m. General admission tickets are $10 for adults, $5 for youth age 2 through grade 12 and are available online at lucilletackcenter. com and at the door.
The Missoula Children's Theatre residency in Spencer is brought to you by LuCille Tack Center for the Arts with support from Tim and Marlene Ablett, Rembs Funeral Homes – Greg and Tami Jackan and families, Daniel and Claire Schiller family, Ruby Thomas and the Wisconsin Arts Board. For more information, call 715-659-4499.
Cayley Gosney offers her best imitation of an evil scientist during March 2 auditions for the Missoula Children's Theatre production of "Gulliver's Travels." The production will be staged for the public at the LuCille Tack Center for the Arts in Spencer on March 7 at 2 p.m.
CONTRIBUTED PHOTO