Posted on
Love of plants leads FFAer to supervised greenhouse project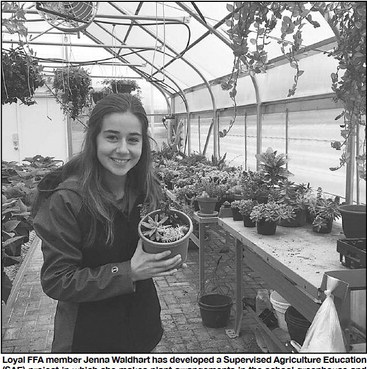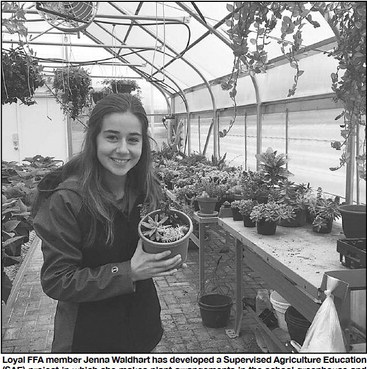 My name is Jenna Waldhart, and I'm an FFA officer from the Loyal Chapter. I have loved plants since I was a little girl. I would always go flower shopping in the spring with my mom and if I was lucky, she would let me "help her" plant them in our pots!
As I grew older, I got to plant one pot by myself, or take charge in watering them for a week. Now, I'm the one in charge of watering the plants that are inside and out, along with weeding the flower beds and making beautiful bouquets out of them. I'm not complaining, though.
My love of growing flowers hasn't changed since I was little. I'm very lucky to have a class that is dedicated to growing my own plants, and I'm able to do it every day! Last year, Mrs. Donnerbauer and I talked about doing an independent horticulture class because I liked the original horticulture class so much. So, when we signed up for our classes, it was one of the first on my list. We went through everything that needed to be done for me to take it independently and so far, it's been very successful.
I first started out by buying pots at local hardware stores. I made sure I kept track of receipts and how much I spent. I was encouraged to start a document to make sure I wouldn't forget anything. When I got into the greenhouse, I started planting succulents, cacti, and took care of the poinsettias. I made sure that I paid Mrs. Donnerbauer for the soil, and different inventory that I used from the greenhouse. When I had multiple plants ready to go, I advertised what I had, and was surprised by how quickly they had sold out. So, off I went to get another bunch of pots!
I continually make arrangements of succulents, because there are a lot of mother plants in the greenhouse to take cuttings from. When I'm not planting or taking care of the plants in the greenhouse, I'm organizing, cleaning, and taking donations of used pots. I also recently started selling these plants at home sporting events. Between all of that, it for sure keeps me busy!