Posted on
Loyal dance studio moving soon into larger quarters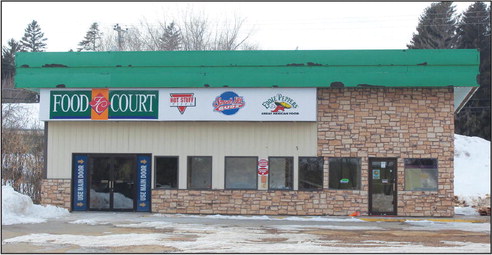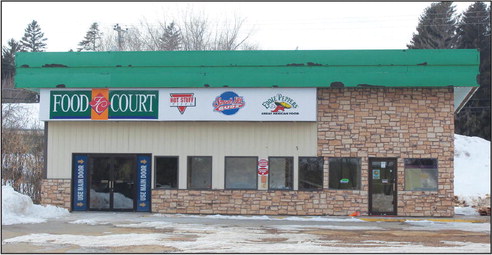 When Holly Rohde first began teaching students the art of dancing out of a second-story room in the St. Anthony school building in Loyal, there was always the hope that someday she would have her own studio space to call home. That someday date is now here, and in a few more months, anyone learning dance in one of her classes will have a much larger, safer space in which to practice.
After finalizing a deal in January, Uplifting Movement and Fitness Dance Studio will be moving out of the St. Anthony school building, where lessons have been held for the past year, and into the former BP gas station at the corner of North Main Street and West Elm Drive in Loyal. In preparation for the move, Rohde said the building is undergoing remodeling to turn the space into a dance studio.
"It's been moving actually very quickly," she said on the remodeling progress. "They took out all the walls for the first part, the two back rooms are staying. The store front, coolers, kitchen, they took it all out. There were two false ceilings, those were ripped out. The studio space will have 15-foot high ceilings."
The move into a new space to teach dance has been a move long awaited by Rohde. Since she first started her studio about a year ago, Rohde has been working to gain support and interest in the art of dance for people living in the Clark County area and beyond. Now that she has solid numbers of interest, she said she finally began to look for her own place in December. A friend was the one who pointed out the gas station.
"I actually heard about the building being for sale from a friend of mine about a year ago, but I was just starting out," she said. "Later I was looking for properties around December and saw that the old gas station was still for sale. They took the pumps out and we all thought that it had been bought, but it wasn't."
So Rohde went through with the process to make the old gas station the place for Uplifting Movement and Fitness to call home.
"They put me in contact with the owner, that took place in January," she said. "It went pretty smoothly and was a pretty good deal. I peeked through the window to get a look at the place and I thought, 'We could make this happen.'" When the remodeling is complete, Rohde said the building will have two studios, one 460-square foot space and another that is 608 square feet. Both spaces, she said, will have professional spring flooring installed to give the dancers a practice space that is both safe and state-of-the-art, giving them a good, local dance experience.
"The biggest difference is space," she said about the new building. "It will be more comfortable for students. The floor will be better suited for what we do, there will be a waiting room to hold families during transitions, a parking lot. It makes it easier to get to the building, they don't have to go through the school or the daycare … it's quite a significant difference. Right now, parents come up to the second floor, now they won't have to deal with stairs."
Besides physical differences in the building spaces, Rohde said she plans to expand dancing opportunities once the new studio is open. Overall, she said participation and interest in the programs she offers children has grown considerably since she got started, to the point of having waiting lists and being forced to turn people away because of space issues. Now she said that should change with the increase in space.
"I would say it's just expanded based on the number of inquiries we've got," she said. "I had a waiting list and had to turn some families away because we didn't have the space. All the classes are doing very well, we're full or at capacity at St. Anthony's."
In addition to the class offerings she has now, Rohde said she hopes to be able to offer more levels of dance classes and different types of dance, including some fitness lessons for adults. With the increased studio space and having two separate rooms in which to practice, she said that there should be more options for parents to choose from what would best fit in their family's schedule. "I want to be able to offer more classes during the week," she said. "For example, instead of offering one pre-ballet class, I can have one on Monday night and another on Thursday night. I want to keep classes small enough where the students get attention, but also give options so parents can pick nights that work best for them."
Rohde expects the remodel work to continue over the next couple months, with an official opening date dependent on how fast work goes. If everything continues on pace as it is now, she said students could begin practicing there as soon as next month. If there are delays, she can see a later April or May opening date.
"I had originally said June, possible May, but things are moving very well," she said. "If we get in by March that would be great."
As for what happens afterward, Rohde expects the future of Uplifting Movement and Fitness to be a positive one. Expanding opportunities for people living in a rural area like Loyal has been important to her throughout the studio's existence, and she hopes to make dancing a local treat the entire community can enjoy.
"It's all been very positive," she said. "When I first posted the announcement video on Facebook, the response from the dance and non-dance families were them sharing their congratulations. They're excited the building will be used. It's something healthy and positive for the community … They don't have to travel to Marshfield, Wausau or Eau Claire for this. I want to keep this local and see it grow. We're super excited to have this chance to grow and have such a warm reception from the community. It's been really, really great. I'm excited to see all the things coming to Loyal."
"I peeked through the window to get a look at the place and I thought, 'We could make this happen.'" -- Uplifting Movement and Fitness Dance Studio owner Holly Rohde
The former BP gas station on the north end of Loyal's Main Street is being remodeled now and will soon be the new home of the Uplifting Movement and Fitness Dance Studio that is now located in the St. Anthony school building.
STAFF PHOTO