Posted on
Another week to check the ….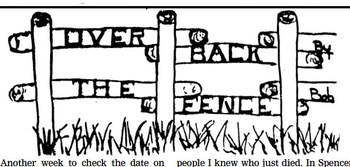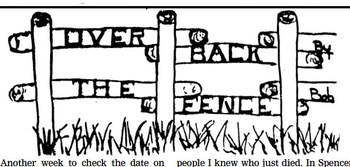 Another week to check the date on this paper. It reads, Jan. 29, which means just two days to the end of the month. A weatherman said the other day we can expect a change in the weather pattern on the thirty-first. He didn't say what the change will be, but I think that most of us would like to see the snow quit.
January is generally very cold, but as someone explained, we had all the cold weather back in November.
Another note to think about is that before another paper comes out we'll have observed Groundhog's Day. Whether we have another six weeks of winter isn't the question to me. I want to know if that is it or will it continue to run through March? For sure we can begin to see more daylight hours. The sun is now setting after five and finally the sun is starting to rise sooner in the mornings.
Super Bowl Sunday also falls on Feb. 2 and since the Packers are already done, I'll stick with the Kansas City Chiefs. They were the Packers opponent 50 years ago and haven't been in the Super Bowl since, so I'll be cheering them on.
ÓÓÓÓÓ
The nation is experiencing a moment in history, as the Impeachment Trial for Donald Trump continues. The strange thing about this whole thing is how in the world did he ever get elected president? He had never held a public office and presented no qualifications to hold such a high office.
What seems so strange is that none of the evidence presented by the House of Representative seems to mean anything to Republican Senators.
Perhaps we should be wondering where those Republicans went that belonged to the party of Abraham Lincoln? It seems they have all fled the party and joined something called the Trump Cult.
It doesn't seem to matter that he has been caught lying over 16,000 times since taking office. It is even easy to tell when he is lying. For example, the day after the Iranian missile attack on American troops in Iraq, he claimed there were no injuries. Now the facts are out and 34 Americans received some type of brain damage from the bombing. The VFW is asking for an apology.
It brings up the old question of why do we need all those people who were elected to represent the public. They seem to owe their allegiance to their party and not the public.
The same story seems to unfold in Madison as well. The other night our governor gave his State of the State address. It appeared that a lot of people sitting in the audience that night must be hard of hearing. You never saw them applaud what he said. People on the other side of the aisle didn't seem to have any problems. I think we deserve better.
ÓÓÓÓÓ
It is a good thing I'm not superstitious or I would be starting to get concerned. It just seems like a lot of people I know have passed away and they were all 89.
There was my friend Otto Becker who passed away last summer. Then Joan Knack died just before Christmas.
This week I learned of two more people I knew who just died. In Spencer Carol Kasper, who with her husband Norm, ran Kasper's Shoe Store. What a treat it was to stop there. Norm and Carol always acted like I was some kind of old friend who stopped to see them. The best part was that they always had an ad for me to run in the next week's TRG.
Then back in Turtle Lake I learned about another old friend, Rose Klingelhoets, who had died. When I left the post office in 1968, to buy the Loyal Tribune and Spencer Record, she was hired to take my place. As luck would have it, the post office changed their rules, which meant many of the employees were either let go, or moved to another office.
Rose ended up working for 22 years before retiring and she had returned to Turtle Lake to become postmaster before she quit.
But that wasn't her only claim to fame. She became the first lady school bus driver for the Turtle Lake School District. That was quite an accomplishment at the time and it happened before I left.
The only thing I can say about Carol and Rose, they were younger than I am. Carol's birthday was in November and Rose's in October. I just hope May comes pretty quick, not that I'm superstitious or anything.
ÓÓÓÓÓ
It has been awhile since I printed any clever things that my friend and former sports reporter, Doug Zaleski, has put on Facebook. He was back this week with a story about a weasel that went into a bar. The bartender asked how he could help him and he replied, "Pop" goes the weasel.
I thought it was pretty clever, so I e-mailed it to Florence's nephew who is living in Florida right now. I think he was getting tired of all the Packer/ Viking stuff I sent.
He e-mailed right back and said a termite went into a bar and said is this bar tender.
ÓÓÓÓÓ
Maybe it doesn't take much to cheer me up, but reading Dean Lesar's column last week made me chuckle. He was telling about going to a movie and described the screen as big as a Wal-Mart cereal aisle. Well, I can tell you I know all about that. A few weeks ago, I went in to buy a box of Cheerios. Normally they are right there out front. But not this time. Cheerios, yes, but not any plain ones. I didn't know they even made that many different kinds.
My only choice was to go without or try one of their flavored kinds. I settled on maple Cheerios thinking I like maple syrup so maybe they would do.
Sad to say it didn't work out but I did finish the box. But you have to hear the rest of the story. If you are a regular you know about it, but Wal-Mart is in the process of some major remodeling. If you had trouble before finding what you wanted, that was nothing compared to now. The other day I had to look in three different aisles before I found my Cheerios. Life would just not be the same without them.