Posted on
Playing pickle ball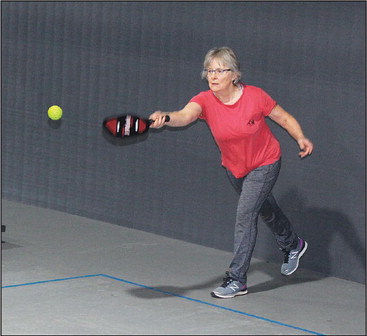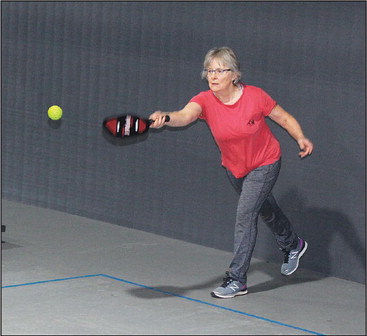 Sport is a relaxed combination of volleyball, tennis and ping-pong
We all know the scenario: a group of people gather to play a game. They have all the equipment needed, except for one or two pieces. What do they do? Some may decide to play a different game, but others will improvise, substituting the needed items from some other game and adapting the rules to better suit the modified play.
The game of pickle ball was created under such circumstances during the 1960s. A game that bears a resemblance to more well-known sports such as tennis, badminton and ping-pong, pickle ball has become pretty popular in the area among certain circles. Most recently, a group of players has started playing the game at the Loyal Recreation Center and will continue to do so throughout the winter months.
Bonnie Weyer is one of 10 individuals who currently play pickle ball at the Loyal Main Street Recreation Center on Tuesday mornings. This is a fairly recent development for the group, which has been playing games about once a week since they first came together in October.
"For me, it got started when I was invited to play pickle ball (with a Neillsville based group); I play Thursday nights in Neillsville," Weyer said on the group's origins. "They don't play in the summer, but I wanted to continue playing so we started playing on the Greenwood tennis courts."
To get some players, Weyer said she first contacted some fellow bike riders from the Willard area and asked them if they would be interested in a different form of exercise. Once she got support there, the group then moved onto the tennis courts outside of the Greenwood High School, where other members of the Greenwood community began to take notice.
"It was kind of interesting. Wednesday nights a group of us would bike in Willard for exercise and I got them to join," she said. "Then (people) called and wanted to play. It spread through word of mouth."
Pretty soon though, winter arrived on the scene and put outdoor play to a halt. Still, pickle ball had quickly become popular in the group and after determining that there was a strong interest to continue playing, they looked for a place to go. The Loyal Recreation Center seemed to meet their needs.
"When the weather got bad, we wanted to keep playing and we thought of the Loyal Rec Center," said Weyer. "There's enough space and they were more than willing to cooperate."
Since then, members of the group have come together to play every week at the Center. Borrowing a pair of nets from the pickle ball group in Neillsville and getting several paddles, they play from about 9 a.m. until 11 a.m. on Tuesdays. Exactly who participates on a given day, Weyer said, is up to the individuals and their schedules.
"Everyone kind of moves in and out," she said. "There's no commitment. If you can show, show, if you can't, maybe next week."
The game of pickle ball itself, Weyer said, is easy to learn and is often taught to high school students who take lifetime sports. It can be played either individually or as pairs and adopts several rules from other games, aiding newcomers in learning the ropes.
"It's very simple," she said. "It's a combination of volleyball, tennis and ping-pong all into one game. Anyone can learn it."
The court is typically the size of a badminton court, divided down the middle, with non-volley zones extending seven feet from either side of the net. The game is played with paddles — larger and more square than the ones used in ping-pong — and a wiffle ball.
Once the game is set up, play begins with an underhand serve diagonally towards the opposite side and the ball must bounce once before it can be returned. Only the side serving the ball can score a point and if there are two players per side, each member of the team gets to serve before the ball is then served on the other side. Like volleyball, the person serving the ball only changes if there was a mistake made by the serving team.
Gameplay continues until one team reaches 11 points. Among the local players, the game is usually concluded with a meeting at the net by the opposing teams and the handles of the paddles tapped against each other to show good sportsmanship.
Weyer said they are hoping more people will come by for a game or two and see what pickle ball is all about. It's a game that's becoming more popular and she said it's a simple way to get exercise and socialization all at once.
"We would really like to expand the group, encourage more participants," she said. "I know it's popular in bigger towns. Retirees are becoming a large part of the population; we're around and retired now. But you don't have to be retired to play … It's a good co-ed sport and good for couples."
If anyone is interested in playing pickle ball, they can call Weyer at 715-937-0871 or stop by the Loyal Recreation Center on a Tuesday morning. Games are held there from 9-11 a.m. unless school is cancelled.
Diane Opelt of Greenwood serves during a recent pickle ball game at the Loyal Main Street Recreation Center. A group of local players began weekly games during the winter months, and invites others looking for exercise to join them.
CHEYENNE THOMAS/STAFF PHOTO