Posted on
1/15/20 The neat thing ….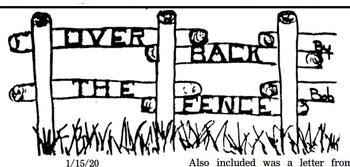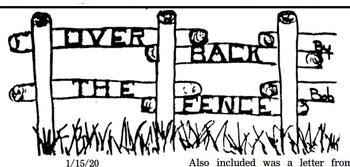 1/15/20 The neat thing about writing this column is the date I put at the top. This week it reads 1/15/20, which means we are about half way through January and spring can't be far behind.
Even though we finally had some below zero weather, a thaw came along this week and kind of messed things up. Thursday. There were school closing announcements for communities along I-90 from La Crosse to Tomah. In the afternoon, I ran an errand in Marshfield and was surprised to find the roads and streets covered with ice, but the warm temperatures were melting it.
The forecast for the weekend is calling for five to eight inches of snow for the Green Bay area. Football fans heading to the Packer/Seahawk game at Lambeau Field may have to deal with that.
ÓÓÓÓÓ
Years ago, Florence took a week off and went to Northfield, Minnesota, to spend a week with her parents and sisters who still lived there. I was surprised when she came home and brought me a gift. I think it was the historical significance that attracted her to it more than anything else.
It was just a simple desk calendar that showed North and South America on one side, then you flipped it over and Europe, Asia and Australia are on the other side. Each side displays a number from one to thirty-one, then you start over the next month.
On the bottom of the calendar someone had written a note saying one just like it was on President Truman's desk at his library in Independence, Missouri.
One year in our travels, we decided to include a visit to Truman's Library. It was an interesting visit and while there I showed my little calendar to a guide. She took us to the basement and their huge storage area where extra things for the museum were kept.
She gave us copies of several papers in the storage drawer. One was a description of it and noted it had been given out at the Japanese Peace Conference held in San Francisco in September, 1951.
Also included was a letter on Brown & Bigelow stationary from a salesman for the company written to President Truman asking for the President to write him a letter telling how he liked it.
Also included was a letter from Truman's assistant press secretary, thanking him for the letter, but stating that the President cannot write letters endorsing a product.
It is something that I use every day and has survived a number of accidents when one of the great-grandchildren happened to drop it on the floor. Florence was always able to use a little glue and put it back together again.
ÓÓÓÓÓ
Then came Monday evening and no football game to watch. So I began scanning the television guide and saw a program on Public Television I thought might be interesting.
It was a two-hour program on the life of former Senator Joseph McCarthy of Wisconsin. Maybe I'm getting ahead of the memory of some people, but he was elected in 1946, and served until his death in 1957.
His claim to fame resulted from his attempt to convince the nation, and the world, I guess, that communists were infiltrating our government.
It matched anything that is on the news channel today, except at that time, photographers wore hats and their cameras were huge.
As the story was shown a couple of times, it showed President Truman sitting at his desk. Right there on the top was his flip top calendar. That really got my attention.
As it turned out, McCarthy overdid things and started to go downhill. And fast. He took to drinking and that finally got the best of him and he died in 1957.
ÓÓÓÓÓ
Not only did he pick on certain people, he picked on organizations. I think one was UNICEF and he objected to them asking people for donations because he claimed it was a communist organization.
At the time, I was in the army and every month on the first day was pay day. Let me tell you that was a festival. You got your pay and headed to the PX or some place to spend your money. At the time I think my take was $52.00 a month.
Somehow, someone figured out, with all that new money, we should give some to charity. One month the charity happened to be UNICEF. We weren't just told about the donation, our CO (company commander) and First Sergeant were right there to see that everyone gave. It was kind of a contest to see which company could make the biggest contribution.
On that morning I must have been feeling a bit tight, or thought $52.00 probably won't reach to the end of the month. As I got my pay and turned away, there was the donation box carefully watched by the CO and First Sergeant. I took one look at them, one look at the box, and declared, "My senator says not to give to it."
They said nothing and let me go, holding all my money. After the truth about McCarthy got a little more known, I felt a little sorry and have given to the cause ever since.