Posted on
Vandalized statues return to Neillsville church for Christmas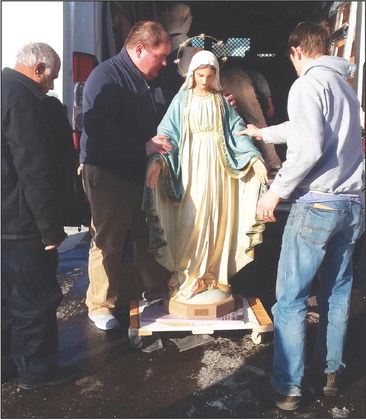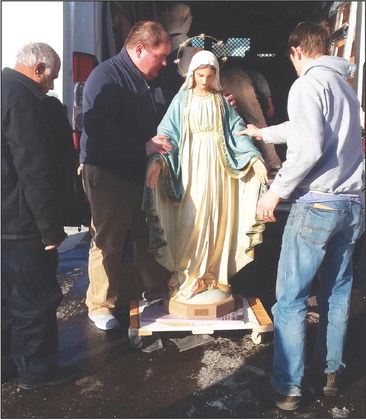 Parishioners attending Mass at St. Mary's Catholic Church in Neillsville over the weekend had something special to rejoice over before the celebration of Christmas on Dec. 25. Most of the statues that had been vandalized earlier in the year were finally returned to the church — good as new — as an early Christmas gift to the parish.
Repaired by Conrad Schmidt Studios of New Berlin and brought to the church on Dec. 19, the statues were blessed on Sunday morning by Rev. Varkey V. Joseph before being placed in their old, familiar locations around the church just in time for Christmas. The statues that arrived included those of St. Joseph, Our Lady of Grace, Sacred Heart of Jesus, the Immaculate Conception, the Crucifix and two angel holy water fonts that were to replace the other, unrepairable fonts formerly at the church. The other items that were damaged during the vandalism, such as the Stations of the Cross and the baptismal font, are still being fixed and will be returned at a later date.
The return of the statues came after almost 10 months of absence following an act of vandalism at the church sometime between Feb. 28 and March 1, just days before Ash Wednesday. Going through the entire Lenten and Easter seasons without the statues and without word on the progress made to repair them, the church was finally able to get a few canvas pieces of artwork to act as placeholders for the missing items later in the spring.
Word finally arrived during the summer on the cost of the damage to the statues, and with insurance covering almost all of the $110,000 bill, the church was able to begin the process that has now led to the statues' return, fixed as if nothing had happened. The only notable exemption is the statue of the Immaculate Conception, which was altered to more accurately match its original 1924 appearance.
Seth Meier, the 43-year-old Lublin man charged with entering the church and vandalizing the statues, faces felony counts of burglary to a building or dwelling and criminal damage to religious property. He has pleaded not guilty by reason of mental disease or defect, and is to appear in Clark County Circuit Court for a Jan. 7 mental competency hearing.
CHEYENNE THOMAS/STAFF PHOTO