Posted on
A last column with a ….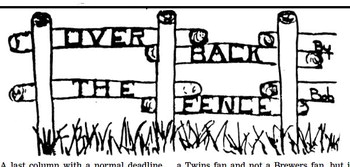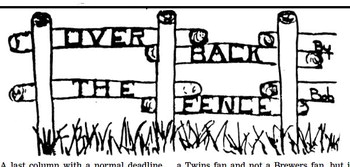 A last column with a normal deadline. The next two weeks will be early and then we can start writing 2020. Who would have ever thought we would be doing this? I thought when 1999 was done, we would come up with a different idea, but it looks like people are getting used to 20 and something.
ÓÓÓÓÓ
I haven't made my official Christmas light tour yet, but coming home from the Legion meeting, I swung by the Purple Park. Amazing! You've got to see it. I stopped at City Hall the next morning and found out that it was the handy work of the 4-H and Loyal Lions. So far, the best I've seen.
Another four or five inches of snow got dumped on us on Thursday. It sure is handy when Jack Kadolph keeps the driveway plowed and great grandson Jackson shovels the walk. Understand, Grandma Jackie might have had a hand in that one.
If it will cheer you up, I can tell you, according to the weather channel, the sun sets one minute later on Thursday than Wednesday. Well, it's a start.
ÓÓÓÓÓ
Over the years, Florence and I made a lot of miles attending newspaper conferences and just plain traveling. To the best of recollection we managed to visit every state except six. Hawaii and Alaska are the two not connected to the 48 and of them there is a group in the New England states, Massachusetts, Connecticut and Rhode Island.
The final one is that funny little state all by itself on the southeast coast line. The place where funny little people live with big ears. If you have been watching Wheel of Fortune lately, you know I mean Mickey and Minnie who are helping Vanna while Pat Sajak is laid up.
It is kind of a mixture, whether it is better than going to Texas or Florida. Years ago, I kept track one year when winter came to find out where did the people go. Surprising to me, it was pretty evenly divided between Florida, Texas and Arizona.
I was glad we picked Texas, as that is in the same time zone and we didn't have to add or subtract time if we wanted to call someone.
ÓÓÓÓÓ
Anyway, Jackie, then Bob, followed us down there every winter. Then came the winter of 2017. They decided to try Florida. Number one, Jackie has a couple of cousins already there. The other reason was a hurricane named Harvey which pretty well wiped out most of the condos in Port Aransas.
So they gave the sunshine state a try and I guess you could say, liked it, as they booked in for 2018.
Then, instead of renting, they bought a small fixer/upper house and spent the winter making trips to Lowe's every couple of days to buy building supplies. This meant things weren't as hospitable as they would have liked, so forbade me to come down.
This year things have changed and not only did they invite me down, Jackie went to great efforts to make sure I got there in one piece.
While her cousins Nadine and Charlie and wife Sandy are already there, she found another cousin Kent and Susan Smith from Burnsville, Minnesota, who were planning to go down, but they would be driving. They also had room for a hitch hiker.
While I don't mind flying, landing, taking off and hurry up and wait are three things I find unpleasant.
Then to make things extra nice when I'm there, Charlie has arranged for a couple of tickets to a spring training baseball game between the Minnesota Twins and the Boston Red Sox.
Some people can't understand why I'm a Twins fan and not a Brewers fan, but it is easy to explain. When the Twins arrived in the Twin Cities, the Braves had left Milwaukee and the Brewers hadn't arrived on the scene as yet.
Then there was my former boss at the Turtle Lake Times newspaper who had a press pass to Twins games. He would let me borrow it and if I called ahead there would be two tickets waiting for me. My Dad loved going and I think the Twins only lost once when I took him. So the picture of Hammerin' Harmon Killebrew just has a nice fit over my desk. I saw him in many games during the early 60's living in Turtle Lake, less than two hours from Mets Stadium.
So no doubt you will be reading more about this as the time draws closer.
ÓÓÓÓÓ
This was the week for Christmas programs. As I write this, three are over and one is left to go. Monday evening was the chorus and band concert. I never played an instrument, but like sports, there has to be spectators too. Hats off to the young people and their instructors for such a grand job.
Then on Thursday afternoon came the grade school program. It was amazing to see how well hundreds of kids can be organized and tell and sing the wonderful songs associated with Christmas.
Friday afternoon was the time for the program at St. Anthony and once again was a chance to see another one of the great grandchildren taking part and making one so proud of his efforts.
Sunday morning will be the chance to see Saylor Dietsche and if you have ever seen her, then you know she puts her heart and soul into it.
That should end the program schedule and leave me with a whole week to spend evenings, if I want, driving around seeing the sights.
ÓÓÓÓÓ
A few weeks ago, I mentioned winter in southern Idaho at Christmas time in 1951. It is kind of a long story, but like so many, had a connection to World War II. My brother Ernest had been killed at Christmas time in 1943, in an accident involving an army vehicle.
As life unfolded after the accident, my sister Anna started writing to one of Ernest's friends who was injured in same accident. As with many stories from World War II, that friendship kept growing and in March 1946 they were married.
Her husband Art had been raised on a farm in southern Idaho and he chose to move there as he understood the irrigation system and felt out of place in Wisconsin with no help for crops if it didn't rain.
Anna and Art moved to Buhl, which is located along the Snake River in a region known as Magic Valley. Anna would write home and brag a little about the weather. It was milder and they got a lot less snow. I mean a lot less.
Then came 1951, and I was in the army stationed at Camp Stoneman, just outside of Oakland, California. I decided a one-day bus trip was possible, so off I went. It think it was Christmas Eve when I arrived and also arriving was a snowstorm, the kind of which they hadn't seen in years.
The next morning everything was white, but the irrigation ditches hadn't frozen over and it was a sight to behold. I took a lot of pictures, and naturally kidded Anna and all their "no snow" she had told us about.
The weather got even with me as on the way back we encountered a blizzard going over the mountains. I recall the bus driver telling us in Reno that the highway was closed, but we would try a different route. I never really knew where we went, but here I am today, so it must have worked.