Posted on
Acclaimed Winter Solstice show making exclusive stop in Spencer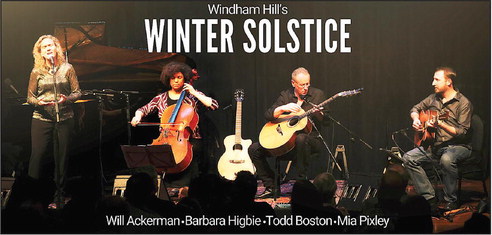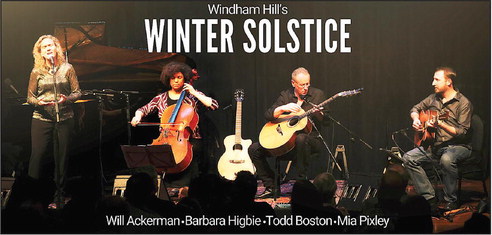 The ancients knew the winter solstice to be a time when the sun's light began its steady advance toward spring. In celebration of this solstice and its warm traditions, a concert of traditional carols and original music drawn from the multi-platinum selling Winter Solstice series will take place at Spencer's LuCille Tack Center for the Arts on Dec. 15 at 5 p.m. On that evening Windham Hill founder and Grammy-winning guitarist Will Ackerman, Grammy-nominated singer, fiddler and pianist Barbara Higbie, guitarist Todd Boston and cellist Mia Pixley will come together to lead a joyous holiday event, the only one of its kind in Wisconsin.
William Ackerman founded Windham Hill Records in his Palo Alto basement in 1975. The label's recordings were a runaway success with critics and audiences alike. Musicians including Ackerman, Higbie, George Winston, Alex de Grassi and Liz Story quickly became internationally recognized and the name "Windham Hill" became synonymous with the best in acoustic music in the 1980s and 90s.
Thirty-five years ago, the Windham label began producing Winter Solstice compilation CDs, and the 10 resulting albums, selling in the many millions, changed people's conceptions of seasonal music. Indeed, for many, the recordings of Winter Solstice are played from Thanksgiving straight through to New Year's Day.
Windham Hill Records produced music that was difficult to define, with elements of classical, folk, and jazz, nearly all of it instrumental, acoustic, and mellow. Billboard magazine called the music soft jazz in 1983, but later listed the label as New Age, when the label's albums topped their New Age and Contemporary Jazz charts. Albums of solo piano by George Winston crossed over into the Pop and Folk charts, and seven of those albums were certified Gold and Platinum by the Recording Industry Association of America.
Tickets for this mellow evening are $40 (which includes all fees) and may be purchased online at lucilletackcenter. com or by calling 715-659-4499. The show is sponsored in part by the generosity of Duane and Anne Teska, the Wisconsin Arts Board and the National Endowment for the Arts.
CONTRIBUTED PHOTO