Posted on
The new-fallen snow, the early ….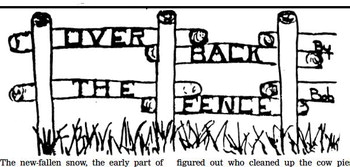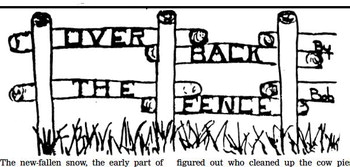 The new-fallen snow, the early part of the week, was sure beautiful. But, it is such a nuisance. A few years ago, we had Sue's husband install a new wood floor in our kitchen and dining room. So far I have tried not to walk on it with wet or snowy feet. That means, take off my shoes when I come in, then put them back on again when I want to go out. Just a lot of bother.
Why can't all those inventors, who keep trying to make a better smart phone than anyone else, figure out a way so snow only falls on the grass or in the woods. We don't need it on sidewalks and roads.
The chilly weather keeps the weatherman busy, but if I counted correctly, it is only 18 weeks to spring.
ÓÓÓÓÓ
After fifty-some years of writing this column, I am never sure what triggers people to bring up something I had written about. Sunday I had gone to the York Center Methodist Church for a spaghetti dinner and never realized what I was walking into. Arlene Miller had to tell me right away about writing about being in Tony. She grew up there so she confirmed my story about the new school and what was left of the old one on Highway 8.
Later, Chuck Butterbrodt told me he always reads my column to see where I've been. I assured him I was going to mention York Center this week. Before I left, two other people had mentioned the column, but I was too busy filling my face with spaghetti and homemade pie to remember what they said.
ÓÓÓÓÓ
This week, I had already heard from someone, even before the paper was printed. If you recall after our class reunion last spring, I'd mentioned sending the column about the reunion to the lady that takes charge of it. She, in turn, sent my column on to anyone that had left an e-mail address and said they should get in touch if they liked it. So, I soon acquired a handful of new readers.
I had a hunch that one of them, Manley Glaubitz of Prescott, was going to respond. He sure did. He and I went to grade school and high school together, but he was a grade ahead of me. Yet he keeps showing up at our reunions. I think the connection is his marriage to Mary Jane Peterson who was in my high school class. They never miss.
Manley had to tell me, yes, there was another Hansen brother, Art, but he died in Colorado in the 1930s, and he was buried out there. He didn't mention if he had a nickname or not.
ÓÓÓÓÓ
He mentioned something else, and yes, I had thought about it but thought it might get too long. That was the old Pipe Lake baseball team.
It might be a bit easier to understand if you take your Wisconsin highway map and locate County Trunk "T" which runs north from Turtle Lake. Then to your right a bit you'll find County Trunk "G" going west from near Cumberland. Where they intersect is where the Pipe Lake Lutheran Church and cemetery are located. Then just north of there was the Hansen farm.
Across the road from their farm, in the big curve, was a cow pasture, but on Sunday afternoons it became the baseball diamond for the Pipe Lake baseball team. If I remember, a few of the players were the Hansen boys.
The cow pasture was a part of the Palas farm, which was owned at the time by the grandparents to Jo Palas who is married to Bruce Elmer. They live northeast of Greenwood. Jo's parents still live there and this kind of highlights where the July tornado hit this summer.
Every summer we gathered around the curve to watch baseball. I never have quite figured out who cleaned up the cow pies before the game, as I never remember anyone hitting or sliding into one. A lot of people just sat in their cars to watch the game and when a big play took place they all honked their car horns.
ÓÓÓÓÓ
Our farm was just a mile east, as the crow flies from the ball field, just a bit north of Long Lake. The map does show a little lake there, but an early plat map only has it listed as a swamp that still exists today.
As long as I'm writing about Manley, I should mention that his Dad had the school bus, or van, that was used to haul students that lived more than two and a half miles from the school. The Glaubitz farm didn't qualify, so Manley had to walk to school.
In the last few years we were in grade school, the bus route was extended west to the edge of the township just across the road from Big Round Lake. That was where the Indian reservation was located and a number of students were hauled to Pipe Lake to help keep our enrollment up enough to qualify for being a two-room school.
They always tell the story of Indian reservations being located in some the desolate areas you could find. That pretty well described the Big Round Lake Reservation.
As long as I'm way up north, I might just as well tell one more story from there. At the anniversary service for the Pipe Lake Lutheran Church and Zion Lutheran in Turtle Lake, letters were included from sons of the congregations who could not attend. One was from Pastor Ronald Jensen who was from the Pipe Lake Church. He told of growing up loving music, but had a problem singing the hymns. He explained that his mother played the organ and his dad sat on the other side of the church with the men. Which they did way back when. What he was trying to sing and what the congregation did, didn't make sense. Then one Sunday, he sat by his aunt, Elsie Becker, who took his finger and showed him about following the first line, then going to the first line of the next stanza. He had been singing it like reading a book and suddenly it all made sense to him. Pastor Ron was serving at Immanuel Lutheran in Marshfield when we came down here.
He never mentioned it in his letter, but if I remember correctly that it was at our annual church Christmas program when he recited his grade school part rather than the part he had learned for the church program.
I think everyone but his Mother thought it was kind of humorous. I hope he didn't catch too much dickens when he got home.
ÓÓÓÓÓ
Time for a little history. This is the week of Nov. 11, when on the 11th hour of the 11th month the armistice, ending World War I, was signed. I can also recall on Nov. 11, 1940, when Minnesota and Wisconsin were hit with a terrible winter storm, killing nearly 200 duck hunters who had frozen to death when the temperature dropped from sixty to below freezing by nightfall. Add to that the cold wind and almost two feet of snow. I read recently that almost a hundred sailors had died working on ships that sank in Lake Michigan. I recall we had our Armistice Day program at school and was surprised, on a rare occasion that my Dad came for me after school.
In 1979, President Jimmy Carter stopped the importation of oil from Iran on the 12th and on the 13th in 1982, the Vietnam Veterans Memorial was dedicated. On the 16th, in 1959, the musical Sound of Music opened on Broadway.
ÓÓÓÓÓ
Time for another quiz. What is the last body part to die? Answer – The pupils. They dilate.