Posted on
Students return wallet found during FFA highway clean-up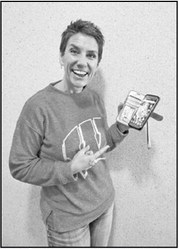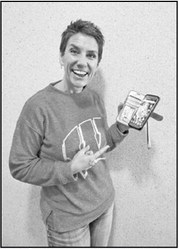 mile from where it was, thinking there was no way it had traveled that far on the hood," she said. Gardner received her phone and wallet back to find everything in it that was there when she lost it. She put her phone in rice for several hours and when she turned it on, it worked perfectly, she said. Since she has a new phone now, her old phone will go to her husband, whose current phone has a cracked screen. Gardner said she was appreciative to Moen for finding the wallet, along with Erickson for calling her and Gerhardt and Zschernitz for tracking her down. She sent the Neillsville FFA a thank-you card and also gave a $100 Subway gift card since that's how much cash she had in her wallet. "I wanted to pay it forward. It's great to know there are awesome people out there," she said. "The most important thing is that they were out there cleaning the highway; I just got a bonus out of it. I appreciate their volunteer work." Gerhardt said that in the years of the FFA doing the biannual cleanup, the students have never found anything this valuable. She praised Moen for doing the right thing.
"The honesty of Addison is impressive," she said. "It would have been easy to not say a word about what she found, but she had the integrity to do what was right. This is the goal of me as a teacher and FFA advisor ... instilling good character into our members so that they can be good citizens in their community as adults."
After losing her phone and wallet in early September, Jodie Gardner thought they were gone for good.
That was until she got a call letting her know that the phone and wallet had been found during the Neillsville FFA's recent Adopt-A-Highway clean-up along Highway 73.
"I was like, 'Are you kidding me? No way,'" said Gardner.
It all started back the morning of Sept. 6, which happened to be Gardner's birthday. Every year, Gardner and her sister have a sisters' weekend. They planned to go to West Salem to celebrate Gardner's birthday. Gardner had stopped at her sister's house, which is on a gravel road off of Highway C near the corner of highways K and C.
Gardner set her phone down on the hood of a truck to take some pictures before heading out for the day, and accidentally left it there.
When she stopped in Neillsville to fill up on gas, she realized that the phone was missing. Worse yet, it was in a case that had Gardner's driver's license, credit cards and cash in it.
"It had everything in it. So we had to go back and look for it," said Gardner.
Gardner, her husband, her sister and her brother-inlaw searched for hours along her sister's gravel road and along Highway C. Her brother-in-law Mark even went all the way up Highway C.
"We searched and searched," said Gardner, but it was to no avail.
"Eventually we gave up and thought, 'We'll come back and look for it,' she said.
Gardner and her sister went away on their weekend trip and came back on Sunday. On Sunday afternoon, they got out the metal detector and scanned the ditches by her sister's house, but found nothing. In the meantime, Gardner had cancelled all her credit cards and her debit card.
"Ironically, on Monday, I got a notification that someone with a Spencer address.
When the second group of kids came back from cleaning, Luke Erickson took a look.
"I think that's Sayer Rachu's mom," he said.
Erickson had wrestled with Gardner's son Sayer on the Neillsville- Greenwood-Loyal co-op team and recognized Gardner from that. Although Gardner has a Spencer address, her kids are in the Loyal School District.
Neillsville FFA advisor Amy Gerhardt did a little researching and was able to confirm that it was Gardner. Fellow wrestling parent Wendy Zschernitz got in contact with Gardner, who had since gotten another phone.
When Gardner found out her wallet and phone had been found, she was flabbergasted.
"It's just amazing that it traveled that far. We were pulling a trailer behind the truck so it would have been bumpier than normal too. We stopped looking about a by Valorie Brecht, Clark County Press had hacked into my Walmart account and made a purchase," said Gardner. "So I thought for sure someone had gotten it."
Gardner thought that was the end of it. She eventually replaced her cards and got a new driver's license.
However, as students were out picking up trash on the afternoon of Oct. 18, Addison Moen spotted the phone in the ditch about a mile north of Neillsville. She brought it back to the group when they finished cleaning but no one knew the woman shown in the identification