Posted on
Neillsville Players go black and white for 'It's a Wonderful Life'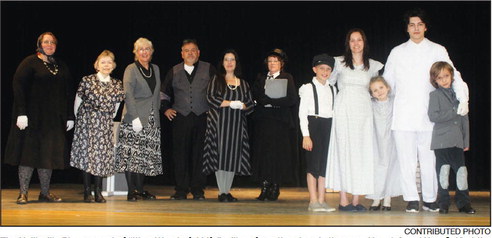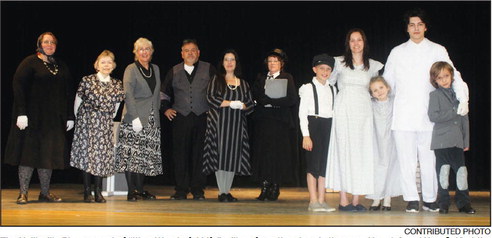 by Cheyenne Thomas
"Strange, isn't it? Each man's life touches so many other lives. When he isn't around he leaves an awful hole, doesn't he?" — Clarence, 'It's a Wonderful Life.' A beloved Christmas classic, the Neillsville Area Players will be bringing, 'It's a Wonderful Life' to the stage during the first two weeks of November. Directed by Jason Bravener, the film-based play will be presented for the first time on stage in a black and white format.
Written by James W. Rogers in two acts based on the 1946 film by Frank Capra and story by Philip Van Doren Stern, the play will be shown in the Neillsville High School Auditorium on Nov. 1-2 at 7 p.m., Nov. 3 at 1 p.m., Nov. 8-9 at 7 p.m., and on Nov. 10 at 1 p.m.
A total of 22 area actors are a part of the production. Bravener said the group began work on 'It's a Wonderful Life' at the beginning of September after plans to produce 'White Christmas' fell through.
"We originally were supposed to do White Christmas. We had come up with ideas for some form of a holiday play," he said. "(After 'White Christmas' failed to come together) Someone brought up, 'It's a Wonderful Life' and we had never done it, so we were like 'Why not?'" Since the story told in 'It's a Wonderful Life' is so well-known and loved by so many, Bravener said the group had to face some rather unique challenges to bring the classic to life. One of the challenges that has one of the most visible effects on the production was the decision to perform the play entirely in black and white. As the film was originally produced as black and white and is often still shown to audiences around Christmastime in the same format, he said he decided to shoot for creating a new effect to keep the nostalgic feel of the production.
"That was my idea," he said. "Every time I've seen it, it's been in black and white, in their (the audience's) mind, they have an idea of what the colors would look like. If I try to colorize it, it won't fit with someone's vision of what it looks like. The audience loves nostalgia, I am trying to do what's never been done."
To achieve Bravener's vision, he said the crew worked on creating make-up effects that would give the actors' skin black and white tones, finding props that were both in the era of the 1940s and in the same grayscale and adjusting lighting to enhance the changes. "It makes you more observant," Bravener said on creating a black and white play. "The costumes and team working on sets and costumes are amazing, what they've been able to find is amazing. I've got a team that does extremely good make-up. We've had some casting issues, finding certain props, since it takes place in the 1940s we want period stuff."
Another challenge of creating a play that's based on a film, Bravener said, is setting up scenes to match the pace of the show and create effects, like disappearances, with certain characters. In order to bring these aspects to life, he said sets were created small and easy to switch while actors had to practice moving around in the lighting to create the illusion of certain actions.
"The way it's written, the scenes flow into one another, so we don't have very big sets," he said. "We ran a scene last night where George made his wish and asks Clarence if he knows where Mary is and he's not supposed to tell, he (Clarence) backs away from the spotlight and disappears. It's not easy to do when you're in a white suit."
While there have been challenges in bringing 'It's a Wonderful Life' to the stage, many of the actors and actresses on the production said the whole experience has been an enjoyable one. All have seen the film at one time or another and fell easily in line with the characters they had to portray — a rarity in productions.
"People have become their characters hook, line and sinker," said Bunny Dux, who plays Mother Bailey. "I have been in a lot of plays and I have not seen it like this in a lot of years. People became their roles, and it was within weeks and days."
"It's really going well," added Spencer Baldwin, who plays Clarence. "It came together a lot earlier than other productions and I think that's due to the direction and dedication of our director."
Bravener said the storyline is set up a little different than audiences familiar with the film would be used to. Act I works to set up George Bailey's life in a positive light, later having his life spiral out of control in Act II, he said, creating an emotional appeal to the audience that's slightly different than in the film.
"It's based on the movie, but it's not shown like the movie. There's a bunch of flashbacks and everyone seems to be having fun with it. There's a lot of characters not in the film like Miss Thompson and Miss Carter," he said. "Act one is the pinnacle. We beat the villain, it's happy, everything's looking good. Act two, when you see him he wants to die. There's more emotions, it's sadder and a lot of sad things happen."
Even though there are sad parts, Bravener said like its classic film counterpart, the 'It's a Wonderful Life' play has a profound message on the impact one person's life has on those around them. He hopes people will find the show hits the same emotions the film does and provides them with good entertainment.
"It does (have a good message)," said Bravener on the message of play. "There's a lot of darkness in the show, but in the end it's so uplifting, it's awesome. People seem to love the movie, a lot of people have told me that it's their favorite Christmas movie, so no pressure. I hope they're entertained and blown away. We had some scenes we did where the cast members were crying. I feel there's big emotions in this show."
The members of the cast for 'It's a Wonderful Life' include: Eric Abel as George Bailey; Madison Betlaf as Mary Bailey; Spencer Baldwin as Clarence; Ladd Elmhorst as Mr. Gower; Jackson Hemp as Young George Bailey and Pete Bailey; Denise Clough as Aunt Tilly and Mrs. Hatch; Ben Brecht as Uncle Billy and Sam Wainwright; Josh Anason as Harry Bailey and Mr. Welch; Ashley Elmhorst as Violet Peterson; Bunny Dux as Mother Bailey; Tom Opelt as Bert; Brian Baldwin as Ernie; Dan Clark as Mr. Potter; Ann Wegner as Mr. Potter's secretary; Kara Rurup as Miss Andrews; Elizabeth Bier as Mrs. Thompson; Ben Baldwin as Mr. Martini; Henry Baldwin as Newspaper Boy and Tommy Bailey; Hope Dux as ZuZu Bailey; Iris Vine as ZuZu Bailey; Shylah Walk as Janie Bailey; Nathan Bier as Mr. Welch and Jill Bancraft as Miss Carter.
Tickets for the production will be sold for $10 on the nights of the show or in advance at www.areaplayers. jimdo.com or at the The Thirsty Bookworm or The Rocking Chair in Neillsville.
"There's a lot of darkness in the show, but in the end it's so uplifting, it's awesome. People seem to love the movie, a lot of people have told me that it's their favorite Christmas movie ..." -- 'It's a Wonderful Life' director Jason Bravener
CONTRIBUTED PHOTO