Posted on
The leaves are falling! And ….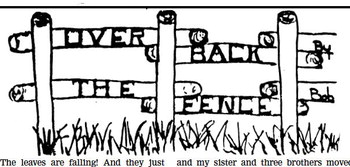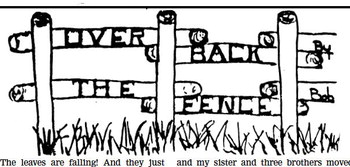 The leaves are falling! And they just keep on falling with still lots to go. One of our maple trees, the one that turned pretty red and yellow before dropping its leaves, is all done. The other two are still holding tight, but aren't turning any color except a dirty yellow and brown and eventually will get bare too. Our ash tree looks ready to shed, but I'm thinking it takes a frost before that happens.
Meanwhile, every place you look there are leaves, which blow from one yard to the next.
ÓÓÓÓÓ
I did make the trip north, which I had planned for last Sunday. It wasn't the nicest day, with a combination of sunshine and rain showers, but the color show couldn't have been better. Heading north, out of Chippewa Falls, gives one a great opportunity to observe some colorful countryside. There was a mixture of red, yellow, orange, brown and then throw in some pine or evergreen and you have a sight to behold.
Everywhere you go the landscape is changing rapidly, as farmers are trying their best to get the corn chopped off. Just when you think it might be drying off we get another shower.
The reason for my trip north was to attend the Chicken Dinner which has been a tradition at the Pipe Lake Lutheran Church where I grew up. It dates back to 1936, and things are just a bit different, but the food is good, especially the home made pies.
ÓÓÓÓÓ
I'd forgotten some of history of the church, but lucked out when there was a pile of newsletters and brochures laying on the table for people to pick up. It's been awhile so I'd forgotten some of the history. The congregation is 135 years old and was organized on July 4,1884, with the church itself built in 1903.
As I remember, not much was done to the church at the time I was growing up. We did add electricity when it came by in 1939. That sure made it nicer for our Christmas programs, rather than all the lanterns hanging from large hooks from the ceiling.
I remember my Mom working hard to get a cookbook printed so the money could go for some remodeling. Unfortunately, that didn't materialize, as the money was used just to keep it going in the late 40's and 50's when it struggled to go it alone.
About that time I had just gotten out of the service and moved my membership to the church in Turtle Lake. But I wasn't the only one to leave, as an elderly lady died and left a considerable amount of money to the church. Enough to do some much needed remodeling and adding an addition that included a nice fellowship hall in the basement, as well as Sunday School rooms and overflow seating up on the main floor. They did retain the old altar, baptismal font and pulpit and one wall of the old tin wall covering. I liked that as I could play games, running my eyes up and down it when the sermon seemed to be a little long.
ÓÓÓÓÓ
Back in 1884, they were quite official and named the church Christ German Evangelical Lutheran Church. Today it has been shortened a bit and is known as Christ Lutheran Church – Pipe Lake.
I doubt if many people today even know it as Christ Lutheran, but Pipe Lake, everyone knows where that is. Just to make sure, two couples whom I ate dinner with were from Rice Lake and Barron, but they all know about the annual Chicken Dinner.
I should add the German part of the name was pretty important back in the 1800s, even in the 1900s. My mother mentioned that one time when she and Dad and my sister and three brothers moved back from North Dakota to take over the family farm, they joined the church.
Since my Dad had been confirmed in Cumberland at the Swedish Lutheran Church, someone wondered why they didn't go to that church where they belonged. Never mind that my mother was German and it was a ten-mile trip just to get to town. I never really knew how Dad was able to attend confirmation class, but there is a picture of all the confirmation classes and Dad is on one of them with his sister Elsie.
When I was growing up, there were three Lutheran churches in Cumberland. I didn't know them by name but they were the German, Swedish and Norwegian churches. Even the Italians had their own Catholic Church and anyone marrying an Italian was often shunned by family members.
That soon changed and love seemed to be stronger than family rules and mixed marriages of all sorts are an every day occurrence these days.
ÓÓÓÓÓ
It was a bit strange as my old friend Otto Becker wasn't at his usual chair selling fresh vegetables. I mentioned to his old partner, who was doing it all alone this year, how one year I bought some rutabagas from Otto. I thought they were the real thing coming from Cumberland so well known for it's Rutabaga Festival. When I got home they had stickers on them saying they were the product of Canada.
Otto's wife was there, as were their son and daughter and families, all helping out.
There are still a few of the old neighbors around and then it is always great to see some others as well. Like my old roller skating friend who still helps out at the Anderson Maple Syrup operation which is now in it's third generation. He was happy when I told him the Marshfield Walmart carries their syrup.
Then I found out that word gets around. I'd written a story a few weeks ago about having my picture taken while loading milk cans on a truck when I was helping someone out on their milk route. The picture was to show the old way of doing things.
Anyway, after our joint class reunion in May, I'd e-mailed my column to the girl who had organized the get together. She in turn sent it on to anyone with an e-mail address and suggested if they liked it to contact me. So now I have a small list that keep track of what I'm up to each week. One of my new readers shared it with her brother and he had to come over and thank me for it.
After eating, I took a drive over to our old farm to check out the tornado damage on the house. The new owner has a wind break and a gate so I wasn't able to get close. Then I checked out some other areas hit by the tornado. It is pretty sad to see all the destruction and while loggers are trying to salvage some of the trees, there are many that will just lay and rot away.
ÓÓÓÓÓ
Closer to home I should mention the patch job the state did recently on Highway 98 between Loyal and Spencer. It will be nice this winter not to have to dodge all the chuck holes. I just wonder how it will hold up next spring.
ÓÓÓÓÓ
As for history this week I can tell you on October 21, 1936, Pan American started passenger flights to Hawaii. In 1836, on the 22nd, Sam Houston was inaugurated as the first elected president of the Republic of Texas.
October 24th is the anniversaryof the United Nations in 1945, and the Erie Canal opened on the 26th in 1825.