Posted on
Pie Theatre for Greenwood sectional play will be Oct. 27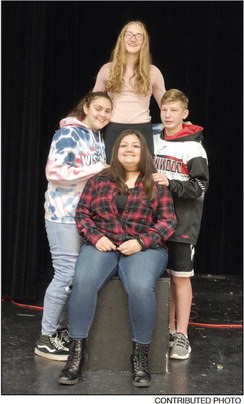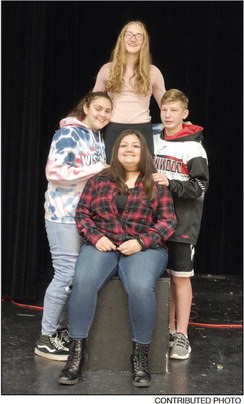 The Wisconsin One-Act Theatre festival is in full swing with the Greenwood High School Drama Department invited to the sectional competition on Oct. 29 in Eau Claire. Greenwood had the recommendations from all three judges at the district level to advance. The Greenwood Drama Department has set its sights on advancing to the state competition for the fourth straight year.
Their play this year "Of Winners, Losers, and Games" by O.B. Rozell, is absurd, realistic, comical, dramatic, philosophical, and touching. It has an unusual approach to good and evil.
The contestants or players in the game, Bob and Susan, anticipate a complicated test of endurance but instead find themselves plunged back in time to the moment they were summoned for the game. The game is a contest between good and evil with Bob and Susan as the pawns: the children are points, and Ms. White and Mr. Redd are the scorekeepers, with Winner and Loser celebrating the outcome.
The cast consists of seniors Treyton Thomas and Hayley Kuester playing Bob and Susan, junior Austen Humke and senior Laura Coggins playing Winner and Loser; and sophomore Jasmine Wolf and freshman Rogan Travis as Ms. White and Mr. Redd. Additional characters are emotions that assist with the game played by Rachel Lindner, Destiny Durrstein, Christian Thomas, and Dakota Gorton, Rheya LaMont, Christian Kuester, Katlund Etlicher, Morgan Raese, and Ty Tuinstra.
Stage manager is Emma Schlough, and crew members are Benedict Smeland and Maria Hadaschik. Sound and lights are being handled by Micah Horvath and Devin Degenhardt. The play is directed by Jo Elmer, assisted by Stephanie Glaser.
The annual community Pie Theatre will be held on Oct. 27 at 1:30 p.m. in the cafetorium The cost of admission is for both the production and a delicious piece of pie. This also gives the students a chance to perform for an audience prior to the sectional competition.
CONTRIBUTED PHOTO
CONTRIBUTED PHOTO