Posted on
PAGING THROUGH H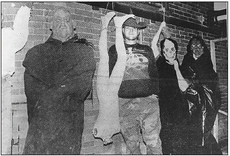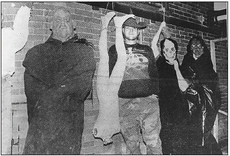 THE TRIBUNE-P HONOGRAPH PUBLISHED IN ABBOTSFORD WEDNESDAY, OCTOBER 24, 1990
Dorchester addition bids approved
Four low bidders received approval for work on the Dorchester two-room addition during a special Colby School Board meeting this week, and it is hoped the project will get underway within a couple weeks.
The low bids reflected a project price of just over $120,000, which please board members and the board's consultant, Premal Sheth of PMS, Inc., Eau Claire.
"There were very good, very competitive bids. We had estimated a project cost in the range of $130,000 to $135,000," said Sheth.
The board approved the following contractors for their official bid figures: For general construction, Steel Structures Inc. of Medford, $102,890; For plumbing, Reigel Plumbing and Heating of Marshfield, $4,479; For heating and ventilating, Malbrit Heating and Cooling of Wausau, $7,500; For electrical, Total Electric Service of Marshfield, $5,579.
Sheth said his firm had worked with three of the low bidding companies on other project and recommended them. PMS has never worked with Malbrit, but Sheth did some checking on the firm and said, "They also appear to be a good contractor."
The district received seven general construction bids before bid closing last Thursday. They ranged from Steel Structures' low bid to a high of $155,776.
There was only one other plumbing bid besides Reigel's, and that was for $10,800. Malbrit won the heat/vent job with two other bidders quoting prices of $8,500 and $10,450. Six contractors bid on the electric work.
THE TRIBUNE-P HONOGRAPH PUBLISHED IN ABBOTSFORD WEDNESDAY, OCTOBER 15, 1970
Colby starts garbage pickup service Nov. 1
The Colby city council, in a special meeting Wednesday night, Oct. 14, took action to start a mandatory municipal garbage pick-up service effective Nov. 1, and approved contracts for the construction of a new sewage plant. Both have been under consideration for some time. Garbage pickup for all residents will start the week of Nov. 1. Garbage will be picked up at the back door or can storage location of all homes in the city once a week during the months of October through April. Twice a week service will be provided from May through September.
It is a mandatory service for all residents, and the Colby city dump will be closed permanently after that time.
The contractor, on the basis of bids asked by a committee representing Colby, Abbotsford, Dorchester and Unity, is Carl Seidel of Marshfield.
Garbage and refuse from commercial and manufacturing concerns will be arranged for on a private basis, with the firms paying their own costs directly to the contractor.
Almost any type of refuse will be picked up, except for items such as extremely largely car parts, large trees, etc. Other arrangements will be made by the city for a place to dump this type of material.
Garbage to be picked up includes all household garbage, paper, cans, old appliances, even including large washers, tree trimmings, refuse from smaller home remodeling projects and other such material.